Understanding Costco's Price Tags and What They're Trying To Tell You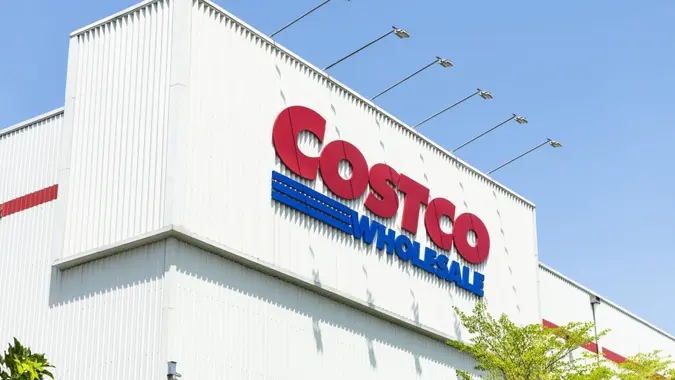 BING-JHEN HONG / Getty Images
While Costco is known for its low prices and oversized products, some things about the warehouse are a mystery. Customers often wonder why things aren't always in the same place or how the rotisserie chicken only costs $4.99. One item that is important to decode in order to make smart shopping moves is Costco's price tag codes.
Dollar Tree: 5 High-Quality Items To Buy Now
See: 3 Signs You're Serious About Raising Your Credit Score
As it turns out, the price tags at Costco do have hidden meanings. Using these tips, a sleuth with a keen eye for detail will be able to save big at the checkout by paying attention to Costco price tags.
Asterisk (*)
When a Costco tag has an asterisk (*) on it, that means there is a limited amount of the product and it will not be restocked, according to PopSugar. Customers are often dismayed to find their favorite seasonal products gone the next time they go shopping. Now, you can have a heads-up to stock up if you see an asterisk on the price tag. In some cases, the product may be going away for a limited time, in others, it may be gone for good. 
Make Your Money Work for You
Price Tags Ending in .97
Price tags ending in .97 denote a clearance markdown, according to Business Insider. So, if you are a bargain shopper, you'll want to search the store for price tags ending in these two numbers. Costco won't broadcast the clearance price, so you have to be in the know. It also may not be as low as it can go. Future markdowns are still a possibility. 
Live Richer Podcast: Scamdemic: Don't Fall Victim to These Money Scams
Price Tags Ending in .99
Sorry, hopeful savers, but a price tag ending in .99 is just a regularly priced item, said Maui Family Magazine. While it may not be on sale, it still may be worth the purchase. Even fully marked Costco products can still be cheaper than trying to get them somewhere else. 
Price Tags Ending in .88 or .00 
A product ending in .88 or .00 also has a special meaning. As suggested by Reader's Digest, the item may have been marked down by a manager. Manager markdowns often happen because they want to move a product. 
Make Your Money Work for You
Price Tags Ending in .49, .79, .89
Maui Family Magazine also noted that products ending in .49, .79, or .89 are generally the subject of manufacturer markdowns and may indicate a special deal. It is important to know that prices may fluctuate over time. The best course of action is to track it and see if it gets an adjustment. Manufacturer markdowns may be less routine than other reductions.
Save Big When You Shop
These little insider tricks can help you save big when you shop. Costco may not broadcast all of the ways you can save as it does offer fewer public deals. Paying close attention to the price tag can help you reap those savings. It may be difficult, at first, to determine whether you are saving money. You can always track the good to see if the price adjusts or if these rumors are true.
When Does Costco Do Markdowns?
As reported by The Healthy Journal, the wholesale retailer reduces prices on the fourth Monday of every month. Yes, "Markdown Mondays" are a real thing. This is also when it does clear-outs, so if you noticed a product with an asterisk (*) the last time you shopped, you might want to make a quick trip before the fourth Monday to grab a few. 
Make Your Money Work for You
Are There Other Ways To Save at Costco?
According to The Krazy Coupon Lady, the retailer may not take your manufacturers' coupons, but it offers its own. You can save big by using its coupon book. Members receive one each month. Don't worry, you won't need to spend hours clipping the coupons out since the reductions are taken off at the register. 
She also notes that while Costco won't take your other coupons, you can still save with rebate apps like Ibotta. Several apps offer cash back or other incentives, simply for shopping. You can purchase that jumbo-sized container of cheese puffs guilt-free since you may be saving on it twice.
More From GOBankingRates
Make Your Money Work for You