Most Unexpected Items That Make Thrift Store Shopping Worth It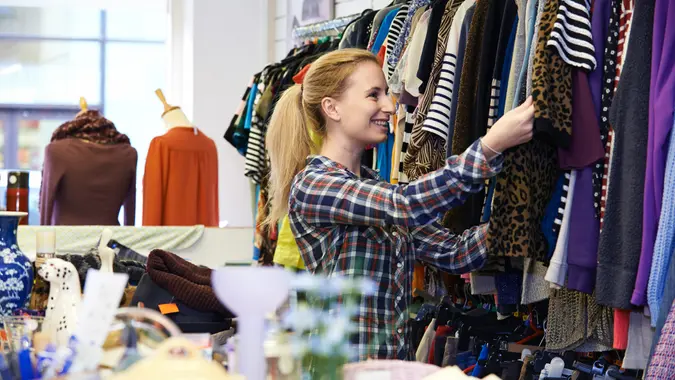 Highwaystarz-Photography / iStock.com
Shopping at thrift stores sometimes is looked down on as nothing but a place to find other people's junk — the stuff they don't want but also don't want to throw into the landfill — or the leftovers that didn't sell at a yard sale. But statistics show that millions of Americans don't share that perception.
See Also: 9 Things You Should Never Buy at Thrift Stores
Learn: How To Build Your Savings From Scratch
In fact, according to The Association of Retail Professionals, also known as NARTS, 16% to 18% of Americans will shop at a thrift store during a year. How does that compare to "traditional" retailing? NARTS, citing figures from America's Research Group, reports that 21.3% of people shop in department stores, 19.6% in apparel stores and 11.4% in factory outlet stores during a year's span.
The thrift store faithful have their reasons for shopping there: great prices, unique items, environmental friendliness and, of course, the thrill of the hunt. Here are a few things that are well worth the trip to the thrift store.
Military-Issued Overcoats
"One of the categories you might not expect to find at thrift stores is high-quality, inexpensive overcoats," said Yenia Hernández Fonseca, luxury fashion expert and contributor to Margo Paige. "In particular, look out for those that are especially made for U.S. Marine Corps. Classic USMC overcoats are made of 100% wool melton, one of the toughest and warmest wools available."
Since the overcoats typically are made to measure, it might take visits to a variety of thrift shops to find the right fit, she said.
Make Your Money Work for You
"If you're lucky to source one, keep in mind that you're not only giving a second life to a garment, but you're taking a piece of American history with you," she said. "Plus, you're making a small investment in a classic and highly functional, timeless wardrobe staple. A big win for a more sustainable fashion ecosystem."
Photos
Maybe you're looking for unique artwork to frame for your walls. Or, maybe you're seeking a valuable resale item. Photos found at thrift stores could be both.
"Thrift stores can be like hidden treasure troves for old photos. There's actually a whole world of potential value in old photos if you find the right ones," said Emily Hutton, customer service manager and co-editor at Image Restoration Center. "It depends on a few factors, with the subject and quality being the most important. There's a massive market out there, worth millions of dollars, for well-known subjects captured in either original darkroom prints or modern digital reprints.
"One tip-off for a potentially valuable find is press photos. You can recognize them by the stamp on the back, which usually includes the photographer's name, subject details, and other information, and can fetch a nice sum."
Rare Art
You undoubtedly have read the occasional stories about a painting or piece of pottery picked up at a yard sale for a few dollars that turned out to be a rare and valuable piece of art. Thrift stores are no different.
In 2022, CNN shared the story of Laura Young, who, four years earlier, bought a 52-pound marble bust for $34.99 at a Goodwill store in Austin, Texas. "I was just looking for anything that looked interesting," Young told CNN. Interesting it was, so she bought it.
Make Your Money Work for You
The ancient Roman bust had been displayed in the Pompejanum, a replica of an Italian villa in Germany, until World War II, when it was put into storage and later stolen, CNN reported.
Young didn't sell the piece, instead lending it to the San Antonio Museum of Art for display. It was due to be returned to the Pompejanum last month.
Books and Video Games
Book collectors and avid readers alike praise the selection at thrift stores.
"Thrift stores can have some really amazing books for sale. I favor sci-fi and fantasy, and you can tell when a collection has been dumped as you'll find a wide selection on the shelves," said Darren Bogus, senior editor at Shop LC. "It's mostly a matter of luck of the draw, so check back often. I go to stores weekly.
"In-store finds for media like video games are becoming increasingly rare, but there is still hope. A few years ago I was able to pick up a black label copy of Final Fantasy VII in good condition — and complete. In that same lot I also picked up a copy of Bushido Blade and another Square Enix title. I only paid $3 per game, but these sell for about $50 each second-hand, or more."
Odds and Ends
Amanda Manera scours thrift shops and e-commerce sites such as Poshmark for her business, The Resale Doctor.
"As a child, my frugal mom would take me to the thrift store to shop for clothing. I would always think there were just grimy, useless items all around me," she said. "However, one day it clicked that the thrift store was all about the thrill of the hunt."
Make Your Money Work for You
Just what are the "treasures" she has found through the years? She rattled off a list.
"A Roomba vacuum. A bridesmaid dress. Popular, high-end clothing items — a Patagonia coat, Free People Dresses, Lululemon pants, FIGS scrubs. New with tags, never-worn items — Athleta biker shorts, a Lululemon bra. Sports collectibles and memorabilia. A large hard-sided suitcase."
Manera turned from doubter to devotee. "Shoppers have the ability to find everyday essentials along with rare and other special items at the thrift store. All it takes is a little patience, a little digging, and you can come away with some special gems."
Finding Thrift Store Gems
"Thrifting is a great way to save money and shop more intentionally," said Ema Hidlebaugh, the founder of MinimizeMyMess.com. "I encourage people to create a thrift wish list of things that they'd love to find second-hand, and to quickly scan it each time before they shop.
"This helps me be consistent, intentional and patient and I'm always amazed by how often I find the exact thing I'm looking for — so don't be afraid to get specific."
Hidlebaugh has had amazing luck at tracking down just what she's been looking for at thrift shops. "I've had 'queen-size Cath Kidston-style bedspread' on my list for a few months now, so I couldn't believe my luck last week when I stumbled across an actual queen size Cath Kidston bedspread for just $10.
"It would probably be quicker to list the things I haven't found at thrift stores using this wish list method."
Hidlebaugh has her list of rare or unusual finds at thrift stores. But what are some other great buys? You'll find plenty of useful household goods and clothing items, but you might wind up with a valuable photo, piece of art or other trinket, the thrifting experts said.
Make Your Money Work for You
More From GOBankingRates