5 Ways To Earn Over $100 Through Costco Shop Cards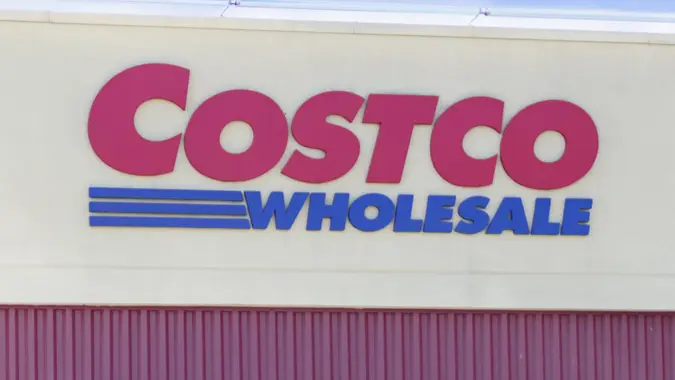 snyferok / iStock.com
Costco is known for its many deals that can make the membership pay for itself. Along with the savings it offers on products, services and even travel, the warehouse chain features several promotions for earning Costco Shop Cards. These are a great deal in digital and physical versions since you can conveniently use them on many online and in-store purchases.
While your card value will vary, you can earn over $100, especially if you make large purchases or take advantage of multiple offers. Here are five ways you can earn Costco Shop Cards.
1. Take Advantage of Sign-Up Deals
If you still need to become a Costco member or haven't been a member for at least the last 18 months, you could earn a Costco Shop Card via a sign-up offer. You can join using an active promo code or purchase vouchers on sites like Groupon and StackCommerce. The requirements to receive the card can vary.
You can sign up on Costco's website for a Gold Star or Executive membership using the promo code CJGRPMKT for a limited time. You'll need to opt to renew your annual membership automatically. Within a few weeks, the warehouse chain will email you a $40 Costco Digital Shop Card.
Another current Costco membership deal is through the PCWorld Shop. After paying $60 for a Costco Gold membership through this site, you'll follow the sign-up instructions to qualify for a $40 Costco Digital Shop Card. This offer doesn't mention any auto-renewal requirement.
2. Book Vacations Through Costco
The Costco Travel platform is good for deals on domestic and international vacations, including comprehensive cruise and destination packages. While some packages include free credits and upgrades, others will also give you a Costco Digital Shop Card.
Make Your Money Work for You
This perk is especially popular with cruise and all-inclusive resort vacation options, some of which you'll find on the platform's main page. You can also look up a particular destination and trip dates to see whether any packages offer the Costco Shop Card.
The specific value of the card varies and will appear when you book your trip. Costco says you will receive it via email a week or two after you finish your trip.
3. Participate in the Apple Device Trade-Up Program
If you have Apple devices you no longer need, you could take advantage of Costco's trade-up program through Phobio. You can get a Costco Shop Card for its trade-in value if you ship a qualifying device.
The process is relatively straightforward. Costco links you to Phobio's website, where you look up your device's eligibility and value based on its condition and serial number. If you proceed, you'll get a trade-up kit in the mail. You'll then prepare and mail your device per the instructions and wait for Phobio to accept and pay for your trade-up.
While this whole process can take up to a few weeks, opting for a Costco Digital Shop Card will get you paid sooner.
4. Watch Out for Specific Item Promotions
The chain often offers free Costco Shop Cards when you purchase specific products. Right now, buying select Samsung TVs and monitors and Tempur-Pedic mattresses can get you between $50 and $300.
Make Your Money Work for You
The warehouse chain also occasionally has promotional periods when you can get a Costco Shop Card for one purchase of a specified amount. These offers are more flexible since they can include hundreds of eligible products.
Additionally, you can check for limited-time manufacturers' promotions. For example, back in August and September, Costco was giving out Digital Shop Cards worth $25 or $50 for buying $100 or $200 in Proctor and Gamble products.
5. Get Rewarded for Costco Home Improvement Services
Costco partners with providers that offer several types of home improvement services. Not only can you get special rates as a member, but you can even get a Costco Shop Card worth 10% of your service's cost. The chain currently lists this perk for the following services:
Graber window treatments
Generac generators
Closet Factory custom storage solutions
Lennox air conditioning and heating equipment
Shaw flooring and carpet
Jacuzzi bath remodels
Sunrun home solar equipment
Amarr garage doors
LiftMaster garage door openers
Consentino countertops
Reborn Cabinet refacing
EcoWater water purification and softening
Gutter Helmet gutter purchases
While the 10% offer is a nice perk, be sure to shop around still and compare prices for your home project. You might find that a local provider is even more affordable than one of Costco's partners.
More From GOBankingRates