Why Dollar Tree Is Rolling Many Prices Back to $1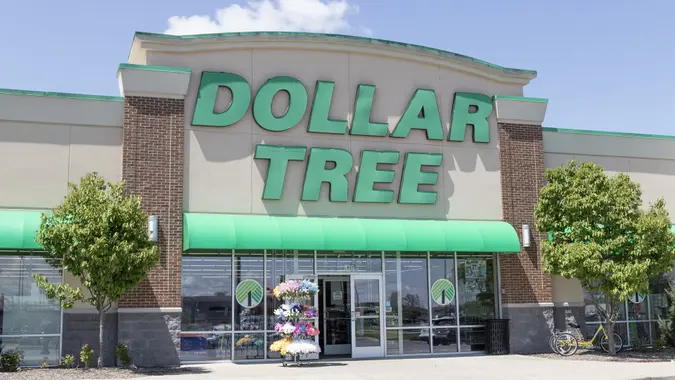 jetcityimage / iStock.com
Remember when Dollar Tree raised its prices from $1 to $1.25? The discount retailer is bringing one-dollar prices back — well, on some items.
Dollar Tree recently tried a new pricing structure, adding merchandise at $2, $3 and $5 price points. The chain stated as much during its annual investor conference, as previously reported by GOBankingRates.
Pushing the price of food and beverages up to $5 allowed Dollar Tree to better serve rural markets where customers often rely on dollar stores for grocery shopping. The new price point allowed for the stocking of name brands of several popular food and drink items. Dollar Tree and similar stores have become the fastest-growing grocery retailers. However, they only hold 1% of the market share behind big-box stores like Walmart and wholesale clubs like Costco, GOBankingRates reported.
But now, Dollar Tree is scaling back some of its price increases.
"It's pretty hard to have a banner like (Dollar Tree), and you have an item that everybody else has at $1, and you're at a buck and a quarter," Dollar Tree CEO Rick Dreiling told an investors' conference last week. Chief merchandising officer Rick McNeely estimated that "roughly 300, maybe 400 items" will be affected by a pricing rollback out of the roughly 8,000 items that Dollar Tree sells. This represents about 5% of its inventory, Coupons in the News reported.
To help shoppers understand what each item costs, McNeely said prices will be labeled on shelves or packaging. Dreiling also believes that the retailer can introduce more items at new prices, Coupons in the News added.
Make Your Money Work for You
According to The Krazy Coupon Lady, despite higher prices, the Dollar Tree coupon policy still hasn't changed. You won't find in-store coupons, but the retailer has always accepted manufacturer coupons. You can even use coupons worth more than the product you're purchasing, but Dollar Tree will adjust the amount down to match retail price exactly.
More From GOBankingRates