20 Top Vacation Spots for Retirees and Their Costs

9 min Read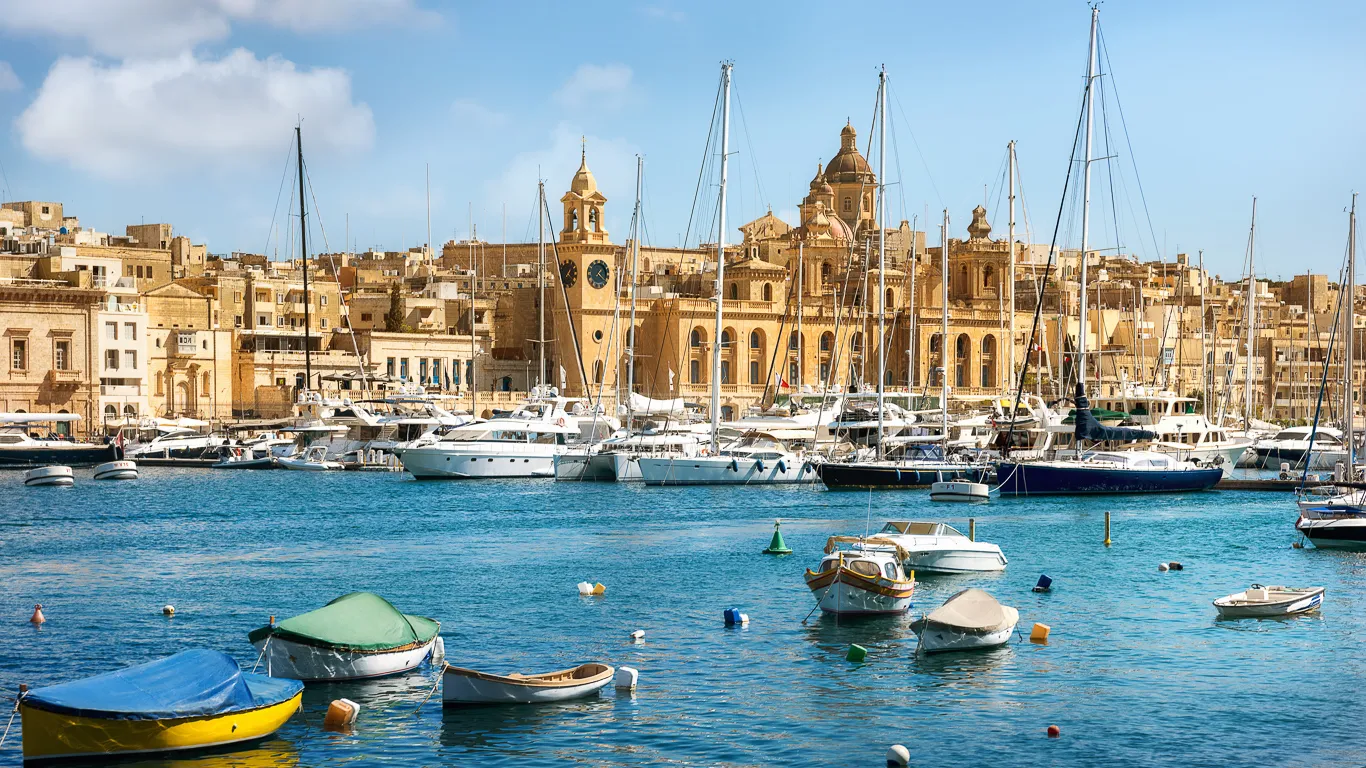 Planning a vacation during retirement can be a daunting task. After all, you have 52 weeks a year to choose from instead of just two or three. But high prices in tourist hot spots will take a huge bite out of your vacation budget, limiting the time you can spend traveling.
Get off the beaten track and explore quaint destinations around the globe. Mild weather, fewer crowds and more value for your dollar are just a few reasons these places should take a top spot on your travel bucket list. Get ready to plan the ideal vacation for retirement that won't bust your budget.
Make Your Money Work for You
San Jose, Costa Rica
Flight: $340
Hotel: $42
Things to do: San Jose makes an ideal hub to venture out for your Costa Rica vacation, and it's perfect for budget-friendly senior travel. Browse through rare pre-Columbian artifacts at the Pre-Columbian Gold Museum and Jade Museum in downtown. Or explore niche shops, restaurants and nightlife just west of the city in Escazu. Venture outside the city on day trips leading to sparkling beaches, volcanoes, rain forests and nature reserves.
Santa Cruz de Tenerife, Canary Islands, Spain
Flight: $838
Hotel: $35
Things to do: With a climate similar to that of San Diego, Santa Cruz de Tenerife is an ideal place to visit any time of year. Dolphins and whales seem to think so, too — 21 species of the mammals live near the island, including bottlenose dolphins and pilot whales. Explore the island's Spanish architecture dating to the 1500s, relax on a sandy beach or head out to one of 43 protected nature areas. At night, gaze at a billion stars in a sky free from light and air pollution.
Find Out: The Best Time to Book Your Travel Plans
Faro, Portugal
Flight: $1,151
Hotel: $116
Things to do: Tucked along the southern shoreline of the Algarve region in Portugal, Faro has a distinct Portuguese flavor. Outdoor cafes, tidy parks and plazas, pedestrian pathways and well-maintained historic buildings make Faro perfect for senior travel. Take a bird-watching hike or paddle a kayak in the Ria Formosa Natural Park on the eastern side of the city. Or poke around town, visiting medieval structures, fascinating museums or relaxing spas.
Make Your Money Work for You
Valletta, Malta
Flight: $962
Hotel: $92
Things to do: Valletta, Malta, is the official 2018 European Capital of Culture, a yearly title to highlight Europe's rich diversity. The UNESCO World Heritage Site was one of three cities in Malta built by the Knights of St. John in the 1500s. Its Old World bastions and forts blend seamlessly with the modern capital city, offering up culture and convenience.
Don't Miss: 25 Destinations You Should Travel to Before They Become Too Expensive
Elefsina, Greece
Flight: $920
Hotel: $78
Things to do: Tucked between hills and the Mediterranean Sea, Elefsina is a not-to-be-missed hotbed of Greek culture. Just 30 minutes west of Athens, the city is the 2021 European Capital of Culture. Explore archaeological sites, sunbathe on the beach or head out into nature at nearby lakes, forests and mountains.
Kingsport, Tenn.
Flight: $538
Hotel: $103
Things to do: Tucked in the Appalachian Mountains, the small city of Kingsport rolls out big adventure. Howl with the wolves at Bays Mountain Park and Planetarium, or explore the past through living history at Exchange Place. Live your dream of hiking the Appalachian Trail, and visit the Great Smoky Mountains National Park.
Fort Wayne, Ind.
Flight: $357
Hotel: $107
Things to do: Research your family history at Fort Wayne's Genealogy Center, the nation's largest public ancestry facility, and explore its collection of over 961,726 items. Take a break to stop and smell the flowers at the indoor and outdoor gardens at the Botanical Conservatory. Delight your eyes at the Fort Wayne Museum of Art, or put on your hiking shoes to explore 95 miles of trails in and around the city.
Don't Miss: The Cost to Visit These Amazing Small Towns
Santa Fe, N.M.
Flight: $333
Hotel: $175
Things to do: Santa Fe style applies to everything from architecture to food, but the city is famous for its art galleries set against a backdrop of mountain vistas. Meander through Sante Fe's 250 galleries and head out to 19 museums that include the Museum of International Folk Art and Palace of the Governors.
Immerse yourself in the Santa Fe cuisine, rich in chili peppers, meat, cheese and beans. Work off the rich fare with a trip outdoors. The Santa Fe National Forest rolls out places to hike, horseback ride, raft, fish and golf.
Make Your Money Work for You
North Beach, Miami Beach, Fla.
Flight: $188
Hotel: $106
Things to do: Miami's South Beach might be the hot spot for college kids, but you'll enjoy more refined senior travel in North Beach. Check out a concert at the historic North Beach Bandshell, or go on a picnic and scenic hike at Open Space Park. North Beach is also the scene of New World Center, home to the New World Symphony. Miami Beach is a convenient place to begin and end your vacation if you're planning to go on a cruise in retirement.
Puno, Peru
Flight: $827
Hotel: $28
Things to do: Puno is nestled into the western shore of Lake Titicaca, South America's largest lake. But there's more than just beautiful scenery and boat rides. Puno is the folklore capital of Peru, and you can enjoy colorful folk festivals throughout the year.
Meet the Uros people, who live on floating islands crafted from the lake's reeds, and ride in a reed boat. Immerse yourself in the culture at the weekend farmers market, where you'll discover 3,000 potato varieties, crafts, veggies, fruits and grains.
Plovdiv, Bulgaria
Flight: $853
Hotel: $27
Things to do: Immerse yourself in ancient culture in Plovdiv, one of the oldest living cities in the world. Peel back layers of history in the town, which dates back to 4,000 B.C. Visit an old Roman amphitheater on a cliff overlooking the city, or marvel at quirky asymmetrical homes that seem to defy both time and gravity.
Get lost in the Kapana neighborhood's maze of streets. The labyrinth of cobblestone streets literally translates to "the trap." Filled with colorful art galleries, street art, galleries and eateries, you might not care to find your way out.
Beaufort, S.C.
Flight: $620
Hotel: $170
Things to do: This charming town could be a great choice for a last-minute getaway. Stroll along the Intracoastal Waterway and Beaufort River at Henry C. Chambers Waterfront Park in Beaufort. The park is an ideal place to slow down your pace as you breathe in the sea breeze and relax under the canopy of shade trees.
Visit antebellum mansions in the downtown historic district, and browse through the John Mark Verdier House Museum to see relics from the early 1800s. Take a day trip to Hilton Head or Hunting Island for a relaxing beachside getaway.
Make Your Money Work for You
Cairns, Queensland, Australia
Flight: $2,130
Hotel: $73
Things to do: Check out the colorful fish and other sea life at the Great Barrier Reef. Cairns is the gateway to this underwater wonderland. If you're not up to snorkeling, don't worry. You can see the reef without ever getting wet. Submersible platforms and submarines let you enjoy underwater viewing without having to struggle into a wet suit.
There's more to see nearby: Check out the Tjapukai Aboriginal Culture Park, hike in Daintree National Park or encounter crocodiles and koalas at Cairns Zoom and Wildlife Dome.
Havana, Cuba
Flight: $301
Hotel: $138
Things to do: You might feel like you stepped back in time when you visit Havana. Spanish colonial architecture dates to the 16th century, and 1950s American cars rumble along the streets. The city's culture is its heartbeat, however.
Check out cabaret at the Tropicana or watch ballet and theater at the Gran Teatro. Stroll through the luxurious former presidential palace when you visit the Museo de la Revolucion. The museum documents the revolution chronologically from its top floor down.
Ulaanbaatar, Mongolia
Flight: $2,267
Hotel: $75
Things to do: Tucked in the Tuul River valley against the Bogd Khan Uul National Park, Ulaanbaatar's meld of culture will pack your vacation with plenty to see and do. Spend your days browsing through monasteries and palaces turned into museums, or marvel at panoramic views from Zaisan Hill. Hike into Gorkhi Terelj National Park, or take a horse or camel trek. You can even visit a ger encampment to see how people survive on the windswept steppes.
Rijeka, Croatia
Flight: $1,554
Hotel: $96
Things to do: Rich in culture, Rijeka is much more than just a gateway to the Croatian islands. Explore centuries-old castles and cathedrals, or meander through the 19th-century Governor's Palace to browse through the Maritime and History Museum of the Croatian Littoral. Wander the seaside promenade connecting beaches along the city's western edge, or take a hike in the green hills that back the city.
Going Abroad? 15 Smart Ways to Travel With Money
Make Your Money Work for You
Cebu City, Philippines
Flight: $1,034
Hotel: $23
Things to do: Tucked between mountains and sea, Cebu City rolls out a smorgasbord of vacation adventures without busting your budget. Head for its white beaches, or hike to panoramic vistas in the mountains. Visit the Temple of Leah — what appears to be an ancient Roman temple was actually constructed in 2012 as a testament of love. You'll find a 16th-century cathedral, Taoist temple and shrines testifying to the rich, diverse culture of the city.
La Paz, Bolivia
Flight: $651
Hotel: $50
Things to do: Cradled in a mountain valley at 10,500 to 13,500 feet in elevation, La Paz rolls out rugged beauty and cosmopolitan flair. Get around the city on the highest urban cable car system in the world, and catch breathtaking views on a ride down to Zona Sur, a city steeped in European flair. Shop for potions and talismans at the Witches' Market, or marvel at clay and sandstone spires at Valley de la Luna.
Mandalay, Myanmar
Flight: $1,059
Hotel: $141
Things to do: Visit the royal city of Mandalay and discover rich Bamar culture among the city's hustle and bustle. Teak monasteries, pagodas, tea houses and street food add to its charm. Shop for local crafts and fresh food in Zegyo Market, which dates to the city's beginnings. Ascend a covered stairway to get a 360-degree view from the top of Mandalay Hill, and visit the enormous palace presides over the city.
Next Up: These Hidden Bucket List Destinations Are Worth the Price

The following prices are based on round-trip travel from New York City, from July 1 through July 7, 2017, using rates through GoSeek and JustFly.
About the Author