Airline Sites vs. Deal Sites: Which Has Cheaper Flights?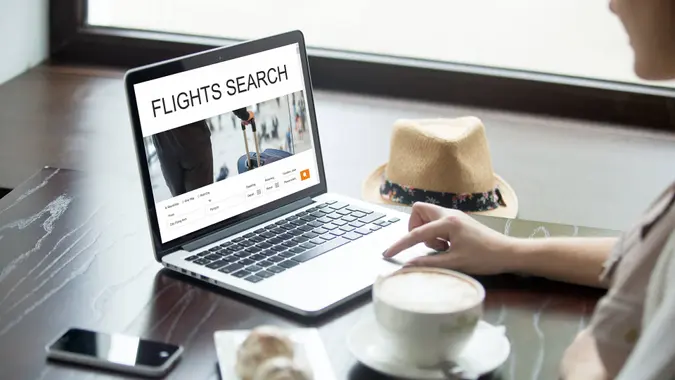 ©Shutterstock.com
Booking your next flight can easily be done with the click of a button, and you have plenty of options to choose from when it comes to how you book. You can book directly through the airline's website, through a third-party aggregator site, through travel deal sites or through your credit card provider — but which option offers the best prices?
To find out, GOBankingRates spoke to travel experts to find out which method they prefer for getting the best deals on flights.
Deal Sites Often Offer the Lower Prices
Deal sites like Expedia and Orbitz often offer lower fares than airline sites — though the savings may not be significant.
"In my experience, you can save around $20 to $30 per person by going this route, which could give you some extra cash to enjoy a nice meal or a few cocktails once you reach your destination," said Lieze Neven, travel writer at GlitterRebel.com.
Booking Directly Will Save You Money If Something Goes Wrong
Booking directly through an airline means you're covered when you need customer service help — and this might be worth more than the few bucks you could potentially save booking elsewhere.
Make Your Money Work for You
"The financial problems of booking through a third party come when something doesn't go perfectly," said Veronica Hanson, a full-time international nomad.
"If work obligations come up and you need to reschedule, you've got much less of a chance to recover any flight cost for future travel. If a plane is delayed and you miss your connecting flight, dealing with a third party is a nightmare," she said. "The website is in control of your fate instead of the people at the airline with the authority to do something about it."
Booking Through Deal Sites Can Be Cheaper If They Are Running Promotions
"One advantage of using deal sites is that they often compare prices across multiple airlines and can provide you with a range of options to choose from. Additionally, some deal sites offer exclusive discounts or promo codes that can help you save even more money," said Becky Moore, founder of the travel site Global Grasshopper.
However, it's always worth checking the airline site as well before booking, she said.
Make Your Money Work for You
"Ultimately, the best approach is to compare prices on both deal sites and airline websites to find the best deal for your specific travel needs," Moore said.
Booking Directly Makes It Easier To Redeem and Earn Miles and Points
Not all third-party sites will allow you to book with miles or points, and depending on the site, you also may not earn credit for your trip.
"I vote to book directly with the airline — you're much more likely to have luck in scoring your miles or points for airline alliances if you book directly through the site, and that makes your future flights cheaper in the long run," said Becca Siegel, travel writer at HalfHalfTravel.com.
Deal Sites May Show Cheaper Base Fares, but Often Charge Higher Fees
The flight price you see on a deal site may be lower than what you see on an airline's site, but once you account for fees, you may end up paying more by booking through the third-party site.
"Generally speaking, booking through a third-party site is often more expensive than booking directly with the airline due to added fees for using the service," said Fred Hoffman, travel expert and founder of The True Wilderness.
Make Your Money Work for You
Booking Through Deal Sites Can Be Cheaper If You Bundle Flights and Hotel
If you book your whole vacation in one place, you may end up getting lower prices on your flights.
"Booking flights through deal sites such as Expedia, Kayak or Orbitz can offer discounted package deals combining flights, accommodation and other travel services for added convenience and savings," said Olly Gaspar, editor-in-chief of the adventure travel blog We Seek Travel. "If your main goal is to find the cheapest fares and discounted package deals, booking through a deal site could be more advantageous."
More From GOBankingRates