Airlines With the Best Deals This Summer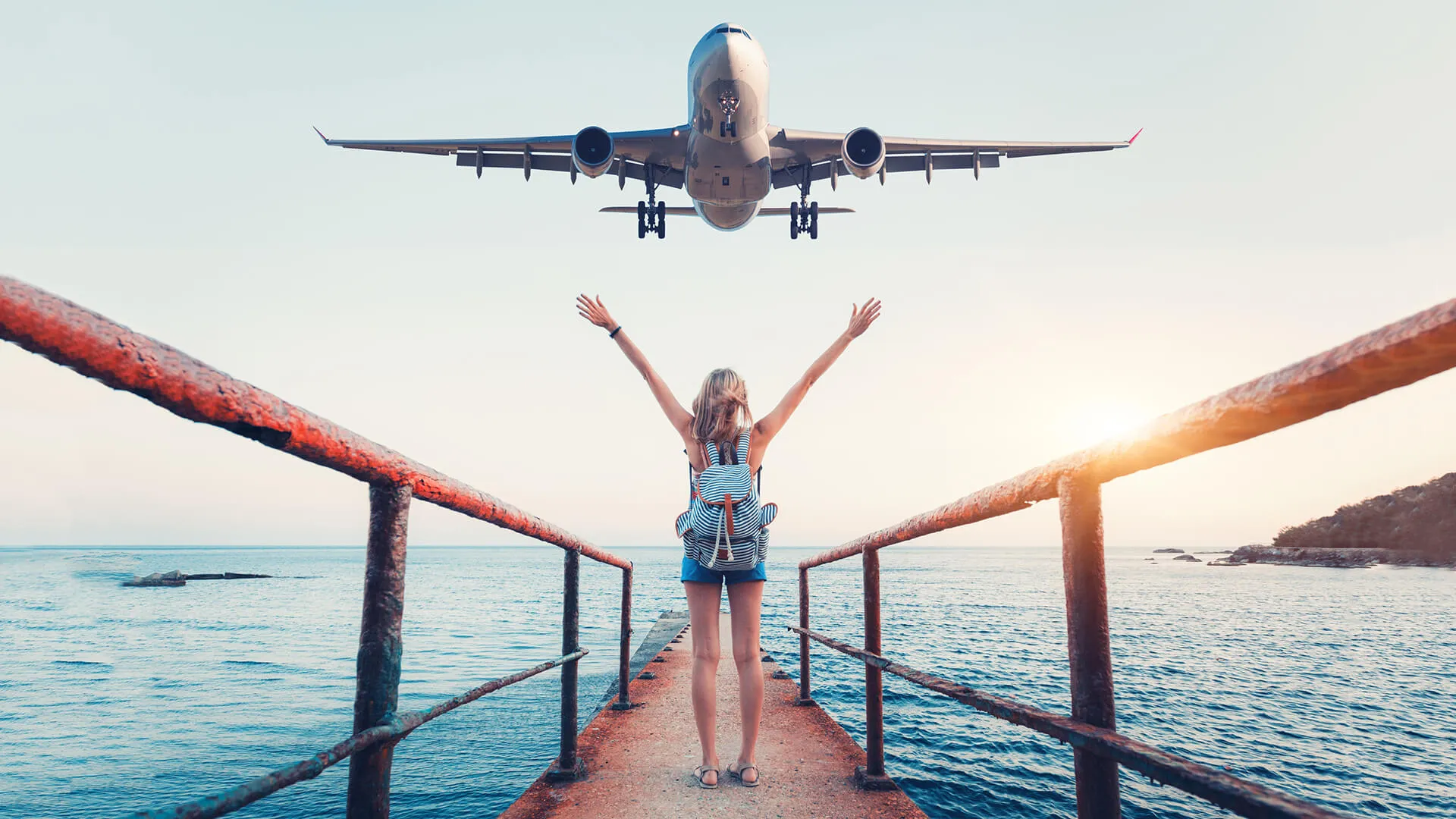 After a year in which air travel was essentially shut down, travelers are already roaring back in 2021. According to the TSA, passenger counts through June 2021 were already about 75% of those recorded in the pre-pandemic year of 2019. 
Read: The Best and Worst Airlines for Cheap Flights
Follow Along: 31 Days of Living Richer
If you're one of those looking to fly in 2021, you should know from the start that airfares remain high, as airlines try to cash in on the rush of pent-up travelers. However, there are a few opportunities here and there for decent airfare deals this summer. Here's a look at some of the most noteworthy.
Last updated: July 6, 2021
United: Discounted Flights for 18- to 22-Year-Olds
If you're 18 to 22 years old, you can get at least 5% off United flights when booking through the United app. In some cases, the discount can be much more. The discount applies to economy-class tickets on United- or United Express-operated flights within North America originating in the United States. To access these special fares, you'll need to follow these steps:
Open the latest version of the United app

Select the "Book" tab

Select "Discounted travel (ages 18-22)"

Fill out the travel information and click "Search flights"

All discounted fares will appear within the final search
This promotion only runs through July 31. 
For Your Vacation: Who To Tip When You're Traveling
Southwest Airlines: Flights to Hawaii
If you're looking to fly to Hawaii this summer, there's some good news. As of July 8, fully vaccinated visitors from the U.S. mainland will no longer have to pay for an expensive pre-travel COVID-19 test from specific partners. Rather, travelers will simply have to upload their vaccine card to the state's Safe Travels website and bring that card to show on demand.
Southwest Airlines is also sharing the Aloha spirit by running a fare sale to Hawaii. Travelers from the continental U.S. or those traveling interisland who book by July 8 can fly discounted round-trip fares between Aug. 17 and Dec. 16.
Make Your Money Work for You
Qatar Airways: Discounted Flights for Alaska Mileage Plan Members
Qatar Airways is attempting to publicize its new partnership with Alaska Airlines by offering special discounted fares for Alaska Mileage Plan members. According to the terms of the deal, Alaska Mileage Plan members using code MPMEMBERS can score $550 off a round-trip business class flight or $125 off a round-trip economy class flight on Qatar Airways. Flights must be booked through the Qatar Airline's website by July 11 using the above code. 
According to the One Mile at a Time website, flights from all U.S. gateways are eligible. This makes round-trip Qatar flights from cities like Atlanta, Boston, Chicago, Los Angeles, Miami, New York and others qualifying.
Read: 13 Insider Secrets From Travel Agents That Will Save You Money
Emirates: Dubai From $699 and Free Hotel Night(s)
Check out one of the most interesting cities in the world with this special deal from Emirates. If you book by July 8, you can score a round-trip flight from the U.S. to Dubai for as little as $699. Even better, the airline will pay for your first night's stay at the JW Marriott Marquis if you fly on an economy fare, or your first three nights with a business for first-class ticket. To claim the hotel deal, you'll have to book your ticket on the Emirates website and then email EmiratesOffer@emirates.com with your flight information. This offer applies to travel from June 20 to Sept. 26 only.
Singapore Airlines: Economy Class to Asia
If you're hankering to get away to Asia on one of the best airlines in the world, check out Singapore Air's fare sale to popular cities like Phuket, Bangkok and Singapore. These are available for travelers flying out of New York, Los Angeles and San Francisco. Flights must be booked by Oct 31. for Los Angeles travelers traveling between July 19 and Nov. 9, 2021. Sample fares include $717 round trip from Los Angeles to Jakarta and $727 round trip to Phuket. In 2020, Travel & Leisure magazine ranked Singapore Airlines the best international airline for the 25th year in a row. 
Delta Airlines: Domestic Flights
Delta is offering a number of domestic sale fares under its "More Sun, More Sand, More Summer" deal page. If you're looking to fly cross-country, for example, Delta currently offers a $197 round-trip fare in basic economy from Washington, D.C. to Seattle. The travel period for this particular fare is Sept. 17 to 23. Other dates may vary, but they typically fall in later summer. For example, you can also fly round trip in basic economy from Los Angeles to Boston for $249 between Sept. 10 and 16.
Do More With Your Money: 10 Credit Cards To Consider for Travel Rewards
Make Your Money Work for You
Frontier Airlines: Flights From $15
If you're looking to fly a low-cost carrier and enjoy some of the lowest airfare pricing around, consider Frontier Airlines. The airline doesn't currently have any special sales going on, but its entire business model is based on offering low fares. Some of the lowest fares available include a $15 one-way fare from Denver to Las Vegas, a $33 one-way fare from Philadelphia to Orlando, Florida, and a $21 one-way fare from Cleveland to Fort Meyers, Florida. Some cheap flights to Central America are also available. Bear in mind that to score these fares you'll have to join the airline's Discount Den, which requires a $59.99 annual fee.
If You're Driving at Your Destination: How To Save Money on Rental Cars for Your Upcoming Trip
Sun Country Airlines: Independence Day Sale
Sun Country Airlines is currently running a Fourth of July sale, with domestic one-way fares as low as $29. Fares must be purchased by July 12, and a 21-day advance purchase is required. Eligible fares are to/from the airline's hub of Minneapolis. Sample fares include $29 to/from Milwaukee from Sept. 5 to Nov. 25, $39 to/from Chicago between Sept. 9 and Nov. 18, and $79 to/from Portland, Oregon, between Sept. 4 and Dec. 16. Unlike some other low-cost carriers, these fares are available to all passengers and do not require any type of membership or annual fee.
For Your Stay: 35 Things Your Hotel Will Give You for Free
Air France: From the West Coast to Paris for $884 Round Trip
While $884 might not seem like much of a fare deal, if you're flying from the West Coast of the U.S. to Paris in July and August, it's a bargain. Air France offers a variety of round-trip pairs at that price, including Denver and San Francisco to Paris. If you move east across the country, fares can drop dramatically throughout the year. For example, Air France currently offers round trips from New York to Paris for just $533, or Miami to Paris for $650. Outbound travel must occur Sunday to Wednesday, and return flights must depart Tuesday through Thursday. The minimum stay is five days, while the maximum stay is six months. Fares must be purchased at least 28 days in advance.
Check Out: 10 Money-Saving Summer Travel Tips Only Insiders Know
Southwest: $49 Independence Day Flight Sale
If you act before July 8, you can take advantage of Southwest's "Independence Yay Sale." The continental U.S. portion of the fare sale is valid for travel from Aug. 17 through Dec. 16. As with all of Southwest's flights, two bags fly free with each passenger, and there are no change fees. 
More From GOBankingRates