What It Costs to See These 12 Wonders Around the World
Searching for family vacation ideas? Consider visiting these wonders of the world.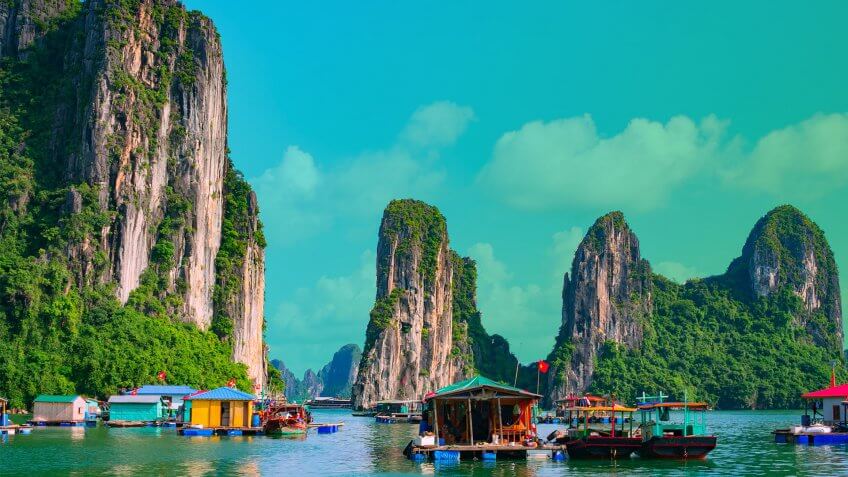 PhotoRoman / Shutterstock.com
Amidst the hustle and bustle of everyday life, it can be easy to forget just how wondrous the world is. From magnificent bodies of water to astounding geological formations, there's no shortage of breathtaking sights just waiting for you to behold.
Lifetime memories and vacation photos aren't the only things you'll come away with when you travel to these wonder-filled destinations. You'll also be forever changed by a deep understanding of the natural forces that helped shape them and the cultures that live alongside them.
Visit these wonders of the world, and you'll experience a life-changing trip well worth the cost.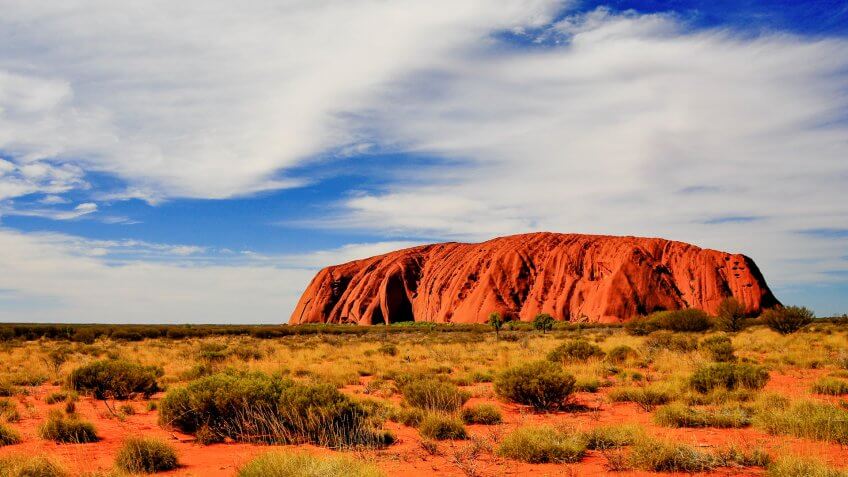 Stanislav Fosenbauer / Shutterstock.com
Ayers Rock (Uluru)
Also known by its aboriginal name of Uluru, Ayers Rock is approximately 1,150 feet tall — that's three stories taller than the Las Vegas Stratosphere, which is the highest freestanding observation tower in the western U.S. You can climb the rock for a commanding view of Uluru-Kata Tjuta National Park and its service village, Yulara.
When planning your trip, keep in mind that Australia's seasons are opposite of those in the U.S. Visit during May and September for cooler weather and to discover plants, animals and waterfalls that diminish during the Australian summer.
Flights to Ayers Rock Airport will set you back between $2,000 and $3,000 per ticket, and a hotel that is approximately five miles from Ayers Rock will cost more than $300 per night. You can buy a family visitor pass — good for two adults and two or more children — for $65. Single adult passes cost $25 each. Passes can be used for three days at other Parks Australia parks and gardens, including Christmas Island, which is famous for its annual red crab migration.
Also in Travel: 50 Scenic National Parks You Can Enter for Free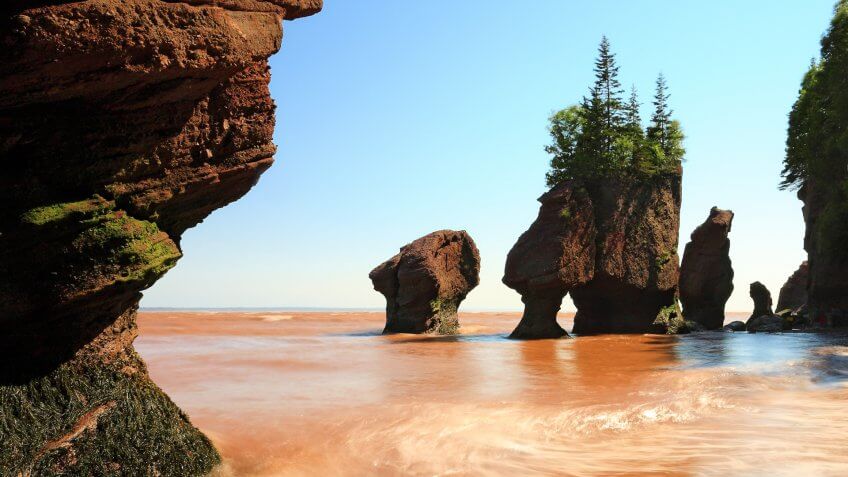 Jay Yuan / Shutterstock.com
The Bay of Fundy
Witness the fast-rising and receding tides at the Bay of Fundy, which stretches more than 155 miles between the provinces of New Brunswick and Nova Scotia. While Fundy fell short of being named one of the New Seven Wonders of Nature, it is still a wondrous sight to behold.
The Bay of Fundy's extreme tides change water levels by as much as 48 feet each day as more than 100 billion tons of water travel in and out of the narrow bay. When the tide is low, visitors can head to the bay's northwestern tip to see Hopewell Rocks, which are towering boulders carved with tunnels and holes by the pounding surf.
Flights to Moncton, New Brunswick, Canada — which is about 22 miles north of Hopewell Rocks — can be had for as little as $527 per ticket. A hotel room will set you back roughly $100 per night. A two-day pass for Hopewell Rocks costs $10 for adults and $7.25 for children 5-18. Children under the age of 4 are admitted free of charge.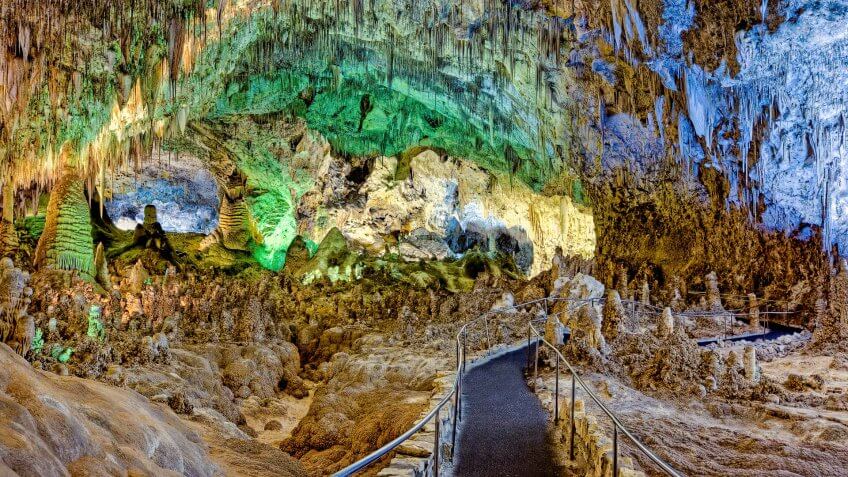 Doug Meek / Shutterstock.com
Carlsbad Caverns
Carlsbad Caverns are a wonder to behold right here in the U.S. Located in Carlsbad Caverns National Park in New Mexico, the destination is a great place for an unforgettable family vacation.
During the day, grab a sweater, flashlight and camera and tour the Big Room, which is just one of the 119 caves that make up Carlsbad Caverns. The cave is a cool 56 degrees year-round, making it a good place to escape the New Mexico desert heat.
For a more in-depth adventure, take a guided tour to one of several other caves in the system. Experience the candle-lit Left Hand Tunnel tour along unpaved trails, crawl and climb through the maze of the Spider Cave, or hone your free climbing skills on slippery flowstone in the Hall of the White Giant.
Any time between May and October is an ideal time to visit, as you can watch and learn about the millions of Brazilian free-tailed bats that emerge from the caverns each evening to hunt bugs.
You can purchase a ticket to El Paso International Airport — the closest major airport to Carlsbad Caverns — for less than $400. The airport is approximately 150 miles southwest of Carlsbad Caverns National Park, so you will need to factor in the cost of a rental car. The closest hotels to the park are approximately 20 miles away and cost between $100 and $200 per night. Camping is permitted in the backcountry near the park. All adults over the age of 16 must pay a fee of $10 to enter the park. Guided tours come at an additional cost, and reservations are highly recommended.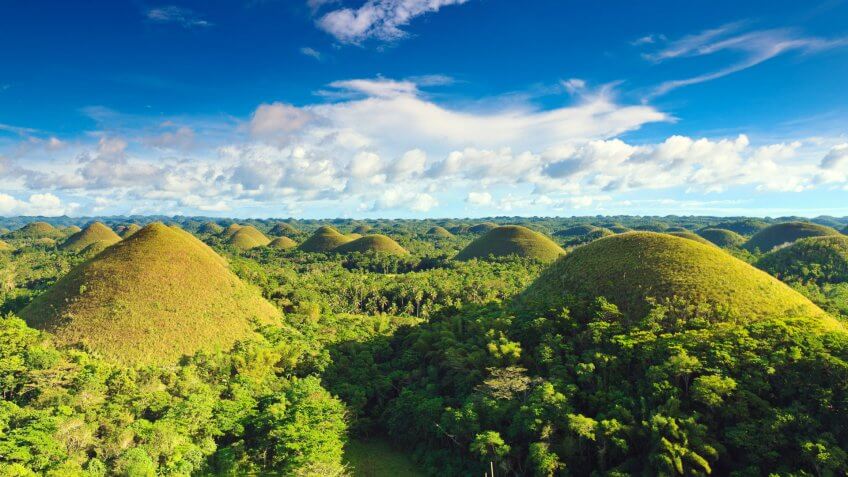 Khoroshunova Olga / Shutterstock.com
Chocolate Hills
Life is like a box of chocolates in Bohol, Philippines, where wondrous cone-shaped brown mountains called the Chocolate Hills can be found. There are more than 1,200 Chocolate Hills — which range from 100 to 390 feet in height — that cover a 20 square mile area.
The Chocolate Hills are actually grass-covered limestone. Green for most of the year, the hills acquire their chocolately hue only during the Philippines' dry season — December through March — when the grass dies and browns. There's abundant lore about how the mountains formed but little scientific agreement.
Head to the Chocolate Hills Complex for the best vantage point. A few hundred steps takes you to a platform atop one of the hills where you'll get a panoramic view of the "chocolate drops" surrounding you. There are shaded balconies along the way where you can stop to catch your breath and enjoy the view.
A roundtrip ticket to Tagbilaran Airport will cost you around $1,500. Your dollar goes further in this travel hot spot, as made evident by the low hotel prices, which cost as little as $14 a night just 20 miles from the Chocolate Hills. The hills themselves are free to see.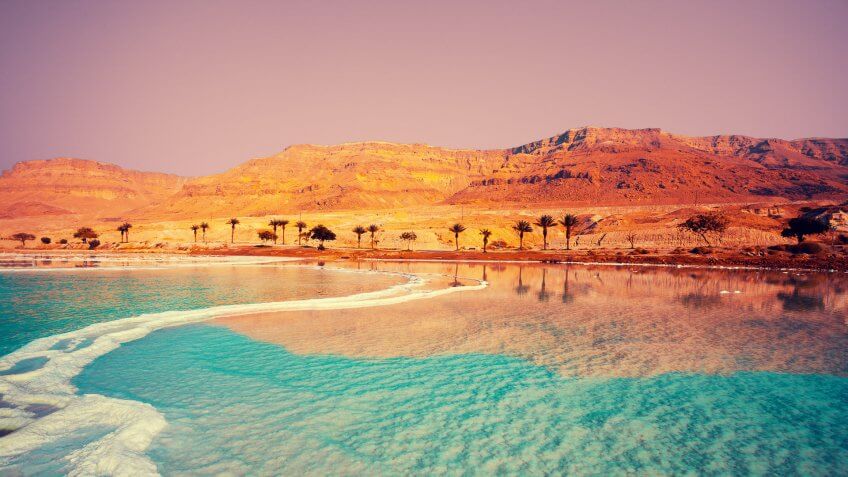 vvvita / Getty Images
Dead Sea
One of the New Seven Wonders of Nature, the Dead Sea is the perfect destination for those looking for a relaxing vacation complete with a little skin rejuvenation.
Bordered by Jordan to the east and Israel and Palestine to the west, the hyper-saline lake lies approximately 1,400 feet below sea level. The Dead Sea is nearly 100 feet deep and has water that is nearly 10 times as salty as the ocean. One of the world's first health resorts, the Dead Sea has attracted visitors from around the Mediterranean basin for thousands of years.
For your visit, head to the Neve Midbar Beach on the northern area of the Dead Sea, which has an abundance of black mud, as well as showers, changing rooms and toilet facilities. Or dip into mud pools at Biankini Beach, where you can also cool off in an 82-foot swimming pool.
A flight to Queen Alia International Airport in Amman, Jordan, will set you back around $2,000. There are plenty of hotels around the Dead Sea in Jordan and Israel. Most prices are between $100 and $200 per night. Tent and lodge camping is also available. Some Dead Sea beaches, such as Kalia Beach, require an entrance fee.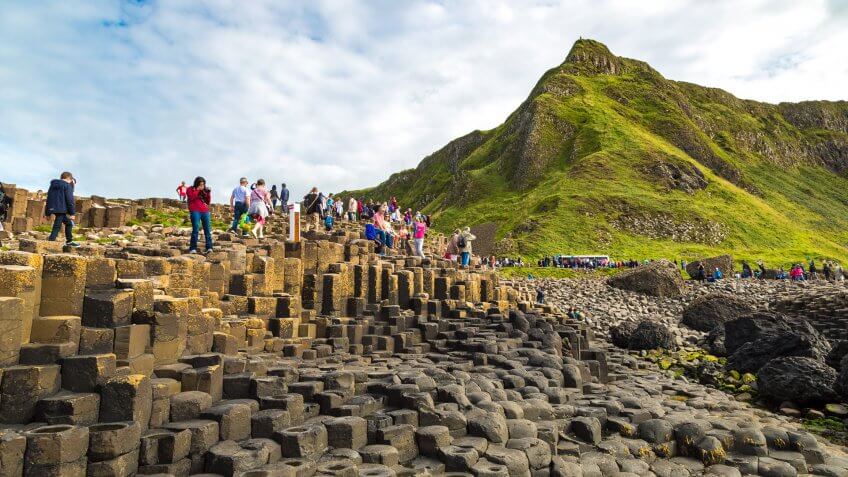 S-F / Shutterstock.com
Giant's Causeway
More than 40,000 interlocking basalt columns make up the natural wonder known as the Giant's Causeway in Bushmills, Northern Ireland, U.K. Legends, lore and scientific ponderings combine at this UNESCO World Heritage site.
Also in Travel: 30 Places You Need to Visit Before They Disappear
Take the long way down to the causeway along cliff-side paths for the most breathtaking views of the seacoast. Relish panoramic views from 162-step stone stairway known as the Shepherd's Steps to stone formations that include the Organ, Amphitheatre and Chimney Stacks. Step out onto the Honeycomb for some memorable Giant's Causeway photos with the sea in the background.
Flights to Belfast City Airport, which is more than 60 miles southeast of Giant's Causeway, cost around $1,800 per ticket. Rooms can be found in Belfast for a little less than $200. The cost to see the Giant's Causeway is $29 for a family of two adults and up to three children.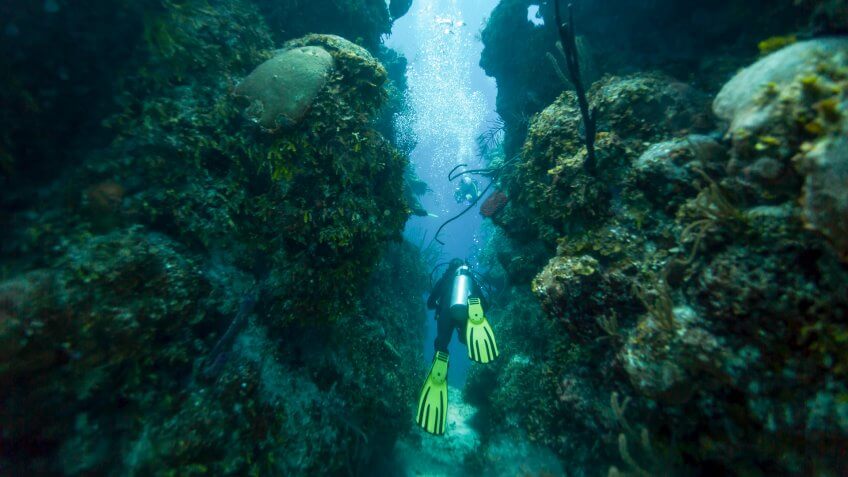 pniesen / Getty Images
Great Blue Hole
The Great Blue Hole — a dark blue underwater sinkhole in otherwise turquoise sea — is a wonder to behold.
Located approximately 60 miles off the shore of Belize, the Great Blue Hole measures 984 feet across and plunges 394 feet deep. Experienced scuba divers can descend into the hole's depths to see dramatic stalactites and overhangs. Visitors without scuba experience are welcome to go snorkeling along the limestone and coral reef rim, where they can see neon gobies, angelfish, butterfly fish and other colorful species.
Flights to Belize City can be had for just $600. Hotels range greatly in price, with some costing as little as $52 a night and others costing more than $250. The cost to snorkel or dive depends on the company. For example, diving with Belize Diving Services costs $229, plus a $40 park fee.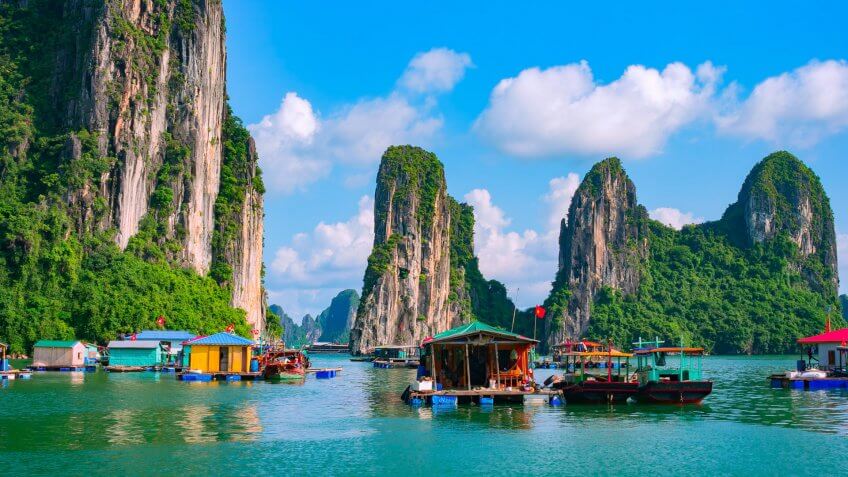 PhotoRoman / Shutterstock.com
Ha Long Bay
Little islands in the shapes of teapots, dogs and other unique forms jut from the turquoise waters of Ha Long Bay in Quảng Ninh Province, Vietnam. Considered one of the New Seven Wonders of Nature, Ha Long Bay — sometimes written as Halong Bay — is ideal for engaging in a variety of outdoor activities.
Ha Long Bay is a great vacation spot for adrenaline junkies. Scuba dive, rock climb, kayak, embark on a junk boat tour or strap on your hiking shoes to explore mountain trails in Cát Bà National Park. Delve into the depths of hundreds of limestone caves on the islands. Uncover military history, old French graffiti, legends and lore surrounding the island caves. Marvel at the floating fishing villages or unwind at a beach resort. All can be done in Ha Long Bay.
You can get to Ha Long Bay by car, air or boat. To get there by air, fly to Hanoi for about $1,200 and get a transfer to Halong Bay. Hotels around the bay vary greatly in price. Some rooms can be reserved for as little as $14 per night. How much you will spend while visiting Ha Long Bay depends on your activities.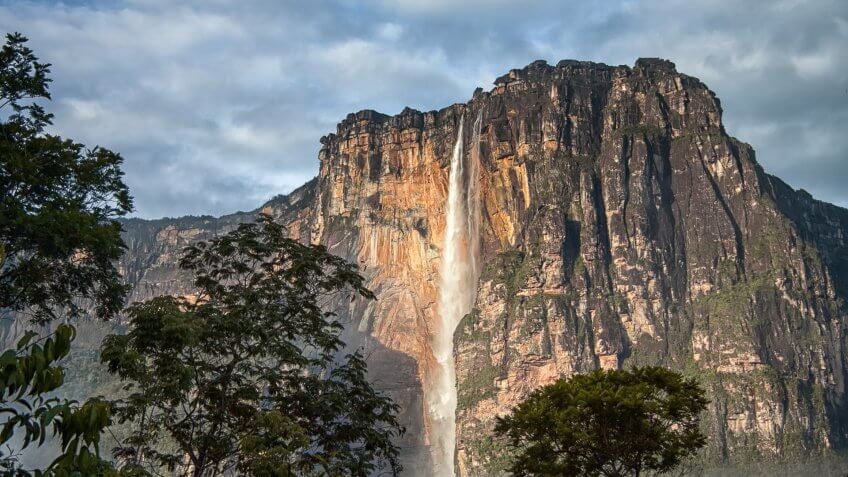 Alice Nerr / Shutterstock.com
Kerepakupai Merú (Angel Falls)
Travel to Canaima National Park in Bolívar, Venezuela, to marvel at the world's highest uninterrupted waterfall, Kerepakupai Merú, also known as Angel Falls. Considered one of the New Seven Wonders of Nature, Angel Falls are 3,212 feet high and plunge 2,648 feet.
To see the falls in all their splendor, you must hike Angel Falls Trail. The hike is uphill on uneven and sometimes muddy terrain and takes about 90 minutes. While on your hike, keep an eye out for one of five endangered species protected in the park, which include giant anteaters, jaguars, giant armadillos, giant river otters and ocelots. You're sure to see many species of bird, also, as more than 100 live in the park, including 29 that cannot be found anywhere else in the world.
The journey to Angel Falls Trail is arduous. Coming from the U.S., you will likely have several connecting flights, as well as a four-hour boat ride. To make the journey less of a hassle, some companies offer packages that include airport pickup, lodging and tours.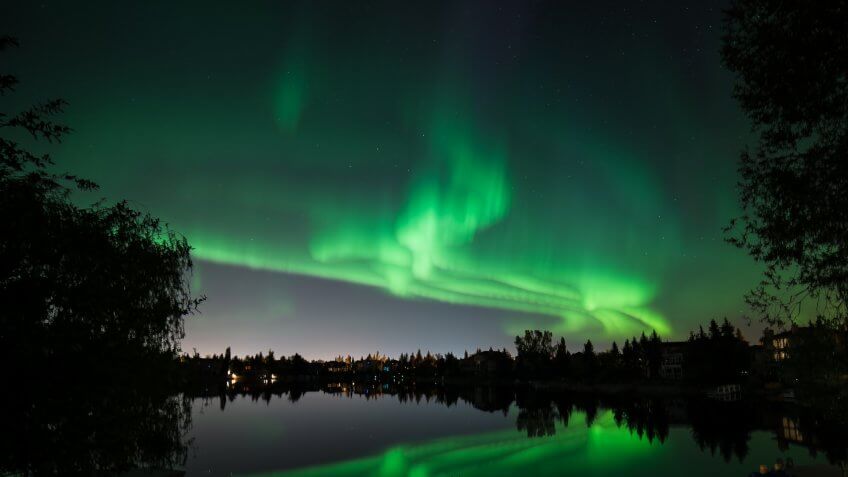 BillieBonsor / Shutterstock.com
The Northern Lights
The Aurora Borealis — better known as the Northern Lights — is possibly the most breathtaking of the Seven Natural Wonders of the World.
You don't have to travel too far to view the Aurora Borealis, as its bright lights are visible in Alaska, Canada and sometimes in certain areas of the continental U.S. To really experience this wonder, however, head to Norway, where an entire travel industry is designed around the colorful phenomenon.
Plan your trip during months with the most activity. While anytime between September and April will do, you'll witness the most activity in September, October and March. The further north you go, the better your view will be. Go all out and head to Hammerfest, the world's northernmost town. Dark sky and clear, crisp weather create the ideal conditions for viewing.
A roundtrip ticket to Hammerfest will cost you upwards of $4,500, while a room will cost you between about $140 and $200 per night. Looking to the sky to see the lights is entirely free.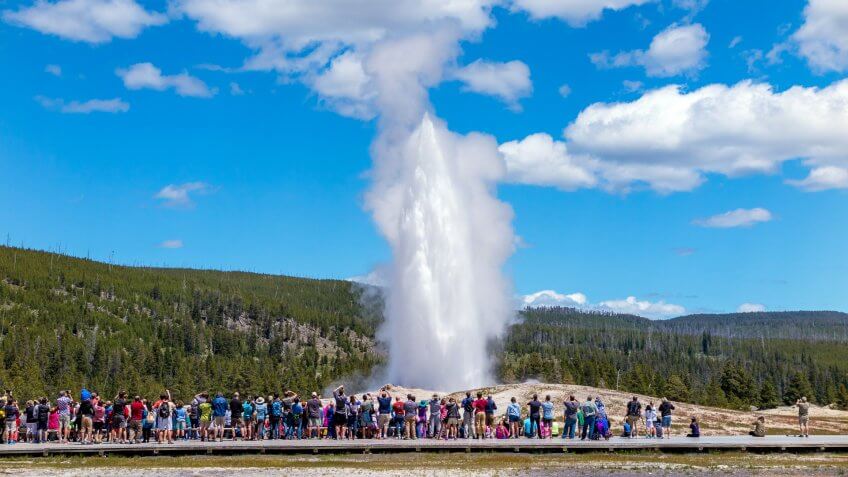 f11photo / Shutterstock.com
Old Faithful Geyser
There's no doubt that Old Faithful is among the world's most wondrous sights. Located in Yellowstone National Park in Wyoming, Old Faithful is one of the more predictable geysers in the world.
Old Faithful erupts once every 51 to 120 minutes and shoots between 3,700 to 8,400 gallons of water into the air over the course of 90 seconds to 5 minutes. While it is certainly Yellowstone's biggest draw, Old Faithful isn't the only geyser in the park. In fact, it is just one of 150 in the Upper Geyser Basin area of Yellowstone.
You can see even more geysers, as well as hot springs, fumaroles and mudpots, in other areas of the park. Another notable Yellowstone geyser is Excelsior Geyser, which spurts 4,000 gallons of water each minute into the Firehole River from its 200x300-foot crater.
Fly in to Jackson, Wyoming, for between $500 and $600 per ticket, and then drive a rental car nearly 100 miles north to reach Old Faithful. Stay at the Old Faithful Inn for between $119 and $590 per night, depending on the room, in summer 2017. A seven-day pass for a non-commercial vehicle into Yellowstone National Park is $30.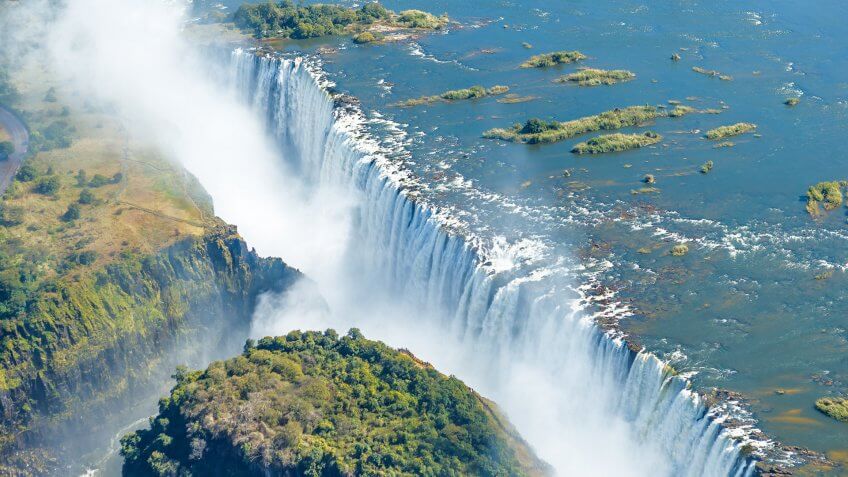 Vadim Petrakov / Shutterstock.com
Victoria Falls
It might not be the world's widest or tallest waterfall, but Victoria Falls is certainly one of the most impressive. Considered one of the Seven Natural Wonders of the World, the mile-wide waterfall is located on the border between the African countries of Zambia and Zimbabwe.
Visitors can access the falls through Livingstone, Zambia, or Victoria Falls, Zimbabwe. Day trips require a visa — prior application not required — that can be obtained at border posts in either country. Should you wish to see both sides, there is a bridge over the falls that connects the two countries. The Knife Edge viewpoint on the bridge gives one of the best views of the main falls, Eastern Cataract and the Boiling Pot.
Viewing the falls by air — whether by a helicopter or an ultralight aviation vehicle called a microlight — is most ideal; however, visitors can also view the falls by hiking various trails. Tourists who go during dry season (mid-August through mid-January) are able to swim in a natural infinity pool. A lip keeps swimmers from plummeting over the sheer drop.
A round-trip flight to Victoria Falls, Zimbabwe, costs between approximately $2,000 and $4,800, depending on airline. You can get a three-star hotel in Victoria Falls for as little as $100 per night. Touring the waterfall itself will cost between $60 and $90, depending on your activities.
Up Next: Breathtaking Sights Around the World You Can See for Free
Methodology: Flight data included in this article was found using Google Flights. Roundtrip flight dates were Sunday, June 25 and Friday, June 30. Flights to some destinations included in this article were not available on those dates and were, therefore, readjusted by a couple of days. Hotel information was found for three-star hotels on the same dates (June 25-30) using Hotels.com unless otherwise noted.