Trump Announces Temporary End to Government Shutdown as Flight Delays Disrupt Travel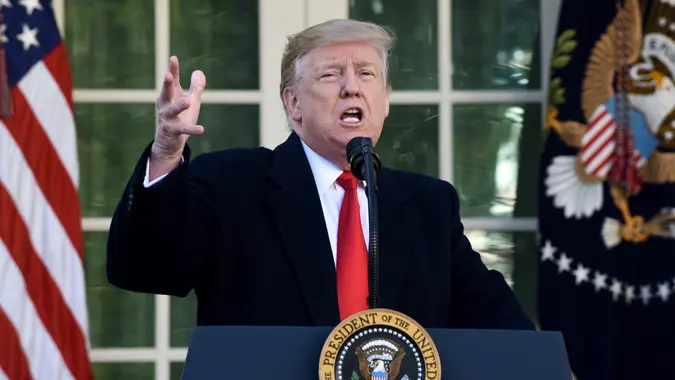 Olivier Douliery/POOL/EPA-EFE/REX / Shutterstock.com
President Donald Trump announced a temporary end to the partial government shutdown on Jan. 25 as flight delays disrupted travel.
Recent absence rates for TSA workers have consistently been at least double that of the same time last year.
Although the national average wait time remains within a normal range, certain busier airports are showing long max wait times on some days.
President Donald Trump announced a temporary end to the partial government shutdown on Jan. 25 as flight delays disrupted travel in the Northeast. LaGuardia Airport and Newark Liberty International Airport experienced delays after air traffic controllers called in sick.
The federal government will reopen for three weeks, so travel issues could become a concern again if no permanent solutions are agreed upon. Here's what to keep in mind in case your travel plans are affected.
TSA Workers Missing Time Could Cause Travel Issues
Although the TSA is considered essential and is asking some 50,000 of its security staff to work without pay until the shutdown ends, strain is clearly starting to show for workers who are expected to miss their second paycheck on Friday. As of Monday, Jan. 21, around 10 percent of the TSA workforce were out for an unscheduled absence, with the TSA stating that "many employees are reporting that they are not able to report to work due to financial limitations."
The 10 percent absence rate far exceeds the 3.1 percent rate one year ago, and it's part of an ongoing trend. Sunday's unscheduled absence rate was at 8 percent compared to 3 percent last year, and Saturday saw a 7 percent rate of absence compared to a year prior. And although Tuesday and Wednesday saw fewer people out, the rates are still over double the figures from last year.
Make Your Money Work for You
Find Out: How Much Is the Government Shutdown Costing American Taxpayers?
Will TSA Issues Affect Me?
Depending on when your travel plans are for, it's impossible to know what these shutdown effects mean for you. It's not at all clear if and when the shutdown might end, but it could hypothetically be any day now, so plans that are weeks or months from now could be totally unchanged.
However, given this rising rate of unscheduled absences, a shutdown that stretches many weeks from now might very well mean that things will be significantly worse by the time you're ready to head to the airport. You can take a few precautions to avoid potential travel issues during the shutdown.
Arrive at the Airport Earlier Than Usual
Where you're flying out of should also play a major role in whether or not your plans will be affected. The TSA reports that national wait times are within normal TSA times of a half hour for standard lanes, but busier airports are showing major delays. Atlanta, for instance, reported a maximum wait time of a whopping 88 minutes on Jan. 15, with the world's busiest airport advising travelers to arrive a full three hours before their departure.
Avoid Busier Airports
That could mean that avoiding starting travel at major hubs is advisable if you want to avoid travel delays, but it also remains unclear how long America will be waiting for a political solution to this issue. With no clear end in sight, any efforts to plan around the shutdown could end up being either inadequate or totally unnecessary.
Make Your Money Work for You
Find Out: The No. 1 Lesson All Americans Can Learn From the Government Shutdown
But if you find this especially frustrating, imagine what it's like for the TSA and FAA agents who are presently trying to manage working without pay. If you're traveling during the shutdown, keep in mind the employees are working to keep you safe even though they're not getting paid.
Read about one government employee's real-life money woes as the shutdown drags on.
More on Money and the Government Shutdown
We make money easy. Get weekly email updates, including expert advice to help you Live Richer™