How Much It Costs To Visit the 10 Biggest State Fairs in the US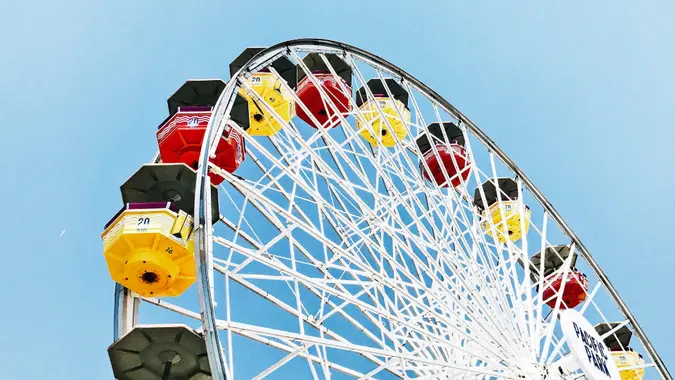 Brittney Butler / Unsplash.com
State fairs are a grand, well, affair. Held once or twice a year, these fairs serve residents from all around their states, and anyone else who wants to visit and get a piece of the action. Fairs are a great family event that combine food and fun, and often include petting zoos, carnival games and rides for people of all ages. They can also be more cost-effective than a trip to Disney or Universal.
Discover: How Much It Cost To Go To Disney World the Year You Were Born
Tips: How To Get Back in the Habit of Budgeting for Travel
Make no mistake, though, the dent in your wallet can be pretty big after a state fair, depending on what you do there. Here's how much it costs to visit the 10 biggest state fairs around the U.S.
10. Washington State Fair
Washington state residents get the treat of a state fair not once but twice per year. Held for three weeks in September and four days in June — at least, in non-COVID-19 times — it takes place in the city of Puyallup and hosts 1 million visitors annually. It's currently scheduled to be open from Sept. 3-26.
Make Your Money Work for You
Admission prices are $13 for ages 13-61, $11 for children ages 6-12, $11 for seniors 62 and older and free for children 5 and under. It also costs $60 for 120 ride and game tickets and $20 for 35 tickets. Make sure you also budget for food for the family, because prices are sure to be inflated. You can, however, get a baker's dozen of Fisher Scones for around $15.
Find Out: Things You Can Get For Free in Every State
9. North Carolina State Fair
The 2021 North Carolina State Fair is set to run from Oct. 14-24 and highlights the state's agriculture with various educational and interactive exhibits. The fair features rides, competitions and entertainment such as the Folk Festival. It also boasts 1.01 million visitors per year.
Admission prices are $11 for ages 13-64, $7 for kids ages 6-12, $5 for people 65 and over and free for children 5 and under. They're also only $8 with a valid military ID. However, if you purchase tickets beforehand online, they're cheaper and you get to skip the line at the gate.
As far as ride tickets go, you can purchase sheets of 18 tickets for $18 or an unlimited ride wristband that's valid for one day for $40. However, if you buy them beforehand online those prices drop to $10 and $30. You can also buy a Dizzy Pass online that includes a ride wristband and a gate admission ticket for $38.
Make Your Money Work for You
Travel Prep: 10 Financial To-Dos Before Going on a Trip
8. Wisconsin State Fair
The Wisconsin State Fair was held Aug. 5-15 and includes America's largest traveling Ferris wheel, art exhibits, rides and the House of Moo, where you can learn about Wisconsin's dairy industry. It also features their famous cream puffs, which have been sold at the state fair since 1924.
Admission prices are $12 for ages 12 and older, $9 for people 60 and older, $9 for military and veterans with ID, $9 for ages 6-11 and free for children 5 and under. For ride and game tickets, it's $1 per credit, $22 for 25 credits and $32 for 40 credits. However, you can plan ahead for next year and purchase 40 credits for just $24 from mid-November through Dec. 31.
Helpful Tips: 13 Insider Secrets From Travel Agents That Will Save You Money
7. Iowa State Fair
The Iowa State Fair ran from Aug. 12-22 and welcomes 1.13 million visitors annually. It's also the inspiration for a novel, three movies and a Broadway musical. It's an ode to the state's best in agriculture, industry, entertainment and achievement.
Make Your Money Work for You
Advance admission prices are super cheap, at $12 for 12 and older, $5 for kids 6-11 and free for kids 5 and under. At the gate, you can expect to pay $14, $8 and $0 for the same age ranges. The website doesn't list ride ticket prices, but you can attend events like a monster truck rally for $25 ($20 if you buy online) or a demolition derby for $15 ($10 online).
Find Out: Cheap Places To Travel On $100 a Day Or Less
6. Arizona State Fair
The Arizona State Fair has been around since 1905 and attracts 1.14 million people a year. With concerts, rides, fair food and exhibits, what else could you ask for? The fair is set to take place in Phoenix from Oct. 1-30 this year.
Admission prices are $12 for ages 14-54, $10 for people 55 and over, $10 for children ages 5-13 and free for children 5 and under. Ride ticket prices aren't listed, but you can download the FunPass mobile app to purchase tickets there.
Wow: The Death of Vacation Travel? Survey Shows Bad News for Travel Industry
5. Tulsa State Fair
The Tulsa State Fair takes place in Tulsa, Oklahoma, from Sept. 30-Oct. 10 this year. It's advertised as "11 days of awesome" and kicks off with a performance from Disney on Ice. It technically competes with the Oklahoma State Fair, but it's the bigger fair, with 1.15 million attendees per year.
Admission prices are $12 for adults, $8 for kids ages 5-12, $8 for people 62 and older, $8 for military and free for children 5 and under. Meanwhile, ride tickets cost $1.50 per ticket, $25 for 20 tickets and $60 for 50 tickets. You can also buy a mega ride pass through Sept. 9 for $70 or through Oct. 3 for $75 — this includes unlimited rides for the entire length of the fair (all 11 days) as well as gate admission. As with most of the fairs, you can typically find better admission and ticket deals online.
More: Road Trips Rule: Survey Indicates Road Trips Will Dominate Travel
4. The Great New York State Fair
The Great New York State Fair takes place from Aug. 20-Sept. 6 in Syracuse, and features some of the best concerts with multiple performance stages. Aside from regular fair activities, attendees can expect to see performances such as Circus Hollywood, the Mighty Mike Show and the Sinbad High Dive Show. It attracts 1.2 million visitors per year.
Admission prices are some of the cheapest in the nation at $3 apiece for adults. Children 12 and under can get in for free on honorary days, and people 65 and older get in for free anytime. It is important to note that there are no cash sales at the fair's entrance gates or parking lots — so bring your debit or credit card, or buy a voucher online.
A ride MegaPass with unlimited rides for the duration of the fair costs $95. Weekday unlimited ride armbands, meanwhile, cost just $30, while a weekend unlimited ride armband would run you $35.
Find Out: 35 Things Your Hotel Will Give You for Free
3. The Big E
Also known as Eastern States Exposition, this special fair includes all six New England states: Connecticut, Maine, Rhode Island, Massachusetts, Vermont and New Hampshire. It's being held Sept. 17-Oct. 3 this year in West Springfield, Massachusetts. It features "state days" where each state can show off its history and traditions, and has just about every fair attraction you can imagine, including its signature Big E Cream Puff.
Admission prices online are $12 for adults 13 and over, $8 for kids ages 6-12, free for kids 5 and under and $10 for opening day admission for anyone. You can also buy a 17-day adult pass for $40 and 17-day child pass for $20, which are good for the duration of the fair.
A Midway Magic Pass will run you $25, which you can use for an unlimited ride wristband on any weekday or 26 ride tickets on a weekend. You can also buy a $25 voucher for a six-pack of Big E Cream Puffs, Eclairs or a combination of the two.
Read: 5 Ways Your Vacation Will Cost More Because of the Pandemic
2. Minnesota State Fair
The Minnesota State Fair goes all the way back to 1859, and attracts an amazing 2 million visitors per year. It's famous for its Sweet Martha's Cookies, Tom Thumb's mini donuts, deep-fried cheese curds, The Pronto Pup corn dog and turkey legs. As you probably guessed, it's foodie heaven. This year, it's held from Aug. 26-Sept. 6.
Admission prices are $16 for people ages 13-64, $14 for people 65 and over, $12 for kids 5-12 and free for kids 4 and under. Meanwhile, it's $1 for one ride ticket, $25 for a 28-ticket sheet and $50 for a 60-ticket sheet. There is no wristband or armband program.
Important: Why You Should Consider a Travel Agent To Book Post-Pandemic Travel
1. State Fair of Texas
The grand State Fair of Texas is the largest in the U.S., attracting a whopping 2.25 million visitors annually. Running from Sept. 24-Oct. 17 in Dallas, Fair Park is actually a National Historic Landmark and teaches visitors all about the history of the Lone Star State. With rides, food, art, livestock, culture and science museums, there's really nothing not offered at the State Fair of Texas.
Admission prices run $15-$20 for a single day, $24 for a premium ticket which lets you attend any day of your choosing or $5o for a season pass. Considering the season lasts 24 days, that's a pretty great deal. You can also buy group tickets of 25 or more for $15 apiece until Sept. 15, and then $16 apiece until the end of the fair.
A state fair is a lot more than just admission and rides. You can book endless concert and event tickets, or even enter into competitions to win prizes. Check out your local fair's website to see its schedule of events and ticket information.
More From GOBankingRates
Last updated: Aug. 27, 2021
Make Your Money Work for You