How To Use Hotwire To Find Cheap Flights and Hotels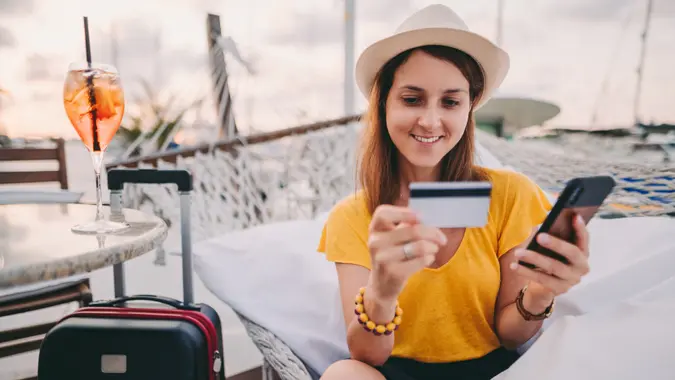 martin-dm / Getty Images/iStockphoto
Are you traveling on a budget? Hotwire is a popular platform for booking flights, hotels and rental cars, known for offering low prices and last-minute deals. With a user-friendly interface and a range of search options, Hotwire allows travelers to quickly and easily find the best deals on flights to destinations around the world. Overall, Hotwire is a great option for travelers looking to save money on their travel bookings without sacrificing quality or convenience.
See: Find The Upside To Every Purchase
How To Book Flights on Hotwire
Booking flights on Hotwire is simple. To score cheap flights, follow the steps below.
Step-by-Step Guide
Go to the Hotwire website and click on the "Flights" tab.
Enter your departure and arrival cities and your travel dates.
Select the number of passengers.
Click the "Find a flight" button to see a list of available flights.
Use the filters to narrow down your results by airline, departure time, arrival time and number of stops.
Once you find a flight that suits your needs, click the "Select" button.
Review the flight details and the total price, including taxes and fees.
Click on the "Check out" button.
Enter your personal and payment information to purchase your ticket. 
Tips for Booking
The flexible dates feature will help you find the cheapest flights. Hotwire allows you to search for flights up to 330 days in advance to compare prices for different travel dates.
Book your flight at least three weeks in advance to get the best deals. Prices tend to go up as your travel date approaches.
Consider booking a Hot Rate flight, which is a discounted flight that is not revealed until after you have completed the booking process. These flights can save you up to 40% off the regular price.
Hotwire's Hot Rate Flights
Hotwire offers a feature called Hot Rate Flights that can save travelers up to 40% on their flight bookings. This feature is available for domestic and international flights and is ideal if you can be flexible with your travel dates and times.
Make Your Money Work for You
When booking a Hot Rate flight, first select your departure and arrival cities and your travel dates. Hotwire then shows you available flights. You may notice a flight that doesn't have the airline information on it. You can book this Hot Rate flight but won't know the exact airline or flight details until your booking is complete.
These flights are nonrefundable, nontransferable and cannot be changed. It is also important to note that these flights may have restrictions or additional fees not included in the initial price. Travelers should carefully read the terms and conditions before booking a Hot Rate flight to ensure they understand the details of their purchase.
Hotwire's Hot Rate Hotels
Hotwire offers Hot Rate bookings, deeply discounted hotel rooms only revealed after you've completed your booking. However, Hotwire guarantees that your room will be at one of the hotels shown in the search results.
Hot Rate hotels are marked by a flame icon next to the price in the app. Hotwire recommends you use its app for bookings as prices are lower in-app. With Hot Rate hotels, you can save up to 60% on your bookings. Just keep in mind that you can't change or refund your booking.
Pros and Cons of Using Hotwire for Flights and Hotels
When it comes to booking flights and hotels, Hotwire is a popular option for travelers looking for affordable deals. However, as with any booking service, there are pros and cons to consider before making a reservation.
Pros
Price transparency: The prices listed on the site are all-inclusive, meaning that taxes and fees are included in the quoted price. This lets travelers know exactly how much they will pay upfront without hidden fees or surprises.
Variety of options: This single search engine offers a wide range of options for flights and hotels. No need to visit dozens of sites to compare prices.
User-friendly interface: Hotwire's website and mobile app are user-friendly and easy to navigate. The search interface allows travelers to filter results by price, location and other criteria, making it easy to find the right flight or hotel.
Make Your Money Work for You
Cons
Nonrefundable bookings: Most bookings are nonrefundable, so if you need to cancel or change your reservation, you may not be able to get a refund or make changes without incurring additional fees. 
Limited flexibility: Using the Hot Rate feature will save you money, but you may not be able to choose specific airlines or hotels. 
Final Take
Hotwire is a convenient one-stop shop for booking cheap flights and hotels for your next trip. Using Hot Rate deals for both flights and hotels can save you up to 60% off on your travel expenses, as long as you have a little flexibility and are open to learning what hotel or airline you're booking after you complete your purchase. 
Enjoy your vacation without hurting your wallet by planning ahead. To save even more money on your upcoming travel, combine a Hot Rate flight deal from Hotwire with a trip on a Tuesday or Wednesday, and be sure to book your ticket at least three weeks before your trip. 
FAQ
If you're looking for the best prices for your next trip, you probably have a few questions. Booking flights strategically is a tricky business. Here are the answers to some of the most frequently asked questions regarding flying on the cheap.
Which flight website is the cheapest?

Hotwire is known for offering discounted rates on flights, hotels and car rentals. However, there are many flight booking websites available, and it's a good idea to compare prices on multiple websites to find the best deal. 

What is the cheapest day to fly?

Tuesday and Wednesday are generally considered the cheapest days to fly, with weekends being the most expensive. Keep in mind that prices can vary depending on the airline, destination and time of year.

Why are last-minute flights so expensive?

Last-minute flights are often expensive because travelers who book last-minute flights are often willing to pay a premium for the convenience of booking a flight close to their departure date.

When is the best time to book a flight?

In general, it is best to book flights at least three weeks in advance to get the best deals. However, prices can fluctuate, so if you're planning even further ahead, it is a good idea to monitor prices and book when the price is right.

Is Hotwire cheaper on the app?

Hotwire states that prices are always lower on the app and encourages you to use the app to do any flight or hotel bookings.
Make Your Money Work for You
Editorial Note: This content is not provided by any entity covered in this article. Any opinions, analyses, reviews, ratings or recommendations expressed in this article are those of the author alone and have not been reviewed, approved or otherwise endorsed by any entity named in this article.