Spend a Dreamy Week in an Italian Castle for $799 — Flights Included
Italy vacations are even better in a four-star Tuscan villa.
If six nights and seven days in the famed countryside of Tuscany, Italy — complete with castle accommodations — sounds like a vacation you can only dream about, think again. Travelzoo is offering this incredible trip to Italy for only $799 per person — flights included. That's a $450 savings over similar travel packages. Find out exactly what you need to do to take advantage of this affordable, gorgeous, romantic trip.
See: 5 Classic European Cities You Need to Visit While Prices Are Down
What You'll Get With This Trip to Italy
With this travel deal, you'll enjoy six nights in an ancient 17th-century castle — also known as the four-star San Ruffino Resort — nestled in the heart of the Tuscan Hills. Even though the resort has been updated to reflect a modern, refined environment, certain architectural details, such as the original wood beams and frescoed ceilings, have been preserved. 
Flight costs, daily breakfast and a stick-shift car rental are included in the Travelzoo price, with the opportunity to upgrade to an automatic model for an extra fee.
Important: 13 Insider Secrets From Travel Agents That Will Save You Money
Flight Options
Flights for the package are available during select dates in March-June or September-October and depart from Boston; Miami; Newark, New Jersey; or New York City. Additional costs of $400 and $100 apply to July and August departures, respectively.
If those cities don't work for you, alternative flights are available out of Washington, D.C.; Seattle; San Francisco; Los Angeles; Fort Lauderdale, Fla.; and Chicago for $100 to $500 extra — departure dates will vary by city.
To score this bundled deal with accommodations and flights, Travelzoo advises that you book by phone through Fleetway by March 13. The travel company offers a full listing of departure dates and cities on its website, which you access using Travelzoo's link to Fleetway — you'll need to sign up for Travelzoo first, though.
Check Out: Cheapest Times of the Year to Fly to Europe
Available Upgrades
Opportunities for various upgrades to your Tuscan getaway package are available, such as extending your vacation to eight or 10 nights from $899 to $999 per person. Other options include upgrading to a junior suite with a garden view from $19 per person nightly or a deluxe suite apartment from $69 per person nightly.
And if you happen to be interested in extending your vacation to another European locale, you can opt for one of these bigger European vacation packages and add three nights on Italy's Amalfi Coast with car hire from $199 per person; two nights in Rome from $99 per person; or two nights in London, Paris or Barcelona, Spain — including flights — from $249 per person.
Tips: Travel Experts' Secrets to Scoring Free Perks and Upgrades
Suggested Activities When You Travel to Italy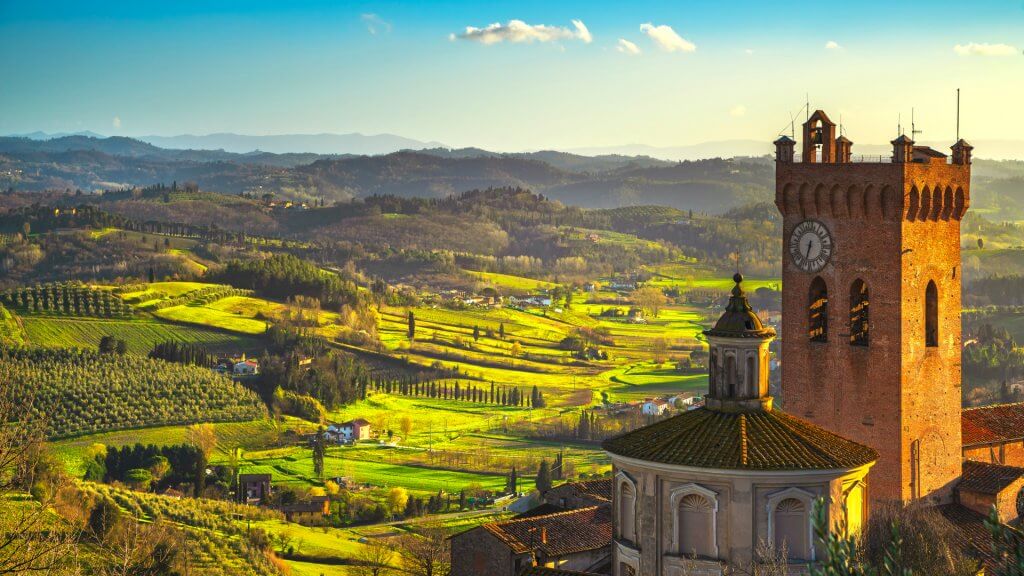 When you're ready to venture beyond the castle and surrounding grounds, Travelzoo suggests heading out to one of the many Chianti-area vineyards for olive oil, cheese, and wine tastings. According to Viator, an activity booking service, tours are available from around $30 for a 1 1/2-hour tour complete with tastings  — or as much as $415 for a half-day tour around the Chianti region with private luxury van service.
If you're up for more of an adventure, you might want to try truffle hunting in the small Tuscan town of San Miniato, where 80 percent of the world's white truffles are sourced from. Guided by an experienced truffle hunter and his dog, you'll learn how to find truffles in the woods, as well as how to cook and enjoy them. Tours are available year-round and start at $100 per person.
Of course, you can always take advantage of the included car rental — as long as you have an international driver's license — and tour the Tuscan countryside or visit famous sites, such as the Leaning Tower of Pisa, which is less than an hour's drive from the resort. According to Viator, entry tickets to the tower start are a little over $25 per person.
Scoring this deal would leave you with one of the most memorable and affordable Italy vacations out there.
Click through to read more about how to drop debt and book your dream vacation.
More on Travel