Why Now Is the Time To Spend Money on a COVID-19-Safe Getaway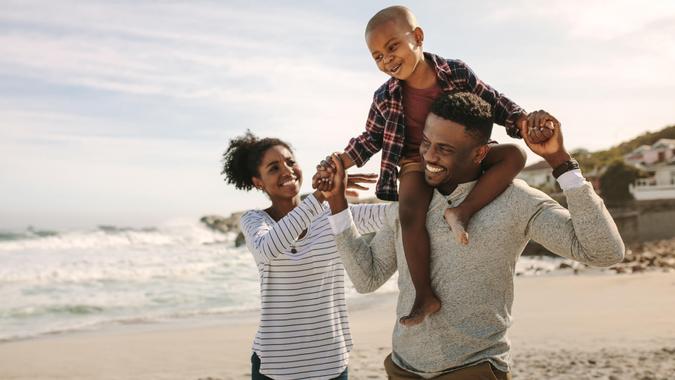 jacoblund / Getty Images/iStockphoto
This is a challenging time in the course of the coronavirus pandemic. The promise of "back to normal" thanks to a vaccine is actually tangible — but we still have to be patient, even as the inner children of people everywhere are screaming "are we there yet?" incessantly from the back seat of the car.
No, we're not "there" — but maybe this is the time to go somewhere. If you're going to get out of town, it's definitely the time to do it in a car. Stick to destinations that aren't too far and don't require air travel. When the kids start asking that dreaded question from the back seat, you can smile at them sweetly and say, "no, but we're not at home!"
Read More: Expenses You'll Have Again in 2021 That You Completely Forgot About
The key here is safety. Before you make any travel plans, make sure to review the Centers for Disease Control and Prevention's travel guidelines and cautions here. Be mindful of the risks and consider getting tested for COVID-19 both before and after your trip. Consider outdoor-oriented trips and more socially distanced lodging options like private vacation home rentals over hotels.
Make Your Money Work for You
In its annual trend report for 2021, VRBO reported that demand for cabins has increased nearly 25% year over year, while 59% of families surveyed said they were more likely to drive than fly to their travel destinations over the next year.
Find Out: 30 Locations With the Priciest Vacation Rentals
The good news is, the travel industry has adapted to offer safer and more localized experiences.
"Now can be a good time to travel because most everyone has grown aware and cautious of the circumstances," said Dan Noll of Uncornered Market, a travel blog focused on responsible travel.
He advises doing your research to look for destinations that openly address COVID-19 issues, rather than hiding from them. Upgraded cleaning protocols are important. And perhaps even more important is that they stress social distancing measures, he said.
The travel industry has also adjusted many cancellation and refund policies to be more flexible. "Use those to your advantage to plan and adjust to possible cancellations, but also to last-minute deals which might happen to appear," Noll said.
Planning for 2021: How To Prepare Financially for Two Different Halves of the Year
Make Your Money Work for You
Even if you don't go far, at this moment of steep industry discounts and off-season/shoulder season prices, your travel dollars will. Targeting a safer experience can mean less money spent on activities and meals. But do what you can with the money you save by skipping group tours or excursions to support the communities you're visiting. Consider extending your stay another night, pick up some local artisan crafts at an outdoor market or splurge on a couple of nice takeout meals from local restaurants that are observing safety protocols.
"More than ever, we have a chance to ask ourselves, 'How can I satisfy my curiosity and need to travel while doing the right thing and using my travels to benefit the places I'm visiting?'" Noll said.
Did You Know: 40 Pandemic Airport Secrets Only Insiders Know
In searching for your next travel destination, this is also a good reminder to consider that the "there" you can't wait to arrive at may be closer than you think.
Becky Moore, who runs the international travel blog GlobalGrasshopper.com, said she had to cancel a long trip to Sri Lanka she had planned earlier this year. Instead, she has taken many shorter staycations. "I was used to traveling overseas so frequently," she said. "But the benefit has been that I've gotten to see more of the beauty on my doorstep which I may have overlooked."
Make Your Money Work for You
More From GOBankingRates
Last updated: Apr. 9, 2021