This Is America's Favorite Way To Travel
Americans have classic tastes when it comes to their preference.
When you're planning a vacation, a major part of the planning process is how you'll get there. Although flying has become more relatively affordable compared to past decades, many Americans still prefer the classic choice of taking a road trip as opposed to flying somewhere. Getting around by car was chosen as the preferred mode of transportation by consumers in the Morning Consult's The State of American Travel 2018 survey, which surveyed over 2,000 American adults about their travel preferences. Here's what they said about how they like to get around.
Cars Beat Out Airplanes, Buses and Trains
Americans were asked to choose if they associate travel by airplanes, buses, trains and cars with being fun, comfortable, appropriately priced, efficient and minimal hassle. Car travel got the most votes in every category, with 67% saying it's fun, 74% saying it's comfortable, 82% saying it's appropriately priced, 78% saying it's efficient and 74% saying it's a minimal hassle.
Make Your Money Work for You
Buses had the lowest amount of votes for fun (33%), comfortability (43%) and efficiency (52%), while airplanes had the lowest amount of votes for being appropriately priced (49%) and trains had the lowest amount of votes for minimal hassle (42%).
Tatiana, the founder of the blog Family Road Trip Guru, said there are many reasons Americans might prefer traveling by car on their vacations compared to the other transportation options.
"First, it's way cheaper than airline travel," she said. "Amtrak is ridiculously expensive too — even more so than air travel, especially for longer trips. Second, it gives you the ultimate flexibility of where to go, when to stop and how long to stop for. Third, you can pack for a road trip much easier — you don't have to think about luggage [weight] limits, TSA rules, etc. This is especially convenient for people traveling with kids. Fourth, if you fly to a destination, you miss all the fun along the way: charming small towns, historic landmarks and natural wonders which you can only see on the road. There are so many scenic byways in the U.S. waiting to be explored. Fifth, some people choose road trips for peace and quiet. There are many road trips that take you away from the hustle and bustle and into the wilderness. Sixth, road trips save you from stress big time — some people are afraid to fly (yours truly included), and others hate [the hassle of] airport security lines (also true for big train stations), delayed flights/trains and lost luggage. Finally, a flight is just a flight; a road trip is a journey, forever memorable and unique."
Make Your Money Work for You
Find Out: Air Travel Mistakes That Are Costing You Hundreds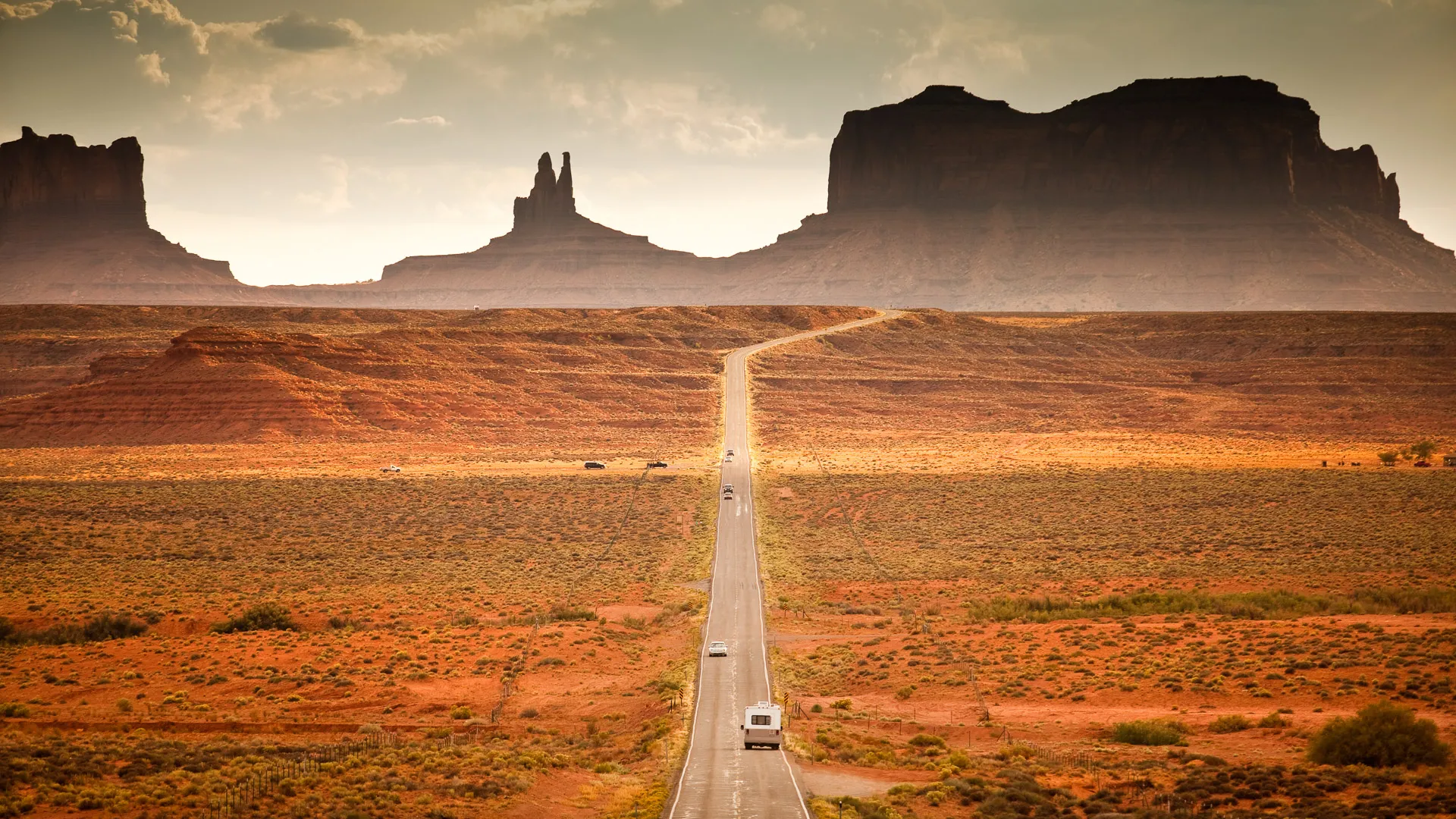 Of All the Elements Americans Want in a Vacation, Road-Tripping Is the No. 2 Choice
The survey asked Americans to rate the following elements that make a vacation enjoyable: a beach environment, a cruise, culture/history, fishing/hunting, golfing/sporting, hiking/nature, a resort, a rural environment, a road trip, RV camping, tent camping, a theme park and an urban environment. Beach vacations had the most universal appeal, with 47% of Americans saying that they would enjoy a beach environment a lot. Road trip was tied with resorts for the second-most popular vacation choice, with 38% of Americans saying that they would enjoy each type of vacation a lot. So for a really enjoyable vacation, consider road-tripping to a beach resort.
Americans Believe Air Travel Has Gotten Worse Over the Past Few Years
The majority of respondents — 35% — said that, overall, the experience of traveling by airplane has gotten worse over the past few years. Americans are particularly dissatisfied with the cost of air travel, with 48% saying that cost has gotten worse. The one area where Americans believe air travel has improved is safety, with 36% believing that it's gotten safer to travel by air in recent years. (It's worth noting that the findings are from 2018, prior to the second deadly crash of a Boeing 737 Max in March 2019.)
Make Your Money Work for You
Ticket Cost Is the No. 1 Factor Americans Consider When Traveling by Plane
Most Americans — 74% — said the cost of tickets is "very important" when traveling by airplane. Americans also value free checked luggage, comfort/legroom and efficient boarding and deplaning. In-flight beverages and snacks are not a deciding factor for most Americans, with only 35% rating complimentary beverages and snacks as "very important," and only 32% rating the cost of additional beverages and snack options as "very important."
Furthermore, cost trumped airline preference for Americans when booking flights. Forty-four percent said they book flights based on what's cheapest and most convenient, regardless of the airline; only 26% said that they factor in airline preference when buying tickets.
Southwest Is the Most Popular American Airline
Americans chose Southwest as their favorite domestic airline, with 49% stating that they have a favorable opinion of the airline. American Airlines came in second, with 47% of Americans thinking of the airline favorably, and Delta was a close third, with 46% having a favorable opinion of the company. Spirit is the least popular, with only 17% having a favorable opinion of the airline.
Click through to find out 20 tips to make airline coach seats feel like first class.
More on Money