What Are Cruises Going To Look Like in the Future?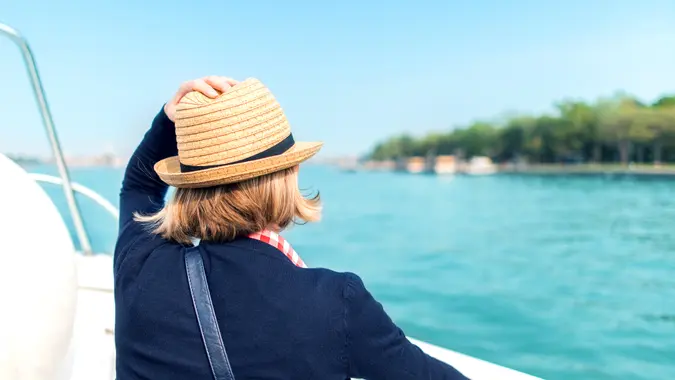 bluecinema / Getty Images
2020 was a brutal year for travel and hospitality, but if this were a competition, the sector that would win top prize for being the worst off would be the cruise industry. From the onset of the COVID-19 pandemic in mid-March 2020 through the end of the year, the shutdown of cruising in the U.S. was estimated to cost more than $32 billion, bringing in less than 50% of what it gained in 2019 and cutting more than 250,000 jobs. Now that the world is slowly reopening, what will the future hold for the once-booming cruise industry?
Read: Why It's Smart To Book Your Late 2021 Travel Now
Travel and tourism experts are mostly optimistic, and consumers should be too because cruising fares are pretty close to rock bottom right now.  
"Just as flights and hotel [bookings are] returning, cruising will return, too," said Alex Miller, founder and CEO of the travel site Upgraded Points. "Initially, you'll see the cost of cruising be very affordable for most travelers — cheaper than what we are used to seeing."
Make Your Money Work for You
Those low fares are already popping up. 
See: Airfare Still Low, But Rising Quickly as More Americans Travel
"Obviously this depends on the cruise line itself, and the destinations and length of cruise, but we're seeing fares almost as low as $50 per day, depending on what's included," Miller said. "It's hard to answer this question without more information, but in general we're seeing dramatically lower tickets to entice travelers into coming back."
But a cheap fare doesn't mean you can just hop on a ship tomorrow. Cruising in the U.S. is still on hold. Miller provided dates for when the biggest names will be unmoored again — at the soonest: 
Norwegian:

June 30

Princess:

May 16

Carnival:

April 30

Royal Caribbean:

April 30

Holland America:

June 30

Disney:

May 30 
Find Out: What Travel Agents Say About Planning for Trips in 2021 and Beyond
"Some cruise lines (Celebrity, Royal Caribbean International, Crystal) have announced they will be sailing from home ports outside the U.S. that U.S. guests may fly to join," said Paul Rutter, CEO and founder of Smooth Sailing Communication and cruise and entertainment director at Royal Caribbean International. "These home ports include Bermuda, Bahamas and St. Maarten with some more announcements coming in the future. They are scheduled to begin sailing in June or July. There are a few ships scheduled to sail in Europe and Asia, but they are mainly for locals from those countries and Americans will not be allowed to join for right now."
Make Your Money Work for You
More: COVID-Safe Travel Plans To Make Now To Save Money
Part of the delay in fully reopening is owed to the fact that cruise lines have to follow strict protocol under the Centers for Disease Control and Prevention to get the green light to onboard passengers again.  
"There is an extensive list of items the CDC is mandating that cruise lines must follow including social distancing, masks, sanitation stations and COVID testing protocols," said Peter Cranis, executive director of the Space Coast Office of Tourism. "Norwegian Cruise Lines just announced that it would require all passengers and crew on its ships to be 100% vaccinated two weeks before boarding."
Check Out: 10 Credit Cards To Consider for Travel Rewards
Organizing vaccinations and COVID-19 tests are the key focus as the cruise industry steers toward a return, but other safety measures will be high priority, too. Annie Scrivanich, senior vice president of Cruise Specialists, explained that while every cruise line is different, the following factors will be standard for ships going forward: 
Reduced passenger capacity

Staggered check-in times to reduce crowds

Reworking buffets to other forms of food and beverage service

Touchless options around the ship and at check-in

Sanitizing luggage brought onboard

Stringent hygiene standards, such as frequent sanitization of touchpoints, more hand sanitizer and hand wash stations

Enhanced ventilation systems
Make Your Money Work for You
Read: How To Plan Future Travel Without Risking Your Deposits
We know it will take at least a couple of months before U.S. cruising is back at any capacity, but will it ever be like it was? Possibly — but it will be a while before then. And first things first: These cruises have to leave port. The fact that we're still in a holding pattern makes the future difficult to map. 
"The industry will recover eventually and may even come back even better than before, but the longer it takes to get started, the more likely we will see more businesses close and people leave the travel and tourism industry for good," said Andrew Garnett, CEO and president of Special Needs Group, Inc, a company that partners with cruise lines to provide wheelchair rentals, scooter rentals, oxygen rentals and other special needs equipment rentals. "We can all see the light at the end of the tunnel and it is really bright. However, they keep pushing the light back one month at a time. The recovery will happen, but it needs to start first."
More From GOBankingRates
Last updated: April 9, 2021
Make Your Money Work for You