How the New 2023 Tax Brackets Will Affect Your Wallet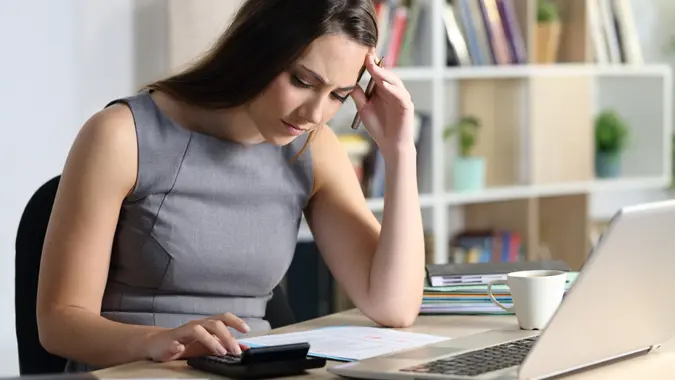 Pheelings Media / Getty Images/iStockphoto
In an effort to adjust for inflation, the IRS announced new tax brackets for the 2023 tax year. The top tax rate remains at 37%, which now applies to individual single taxpayers with incomes greater than $578,125 or $693,750 for married couples filing jointly, up from last year's income limits, which were $539,900 or $647,850 for married couples filing jointly. These rates will go into effect now on your paycheck but will impact the taxes you file in 2024.
Find Out: 10 Things To Stop Buying in 2023
Tips: Get Your Credit Score On Track With These 3 Tips for Success
See: States Whose Economies Are Failing vs. States Whose Economies Are Thriving
The other rates for tax year 2023 are as follows:
35% for incomes over $231,250 ($462,500 for married couples filing jointly)
32% for incomes over $182,100 ($364,200 for married couples filing jointly)
24% for incomes over $95,375 ($190,750 for married couples filing jointly)
22% for incomes over $44,725 ($89,450 for married couples filing jointly)
12% for incomes over $11,000 ($22,000 for married couples filing jointly)
So, what do these new brackets mean for you? Here's a look at how these changes can affect your wallet.
Your 2023 Paychecks May Increase
The IRS adjustments will raise the top amounts of all seven federal income tax brackets for 2023, and thereby increase the paychecks of many employees by taxing more of their earnings at lower rates.
"Assuming all else stays the same, this means that workers will see higher take-home pay starting in January," said Scott Curley, CEO and co-founder of FinishLine Tax Solutions. "However, for some high-earners, this benefit could be offset by having more of their income subject to Social Security payroll taxes because the maximum earnings subject to the Social Security payroll tax will increase by nearly 9% to $160,200 — up from the $147,000 maximum for 2022."
Take Our Poll: How Do You Think the Economy Will Perform in 2023?
Refunds Will Be Smaller in 2023
Although the new tax brackets won't affect your paychecks and taxes owed until next year, Curley notes that refund checks could be smaller this year as well thanks to adjustments made to the tax brackets in the 2022 tax year.
"Refunds are going to be smaller in 2023, so if people consider a larger refund an advantage, then we will expect the tax bracket changes to be more of a disadvantage to taxpayers this year," he said. "However, larger refunds are typically given to low-income workers, so you technically don't want to be in that pool where you have a larger refund."
How To Maximize Your Refund With Tax Bracket Changes
If you want to increase your refund, one way to do so is to increase your 401(k) contributions, which will decrease your taxable income and could put you into a lower tax bracket.
For other options on minimizing your tax bill and maximizing your refund, Curley recommends working with a tax professional.
"Get someone to help you understand your tax responsibilities so you can minimize your taxes legally," he said. "There is nothing wrong with avoiding taxes, but you can't evade them. Tax codes are very complex, and no matter what the brackets look like, you want to legally minimize your tax responsibilities."
More From GOBankingRates