Taxes 2023: How To Protect Yourself From the Rise in 'Vishing' Scams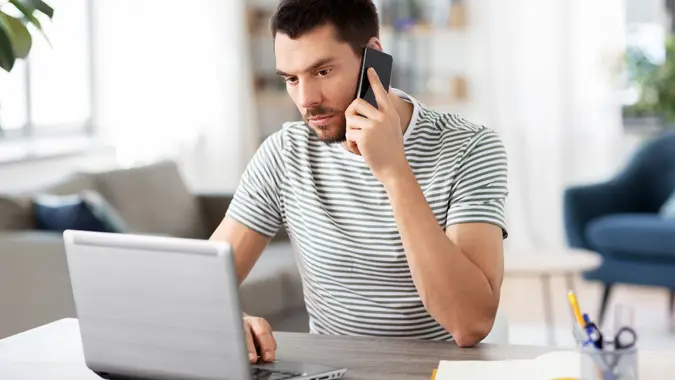 dolgachov / iStock.com
Tax season is a time when scams can be rampant. Scammers are all too eager to feed on tax-related anxieties and extract sensitive information from unassuming taxpayers by pretending to be a member of the IRS. And this year, there's a new type of scam to be aware of: "vishing."
"Vishing" is short for "voice phishing" and refers to the use of phone calls to scam people, as opposed to using text or email. This type of scam is on the rise in 2023, The Street reported. Fortunately, educating yourself about these schemes can be an effective defense.
Here's what you need to know about vishing scams to protect yourself from becoming a potential victim.
Beware of the Common 'IRS' Vishing Scams
Scammers impersonating the IRS will create a sense of urgency with their phone calls, and will try to extract either payment or sensitive information from the victim.
John Wilson, senior fellow of threat research at Fortra, a cybersecurity software and services provider, describes a common vishing phone call you may receive during tax season: "A caller, supposedly from the IRS, says there's been some sort of legal action involving your Social Security number, and they'll send agents to your home unless you provide money to correct it."
Alternatively, they may say there is an issue with your tax refund, and ask for your personal information to resolve the issue.
"They will insist on cooperation with their request, and [say that] any noncompliance may result in a warrant being issued for your arrest, or other fines and penalties," said Rob Burnette, professional tax preparer at Outlook Financial Center in Troy, Ohio. "The problem may be with a tax identification number, a bank [account number] or other personal information that is found on a tax return. Some of your information may be already in the hands of the scammer, and they are trying to fill in gaps for their scam today and for future identity theft attempts."
Take Our Poll: What Do You Plan To Use Your Tax Refund For?
Be Skeptical of Any Phone Call That Claims To Be From the IRS
When you receive a phone call from someone purporting to be from the IRS, your first instinct may be to panic, which can cloud your ability to assess whether the call is legit or not.
"If you get a call from someone claiming to be the IRS, start by assuming it is fake," said Herman "Tommy" Thompson Jr., a certified financial planner with Innovative Financial Group in Atlanta. "The IRS sends you letters in the mail and makes you sit on hold when you call. IRS agents could call you, but it's most likely not the IRS calling you."
You should be especially skeptical if the caller asks for any sort of payment over the phone.
"The IRS may ask for payment of an overdue bill via letter, but they will never ask for payment to anything other than the United States Treasury," Thompson said.
Other red flags include asking for payment via a gift card or threatening arrest.
"The IRS does not accept gift cards, crypto, PayPal, Venmo or any other digital transfer outside of the IRS.gov website," Thompson said. "IRS agents will not get aggressive and threaten to call the cops. They also can't negotiate a settlement in five minutes, [such as making an] offer to satisfy your $2,500 debt for a $500 payment today."
Your Best Defense Is Not Answering the Call in the First Place
"The scams evolve over time, but the defense remains the same: If you don't recognize the number on your caller ID, let it go to voicemail," Thompson said.
You can then go online to check if others have reported getting suspicious calls from that number
"If it really is the IRS, you can call them back at the phone number on IRS.gov," Thompson said.
If you do answer the phone, do not share any sensitive information.
"Don't ever give away your Social Security number, bank account information or security words over the phone," Thompson said. "Assume the person on the other end of the line is a scammer before you ever trust an unsolicited phone call from the IRS."
Fortra's Wilson recommends implementing a spam blocker on your phone.
"Telecom providers and consumer apps can help block or flag numbers likely to generate spam calls," he said. "There's also the government's Do Not Call Registry, which can help you avoid telemarketers — though scammers aren't likely to play by the rules. But registering could keep you off some phone lists used by fraudsters."
If you do receive a phone call from someone pretending to be from the IRS, report the call to the appropriate authorities.
"Contact the Federal Communications Commission if you receive calls that seem fraudulent, and alert the FBI's Internet Crime Complaint Center if you incur a financial loss related to vishing," Wilson said.
More From GOBankingRates