Expecting a Tax Refund? Why Procrastinating on Filing Won't Do You Any Favors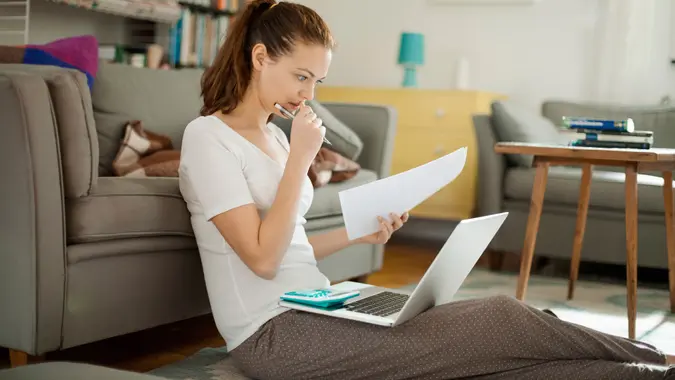 Geber86 / iStock.com
On the list of fun things to do, filing taxes probably doesn't crack the top 1,000. But if you earn income in the United States, you have to file a tax return — and it's almost always better to file early than to wait until the last minute.
Learn: Why 1 in 5 Are Considering Switching Banks
See: 3 Ways Smart People Save Money Filing Taxes
Do You Have a Tax Question? Ask a Tax Pro
Unfortunately, that message doesn't seem to resonate with a lot of taxpayers. Nearly one-third (31%) of Americans say they procrastinate and wait until the last minute to file their taxes, according to a survey of 1,000 Americans conducted by the Chamber of Commerce.
Among age demographics, younger Americans are most likely to put off filing their taxes, with 41% of Gen Z respondents saying they wait until the last minute. Baby boomers are the least likely to procrastinate, with only about one-fifth (21%) saying they wait until the last minute. 
Nearly half of respondents (48%) said they delay filing because they find the process too complicated and stressful. About four in ten (39%) said they want to take time to double-check their information to ensure it is correct, while 37% say filing taxes is just too time-consuming, so they put it off.
It might be understandable that people who owe taxes want to wait as long as possible to file their returns, but it's still not a good idea. As the Chamber of Commerce noted: "It's one thing to procrastinate on filing your taxes, but it's another to completely miss the Tax Day deadline altogether[…] it's always a good idea to get the tax filing process started as soon as you can."
Take Our Poll: How Much of a Tax Refund Do You Expect in 2023?
The good news for procrastinators in 2023 is that they have until April 18 to file their taxes instead of the traditional April 15 deadline. That's because April 15 falls on a Saturday in 2023 and the District of Columbia's Emancipation Day holiday falls on Monday, April 17.
Even with the later deadline, you can do yourself a big favor by filing early — especially if you are due a refund. Tax refunds can be a huge help to people facing financial difficulties (and there are a lot of those due to high inflation). In some cases, the refund can be used to pay bills that might otherwise be paid late. The sooner you file your taxes, the sooner you'll get your refund.
Even if you're on solid financial footing, any refund money you're due can be put to better use in a savings account or investment than sitting around with the IRS.
Filing early can also protect against identity theft — and protect your refund, according to the Clark County Credit Union. Many scammers get started early in the tax season, before most Americans have filed their taxes. If a scammer files a fake return on your behalf to pocket the refund, the legitimate return you file later will be rejected by the IRS because they believe you've already been paid. The process to clear things up could take months, meaning your refund money will sit around for months, as well.
And as the Chamber of Commerce noted, waiting until the last minute to file could cause you to miss the deadline. In this case, you'll face a late-payment penalty that will reduce your refund or increase your tax payment.
Tax Returns: 6 Steps To Filing Early
Side Hustle Tax Pitfalls: How Gen Z's Embrace of Gig Economy Could Haunt Them
Finally, if you need a tax professional to help with your return, waiting until the last minute is risky because tax pros tend to get very busy as the filing deadline approaches, meaning you might not find one when you most need them.
More From GOBankingRates