Few Plan To Use Tax Refunds for Fun — What Are They Doing Instead?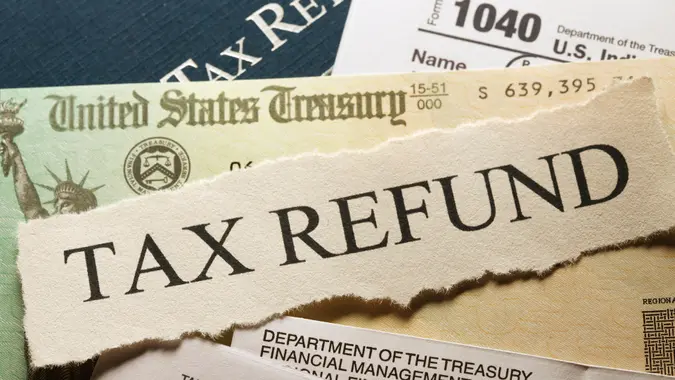 DNY59 / Getty Images/iStockphoto
After a tough post-pandemic year featuring high inflation rates and a competitive job market with many layoffs, you might expect the majority of Americans to be planning to use their tax refunds to pay for a relaxing getaway. 
See: Pros and Cons of Living in a State With No Income Tax
Read: 3 Signs You're Serious About Raising Your Credit Score
However, according to a recent survey conducted by GOBankingRates, less than 4% of Americans are planning to use their refunds to travel, and just 6% plan to "treat themselves" with their refund money.
After a tough economic year, taxpayers aren't looking for breaks; they are instead doubling down on saving and paying off debt as the refund season approaches. The largest group of taxpayers (26%) from the survey plan to put their tax refunds into savings. About 41% are instead using their refunds to pay bills and pay off debt.
With Americans focusing on more practical financial goals in light of a tight financial year and just 10% of respondents looking to use their refunds for relaxation and travel, let's take a look at which factors are contributing to this trend.
Women Are Paying Off Debt, Men Are Investing
Women are more likely to use their refunds to take care of bills and eliminate debt, with about 44% planning to use their refunds in this way. Men are a little less likely to use their refunds in this way, with 20% interested in paying bills and 18% interested in paying off debt. 
About 12% of men are planning to invest their refunds, while just 3% of women will do that.
It's clear from the survey results that many Americans are in a tight place financially this year. In light of this insight, let's hear from the experts and look at why that is and some of the best ways to handle tax refunds this year. 
Inflation and Debt Are the Main Culprits
Inflation and debt are the pain instigators of this lack of monetary flexibility the majority of Americans are facing.
"Over the last year and a half, inflation has taken a big toll upon Americans," said Chuck Czajka, certified financial fiduciary and the founder of Macro Money Concepts. "Unfortunately, Americans are racking up credit card debt at record levels. According to LendingTree, the average credit card debt has exceeded $5,000 and is projected to go even higher. Inflation is off its high but is still more than 6.5%."
In Debt? Use Your Refund To Reduce It
Debt can feel debilitating and is likely holding you back from the travel and financial stability you deserve. In order to escape this handicap, it's best to eliminate debt as soon as possible in order to do the things you love and have more work-life balance.
"Americans need to focus on consumer debt, credit cards in particular," Czajka said. "These are the hardest debt vehicles to pay off, especially if you are only making minimum payments each month.
"I would recommend that Americans reduce credit card debt with their tax refund. That should be the top priority. If the refund is not needed to reduce debt, I would suggest keeping it in an emergency fund."
More From GOBankingRates