The Best Things To Do with Your Tax Refund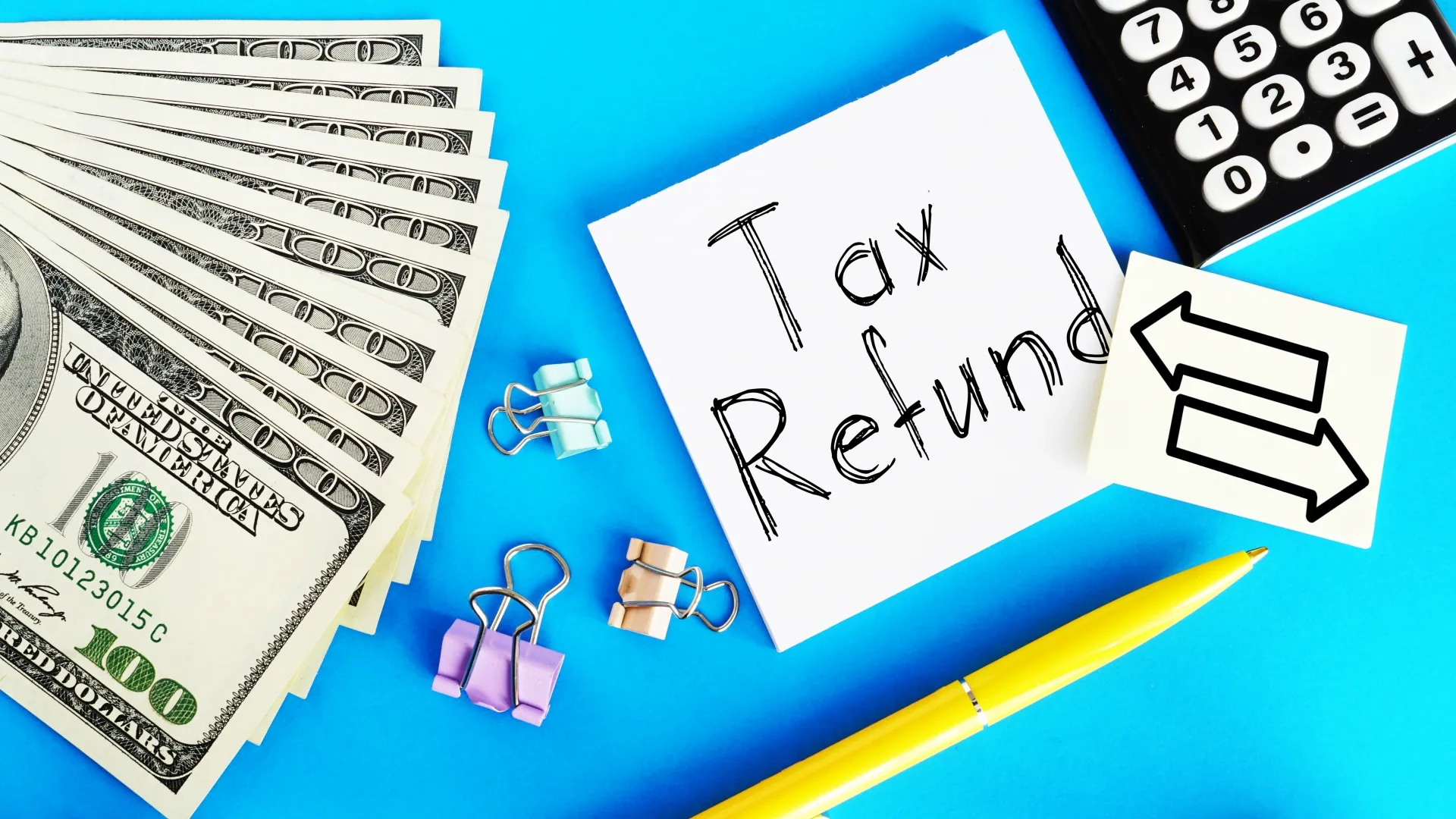 Pay Down Debt — Credit Card Debt Especially
There are a million things you can do with a big, juicy tax refund — unless you have debt. Then there's only one justifiable way to spend your refund (or most of it) — by paying down that debt.
Debt is the single biggest killer of financial goals, particularly high-interest revolving credit-card debt. Credit cards are designed to stretch out small purchases into forever loans by keeping borrowers on the hook for as long as possible with minimum payments and new monthly finance charges that cancel out most of those minimum payments.
Also, your credit utilization ratio is the biggest factor in determining your creditworthiness. The single best way to break the chains of minimum payments and boost your credit score is to pay down as much credit card debt as possible.
Pad Your Emergency Fund
If you lack an emergency fund, use your tax refund to start one. Many experts recommend saving at least three to six months' worth of living expenses.
That might seem daunting, but putting your tax refund into an emergency fund will boost your savings significantly. Plus, it provides some much-needed peace of mind.
Make a Smart, Simple Investment
Index funds might not be the most exciting investments, but they charge low fees,  offer immediate diversification, and can give even the most novice investor an instant portfolio at the cost of a single share of an ETF.
It's these kinds of facts that make them one of the safest investment ideas. If in 2010, you had put $10,000 into the popular Vanguard S&P 500 ETF (VOO)–which has holdings in some of the world's biggest companies, including Apple, Microsoft, and Johnson & Johnson–you'd have nearly $37,000 today.
Fund an IRA
If you don't have a 401(k) through your employer, saving for retirement is still your responsibility. A tax refund gives you the perfect opportunity to set up an individual retirement account (IRA) through an online brokerage firm that's free to use. If you're not sure where to begin, a single index fund ETF like VOO would be an excellent start. Not only will contributing to an IRA get you a sweet tax deduction, but you'll also make significant strides toward your retirement goals.
If you are in a lower tax bracket, you might consider contributing to a Roth IRA instead. You won't see the same savings on next year's taxes, but you will reap the benefits in retirement, when you can withdraw funds tax-free from this much more flexible kind of retirement account.
Open a 529 Plan
Use your tax refund to start building a college education fund for your child by investing in a 529 plan. With this plan, you can also qualify for special tax benefits.
Contributions are not tax-deductible, but they are tax-deferred as long as the money remains in the account. And you can take tax-free distributions during your child's college years as long as you use the money for qualified higher-education expenses.
Add Value to Your Home
Tax refunds can vary, from relatively big to awfully small. Fortunately, you can give your home's value a major boost for relatively little money. Here are some inexpensive but high-impact ways to liven up your living space:
Under $100: Give your interior rooms a fresh coat of paint.Under $200: Replace your old kitchen and bath fixtures with shiny, new ones.Under $300: Replace the lighting in dark spaces with bright and efficient light fixtures.Under $400: Replace bathroom laminate floors with tile.Under $700: Add major curb appeal with fresh outdoor landscaping.
Open a Health Savings Account
If you have a high-deductible health plan, a health savings account (HSA) can help you save money and pay for out-of-pocket medical expenses. Contributions are tax-deductible and can be withdrawn tax-free to pay for things such as health insurance deductibles, co-payments and bills not covered by insurance, such as vision and dental care. Plus, any money you earn on interest or investment compounds tax-free inside the account and can be withdrawn for qualifying expenses tax-free through retirement.
Invest In Real Estate Crowdfunding
Millions dream of making a fortune in real estate, but buying an investment property and profiting from it takes a level of cash and know-how that puts the dream out of reach for many. Real estate crowdfunding lets investors pool their money and buy into properties they couldn't afford on their own. Many crowdfunding platforms are for wealthy, accredited investors, but some are open to the unwashed masses. PeerStreet, for example, requires a minimum investment of just $1,000. Fundrise and Groundfloor takes minimum investments of only $10.
Or Buy a REIT Instead
Crowdfunding involves investing in real estate debt. You can also indirectly invest in real estate –without having to purchase a property and flip, rent, or manage it — by purchasing an equity stake in an income-generating property. You can do that by buying shares of a real estate investment trust (REIT) just like you'd buy shares of Coca-Cola, VOO, or any other stock on the open market. Both have pros and cons — and like all investments, each comes with risks — but like crowdfunding, REITs open up the world of real estate investing to the average person.
Invest In Someone Else
Use your tax refund to invest in a microloan, which helps people around the world start small businesses. You put up the money and receive interest and repayment of the loan once it has matured. Because the risk of default is higher with a microloan, it typically commands a higher-than-average interest rate. There's also the option of supporting causes you care about by making microloans to worthy borrowers through services like Kiva.
Instead of donating, make an interest-free loan to a group, cause, shelter, organization, entrepreneur, or farmer, and when the loan is repaid, loan it out, again and again, to keep doing good deeds with the same cash.
Make an Extra Mortgage Payment
Take that tax refund and make an extra payment toward your home mortgage. You'll pay the loan balance down faster and save on interest payments, which can add up to thousands of dollars over time. It's essentially the same as banking the money, but instead of earning interest from a bank, you're being paid in the form of interest payments you'll never make to them. Make sure to check that your lender doesn't issue an early payment penalty first.
Save For a Vacation
It appears that a vacation — like an actual, real-life vacation, not a tropical Zoom background — might be a reality for many in the summer or late 2023. Spending a tax refund on some rest and relaxation is actually a smart investment in your mental and physical health.
Time away from work and the worries of everyday life might help you alleviate stress, improve productivity, and sleep better. Even if the vacation never materializes, setting and working toward savings goals is always a good thing. Worst case scenario, you're stuck with a bunch of money in an account called "vacation fund" that you can use for anything you want.
Invest In Health and Wellness
With gyms closed around the country, there's no shortage of inspirational articles about how it's totally possible to get jacked, toned, thin, or huge without leaving the house and without spending a dime–and all that's true. You can get in great shape with little more than your body and motivation.
Sometimes, however, that motivation can be hard to come by. Legions of new telecommuters are learning to adapt to life in a home office, and that life can become sedentary very, very easily. If a subscription to a fitness, wellness, yoga, meditation, or exercise app will help you maintain your health and wellbeing, by all means, prioritize it as a purchase.
Similar to purchasing a stationary bike, rowing machine, treadmill, barbell set, squat rack, virtual personal trainer, whatever. Just make sure you know what you're doing, that you're not going into debt to finance it–and don't hurt yourself.  There are no spotters in your home gym.
Donate to Charity
Making a donation to charity lets you give to those in need or help a cause near and dear to your heart. And you might get a tax benefit, as well. Donations to qualifying charities are tax-deductible, which can help you cut next year's tax bill.
Pay It Forward
Use your tax refund to do a little good in the world. Secretly pay the bill for a family with small kids. Or, surprise your elderly neighbor with a gift card to a nearby grocery store. You can even treat everyone in line at the coffee shop to a cup of java.
These small acts of kindness brighten everyone's day — including yours — and can truly change someone's life.
More From GOBankingRates
Morgan Quinn contributed to the reporting for this article. 

BEFORE YOU GO
See Today's Best
Banking Offers