5 Hidden Tax Benefits of Retiring in Florida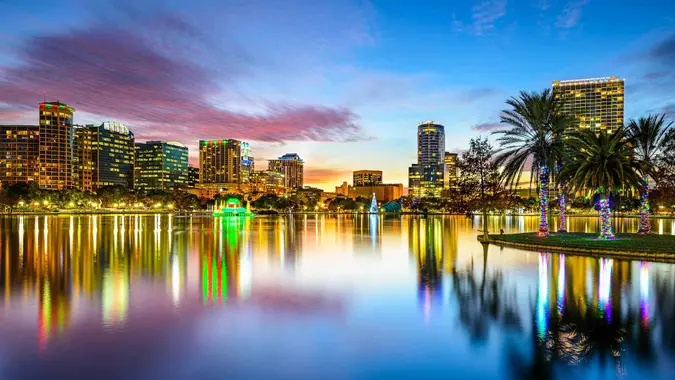 Sean Pavone / Shutterstock.com
It's no secret that Florida is a mecca for retirees. While the Sunshine state's endless beaches and year-round agreeable weather make it an attractive option for many seniors, the state's many tax advantages are also part of the appeal.
Discover: 6 Types of Retirement Income That Aren't Taxable
More on Florida: 7 Florida Cities That Could Be Headed for a Housing Crisis
Interestingly, Florida's cost of living is 1% higher than the national average, with housing being 2% higher than the national average, and utilities 3% higher, according to RentCafe data. However, these are offset by the lower costs of basic necessities such as food, clothing and healthcare — which are 2% lower. 
These lower costs combined with the tax advantages make Florida a no-brainer retirement state for many Americans. Let's take a look at some of these tax benefits.
No Income Taxes
One of the most attractive tax rules for Florida is that it doesn't have state income taxes. In comparison, New York has a 10.9% state income tax, California has a 13.3% tax, South Carolina has a 7% tax and Arizona has a 4.5% tax, according to the Tax Foundation.
"Florida is one of a handful of states that does not levy a state income tax, which means that retirees who move to Florida may be able to keep more of their retirement income," said Andrew Lokenauth, chief growth officer at prospero.ai.
Take Our Poll: Do You Think You Will Be Able To Retire at Age 65?
No Taxes on Social Security Benefits or Retirement Plans
The fact that the state has no income tax means it doesn't have state taxes on Social Security benefits, which are considered income. In addition, there are also no taxes on retirement income, such as 401(k) plans and IRAs.
"This is a considerable advantage for all retirees thinking of Florida, even though most aren't working full-time jobs," said Melissa Terry, CFA at VEM Tooling. "The fewer taxes from your allotted pension distributions or passive income checks are the only money available in your budget. Florida's state-level income tax laws apply to every form of income, including your Social Security benefits."
No Estate or Inheritance Tax
Florida does not have an inheritance tax — also called an estate tax — that is based on the wealth of a deceased person, according to Alper Law.
In addition, beneficiaries and heirs of a deceased person in Florida do not owe any state taxes on inherited property.
"This means that seniors who have managed to accumulate some wealth and build a nice nest egg can comfortably leave whatever is left to any heirs they have," said Lucia Jensen, CEO of WeLoans. "In short, none of your inheritors will end up owing any state taxes on your property, which ensures that they are well looked after even after you are gone."
Homestead Exemption in Florida Lowers Taxable Income
In Florida, the so-called Homestead exemption, which reduces the value of a house, enables residents to lower their taxes.
"A $25,000 exemption is applied to the first $50,000 of your property's assessed value if your property is your permanent residence and you owned the property on Jan. 1 of the tax year," Palm Beach County property appraiser Dorothy Jacks explains on her website. "This exemption applies to all taxes, including school district taxes. An additional exemption of up to $25,000 will be applied if your property's assessed value is between at least $50,000 and $75,000. This exemption is not applied to school district taxes."
Opportunity Zone Program
Opportunity Zones are an economic development tool that allows people to invest in distressed areas in the country, aiming to spur economic growth and job creation in low-income communities while providing tax benefits to investors, according to the Internal Revenue Service.
"An area designated as an opportunity zone by the state and the U.S. Treasury Department is one that will receive private funding as part of a stimulus program," said Dean Lee, head of digital at Supreme PLC. "Your capital gains taxes on any earnings released from the sale of an asset can be delayed or completely eliminated if you invest in a qualified Opportunity Zone Fund."
More From GOBankingRates