Illinois State Taxes: Everything You Need to Know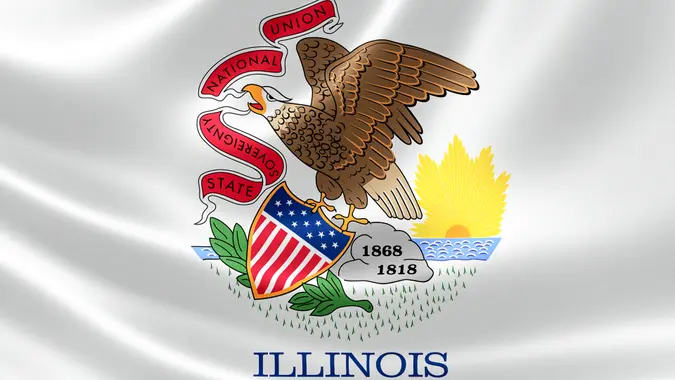 ronniechua / Getty Images/iStockphoto
If you live in Illinois, you will be assessed personal income tax, sales tax and property tax. When you pass away, your estate might be subject to an estate tax. Here's what you need to know about the taxes you'll pay as a resident of Illinois.
Illinois State Taxes
Rate Range of Taxes
0% to 16%
State Sales Tax Rate
6.25%
Income Tax Rate Range
4.95%
Estate Tax Rate Range
0% to 16%
Property Tax
2.253%
Illinois Income Tax
Illinois has a flat personal income tax rate of 4.95 percent on net income. Every taxpayer in Illinois pays this rate, regardless of their income, so there are no state income tax brackets.
Check Out: How Much Money Gets Taken Out of Paychecks in Every State
Illinois Sales Tax
The state of Illinois charges a sales tax of 6.25 percent on general merchandise. Counties and cities can charge an additional sales tax, and certain areas within a city can also charge sales tax. The highest possible sales tax rate is 11 percent, according to Avalara, a tax compliance software company.
Qualifying food, drug and medical equipment purchases are taxed at a lower rate of 1 percent. Qualifying food purchases are typically those items purchased in grocery stores. Prepared foods, restaurant meals, alcohol, candy and soft drinks are taxed at the higher 6.25 percent rate. Qualifying drugs that are taxed at the lower 1 percent rate include prescription and over-the-counter medications, and qualifying medical equipment purchases are items that correct a malfunctioning part of the human body, like eyeglasses, prostheses, dentures and so forth.
Items that are exempt from sales tax in Illinois include:
Newspapers and magazines

Items sold to state, local and federal governments

Items sold to not-for-profit organizations

Sales of machinery and equipment that will be used in manufacturing

Sales of legal tender, medallions and gold bullion issued by qualifying governments
Illinois Property Tax
The average effective property tax rate in Illinois is 2.253%. A single family home with a value of $250,000 would be assessed $5,632.50 each year in property taxes.
The property tax rate in Illinois is based on the combination of the county and city tax rates, along with rates for the local school district, junior college, forest preserve district, sanitary district and park district. All of these rates are added together to determine the tax rate for that particular area. The rate is then applied to the assessed value of the property to determine the amount of tax that is due.
Don't Miss: 6 Things Every Homeowner Should Know About Property Taxes
Illinois Estate Tax
If you live in Illinois, your estate will be taxed at your death if it is valued at over $4 million. The portion of the estate over that amount will be taxed at a rate ranging from 0.8% to 16%. For example, if you leave an estate of $6.5 million, your taxable estate will be $2.5 million. There are tax brackets for the estate tax, so you will need to calculate the base amount for your bracket, and then apply the percent for that bracket to the excess amount. The Illinois Attorney General offers a calculator to determine the estimated estate tax on its website.
Illinois does not assess an inheritance tax. When a person dies, their estate pays the taxes, if any. The heirs do not pay taxes on the money they inherit.
More on Taxes and Tax Law