Is Your 2022 NFT Transaction Taxable?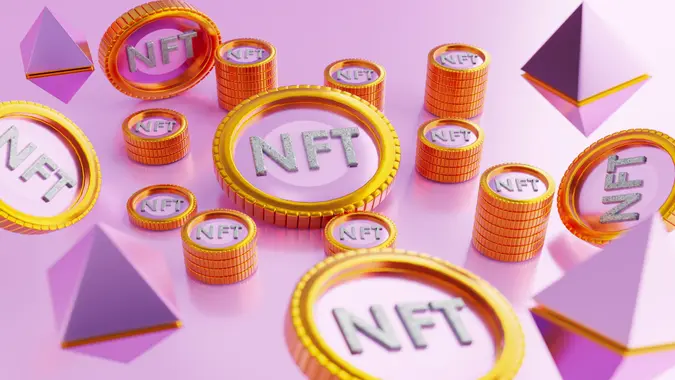 Like cryptocurrency, non-fungible tokens are becoming a bigger part of the financial mainstream — and when that happens, you can be sure that tax authorities are keeping a close watch. If you wonder if a NFT transaction you made in 2022 is taxable, the short answer is: if you profited from it, probably so.
See: GOBankingRates' Best Savings Accounts 2023
Find: 3 Ways Smart People Save Money When Filing Their Taxes
Do You Have a Tax Question? Ask a Tax Pro
For federal tax purposes, NFTs are treated as property, according to the IRS. As with other types of property, transactions involving NFTs generally must be reported on your tax return.
If you're an artist who sold an NFT in 2022, for example, you would need to report the proceeds as income on this year's tax return. If you sold or traded an NFT as an investment, any profits will be taxed as property and are subject to the capital gains tax.
Live Richer Podcast: How To Leverage Your Investments
Here are the most common taxable NFT activities, according to the tax and accounting platform TaxBit:
Purchasing an NFT using a fungible token such as ethereum, which will be considered a disposal of the crypto and will incur a capital gain or loss.
Selling one NFT for another NFT if you realized a gain on the transaction. For example, suppose you bought an NFT for $1,000 worth of ethereum, and then later traded it for another NFT worth $2,000 of ethereum. In this case, you would incur a taxable capital gain of $1,000.
Selling an NFT for cryptocurrency that results in either a capital gain or loss. An example would be buying an NFT for $10,000 of ethereum and then selling it later for $15,000 of ethereum. In this case, you would incur a taxable capital gain of $5,000.
President Joe Biden's Infrastructure Investment and Jobs Act expanded crypto reporting requirements as a way to curb widespread underreporting. How this will impact NFTs is still an open question.
But like TaxBit, Accounting Today said that any subsequent gain on the sale of an NFT would likely be subject to capital gains taxes. If an NFT is deemed to be a "collectible" under the tax law, the sale might be subject to the higher 28% capital gain rate on the sale of collectibles. On the business side, any NFTs that are deemed part of an enterprise's inventory are subject to ordinary income tax rates or loss.
The most recent IRS guidance treats NFTs the same way it treats cryptocurrency, including stablecoins. All are considered by the IRS to be digital assets, which it defines as "any digital representation of value which is recorded on a cryptographically secured distributed ledger or any similar technology."
More From GOBankingRates
Daria Uhlig contributed to the reporting for this article.