Warren Buffett, Bill Gates and One-Third of Americans Agree on This Wealth Tax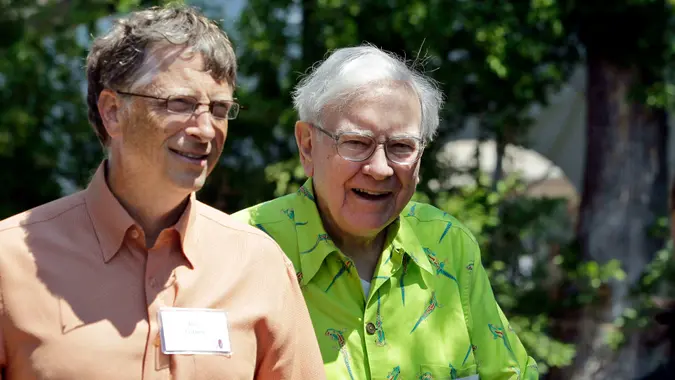 Paul Sakuma/AP/REX / Shutterstock.com
A GOBankingRates survey finds that a majority of Americans think the rich should pay higher taxes.
Famous billionaires like Warren Buffett and Bill Gates agreed they should pay more in taxes in the past.
Gates, though, has stated that raising the top marginal income tax rate would not address the situation.
A recent survey of 500 Americans conducted by GOBankingRates revealed that America's attitudes toward the rich are fairly split, with more than 40 percent stating that their feelings about the upper class are neutral. However, a majority also agreed that the rich should be paying more in taxes.
And while they (most likely) weren't included in this sampling, there are at least two other prominent voices joining a majority of Americans in calling for higher taxes on the rich: Warren Buffett and Bill Gates, two of the five richest men in the world.
Americans Don't Hate the Rich, They Just Want Them to Pay More Taxes
If your assumption is that most Americans hate rich people, the survey results appear to demonstrate that there's a wider range of opinions at play. Some 43 percent of those polled carried neutral feelings toward the upper class, with 30 percent leaning toward positive and just 25 percent leaning negative. What's more, when asked to choose an adjective to describe rich people, "hardworking" won out with a majority of respondents, followed soon after by "intelligent." "Greedy," meanwhile, was selected by a little over a third of those polled.
However, regardless of how smart or hardworking the rich are, people generally agree they should be paying more in taxes. A combined 56 percent of respondents either "agreed" or "strongly agreed" when it came to taxing the rich more.
Related: How Would a Tax on the Ultra-Rich Affect You?
Buffett and Gates Agree That They've Been Undertaxed
Before you jump to the conclusion that this is limited to those people who don't have to worry about their own tax bill increasing, that might not necessarily be true. Among the most vocal advocates of boosting the tax burden placed on the wealthy are some of America's most notable wealthy people.
Warren Buffett, for instance, wrote an op-ed for the New York Times in 2011 titled "Stop Coddling the Super-Rich." In it, Buffett called for a higher tax bill on him and his enormously wealthy peers, lamenting how things like carried interest and capital gains taxes allowed him to pay an effective rate of 17.4 percent, far lower than what many wage-earners can expect. He reiterated this a couple years later when he observed that he would ultimately pay a lower rate than his salaried secretary and much of the rest of his office because of these imbalances.
Bill Gates notably agrees, stating that the tax structure is "not progressive enough" during a February event for high school students in New York City. Last year he told CNN's Fareed Zakaria that "I need to pay higher taxes," despite acknowledging that he'd already sent the IRS more than $10 billion over the course of his life.
Don't Miss: The Average American's Tax Bill in the 50 Biggest US Cities
How Do You Make Billionaires Pay Their Fair Share?
Just how those taxes should be changed remains a matter of debate. Although Buffett and Gates both agree that they should be paying more in taxes, that doesn't necessarily mean they support some of the policy proposals currently being floated around to address the issue.
Find Out: How Much the Rich Would Actually Pay If They Had Higher Tax Rates
With regards to the proposed top tax rate of 70 percent on income over $10 million that Rep. Alexandria Ocasio-Cortez (D-NY) has floated, Gates pointed out on The Vergecast earlier this year that the approach was a flawed one. The world's wealthiest people have an actual income that represents a "rounding error" when compared to their total wealth, and even there it's also mostly capital gains income that's taxed at a lower rate — the main source of the gap between Warren Buffett and his secretary.
Keep reading to see why one wealth expert says a 70 percent tax rate on the rich wouldn't work.