Here's Your San Diego County Credit Union Routing Number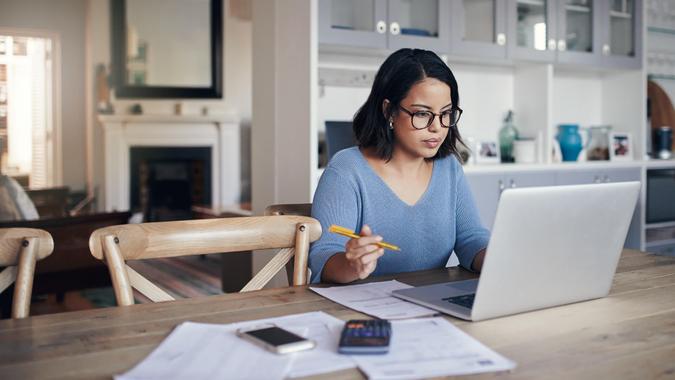 mapodile / Getty Images
San Diego County Credit Union is a financial services company located in San Diego, California. Founded in 1938, SDCCU is the largest locally owned financial institution in San Diego and one of the largest credit unions in the United States by total assets.
SDCCU serves customers who live in San Diego and counties throughout Southern California, including Los Angeles, San Bernardino, Orange, Riverside, Santa Barbara and more. Most of these clients will likely need to know their SDCCU routing number when performing fund transfers like direct deposits or bill payments. This guide will cover everything about the SDCCU routing number and how to use it.
SDCCU Routing Number
San Diego County Credit Union's routing number is 322281617.
This routing number is the same for both domestic and incoming foreign wire transfers. Sending a foreign wire transfer will require the SWIFT code of the beneficiary bank.
Where Can I Find My SDCCU Routing Number?
One way for an SDCCU account holder to locate their routing number is to look at the lower left corner of a paper check. The routing number is the first nine numbers listed along the bottom.
SDCCU customers can also find their routing number by visiting SDCCU's online banking platform. For any important financial transactions, it's always wise to verify the account and routing number with the bank first.
In addition, anyone can look up the routing number for any financial institution on the Federal Reserve Bank Services website.
Where Can I Find My SDCCU Account Number?
The account number is the string of 12 numbers located to the right of the routing number at the bottom of a check. Both the routing number and account number are needed for certain types of payments and transfers.
San Diego County Credit Union account holders can also log in to the SDCCU online banking portal to find their account number.
What Are Routing Numbers Used For?
Routing numbers serve a variety of purposes for banks and other financial institutions. For example, they're used as a form of identification and help direct money transfers to the correct account.
Banks and credit unions alike use routing numbers to perform various financial activities, including: 
Transferring money by check
Making a wire transfer or ACH payment
Depositing funds, such as salaries or pension payments, into individual accounts
Setting up direct deposits or automatic bill payments from individual accounts
Final Take
As almost any type of financial transaction can take place online, knowing the routing number associated with an account is crucial to navigating the world of electronic payments. SDCCU account holders can find their routing number on the paper checks for their account, on the SDCCU online banking portal or on the Federal Reserve Bank Services website to help them set up direct deposits, pay bills, transfer money to friends and family and much more.
Editorial Note: This content is not provided by San Diego County Credit Union. Any opinions, analyses, reviews, ratings or recommendations expressed in this article are those of the author alone and have not been reviewed, approved or otherwise endorsed by San Diego County Credit Union.