Which Banks Are the Best at Dealing With Identity Theft and Fraud?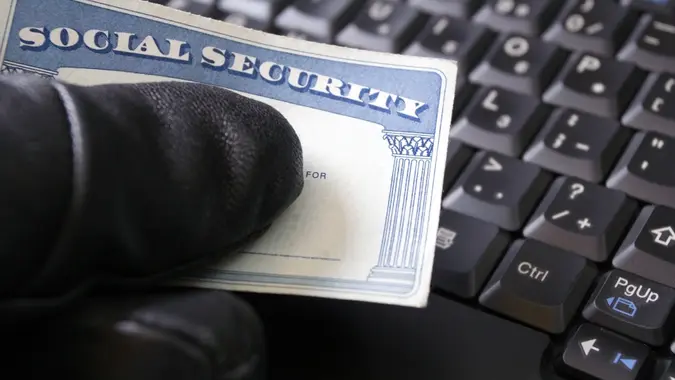 blyjak / Getty Images/iStockphoto
It's the worst feeling in the world to open up your bank account, scroll through your recent transactions, and come across some activity that can only be one thing: fraud. Even worse, identity theft and all the complications that come with trying to reclaim your accounts.
Explore: GOBankingRates' Best Banks of 2023
More: Get Your Credit Score On Track With These 3 Tips for Success
Real Estate: Why Buying Property in These Vacation Destinations Could Be a Great Investment
In the digital age, where most of the world's money, transactions and accounts are all online, everyone and anyone can become a target for fraud. Is your bank equipped to protect you from becoming a victim of identity theft, and if the nightmare scenario does come true, are they prepared to help you rectify the situation?
GoBanking Rates looked into different financial institutions to figure out which banks are the best at dealing with identity theft and fraud. Did yours make the list?
Ally Bank
In the event that you are compromised or hacked online, many banks have a two-factor authentication process that allows you, the customer, to log back into your accounts. Usually this means verifying you are who you say you are in two separate ways to avoid further fraud before letting you fully access your account again.
However, Ally goes one step further to offer a Guarantee Against Unauthorized Access, which guarantees their customers' money returned in the event of theft, fraud or hacking crime. 
This perk allows customers some fiscal peace of mind during a very hectic time.
Take Our Poll: What's the First Thing You Would Do If You Won a Big Lottery Jackpot?
Capital Bank
Lots of banking institutions have a phone number or customer service line you can call in the event that you think your account's security has been breached. Many times, however, these lines are backed up, so you could end up waiting awhile to speak to someone who can help you.
At Capital Bank, one feature offered to their customers is debit card blocking. This means that Capital customers can stop activity on their debit cards if it looks like it has been stolen, lost or sold to a third party. 
This fast defense to protect customers' money places the power in their hands. With the simple click of a button Capital's website or app, customers block their debit cards all on their own.
Chase
One of the biggest banks, Chase, is also one of the most secure banks to keep your money safe. Chase offers Zero Liability Protection, so if unauthorized transactions are made under your name, you won't be held responsible. 
On top of that, they offer 24/7 fraud monitoring, as well as temporary suspension of your debit or credit card in the event that you lose it.
Plenty of other banks also offer these protection services — however, Chase takes it one step further with Next-Day Cash Reimbursements. Rather than waiting for months and months to settle the issues with customer accounts after being hacked, Chase offers a cash reimbursement to sustain them through the financial hit until the matter is sorted out.
Citibank
Citibank takes their fraud protection and security very seriously, alerting their customers automatically of potential risks or strange account activity through email and SMS.
This financial institution is also one of the few name-brand banks to implement single-use card numbers to their customers. Within a Citibank account, you can use this number once to shop online, keeping the real numbers of your account hidden from prying digital eyes that could use it for nefarious purposes.
Anyone who banks with Citi can register for a free trial of a single-use card number in addition to their overall online customer protection.
Wells Fargo
With more and more threats to your money being cooked up every day, systems of protecting against fraud and identity theft need to evolve to stay one step ahead of the game. 
On their website, Wells Fargo proclaims to be "consistently enhancing security measures and identifying new and emerging threats to help keep your accounts and information secure."
This means making mobile and online banking as secure as possible with encryption and browser requirements constantly being scrutinized, analyzed and assessed. Wells Fargo's virtual banking will only support browsers who follow the bank's encryptions standards, going so far as to even blocking outdated browsers deemed potential security hazards.
Bank of America
When you are one of the largest money houses in the world, you better make sure you are guarded against all threats of identity theft, fraud and hacking. Whereas other banks offer one or two safeguards, Bank of America has three big security measures in place to give their customers an extra sense of safety: Money Guaranteed Against Unauthorized Access, Next-Day Cash Reimbursement and Single-Use Card Numbers.
Beyond that, Bank of America is equipped to handle major emergencies and global disasters, offering BOA customers world-class firewalls for online banking in addition to multiple power grids to keep the system up, as well as a disaster recovery site with advanced technologies.
More From GOBankingRates