Which ATMs Allow You To Withdraw $1000?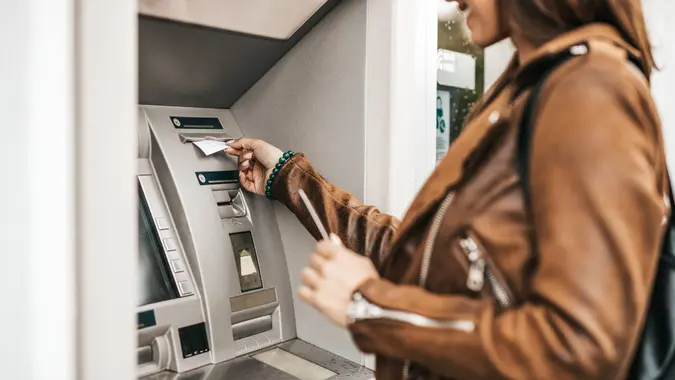 hedgehog94 / Getty Images/iStockphoto
Automated teller machines have been around since 1967. ATMs are electronic banking stations where you can make most bank transactions without a bank representative or human teller. You can conveniently withdraw money from ATMs, but there are withdrawal limits. Continue reading to find out how much money you can withdraw from ATMs per day.
Maximum ATM Withdrawal Limits
An ATM withdrawal limit is the most money you can withdraw from an ATM per transaction in one day. Banks typically impose ATM withdrawal limits based on factors such as the account holder's age and the type of account. Account holders under 18 years old may have lower withdrawal limits than adults.
Banks have maximum ATM withdrawal amounts to protect you, the customer. Also, withdrawal limits help ensure that ATMs have enough money to dispense for customer withdrawals. Machines usually hold a maximum of $20,000 in cash. 
Daily ATM withdrawal limits range between $300 to $5,000 and can reset after either a 24-hour period or a calendar day. Out-of-network ATMs may have stricter ATM withdrawal limits. Check with your bank to be sure.
What ATM Allows You To Withdraw $1,000?
Here are a few major banks and the types of accounts that have ATM withdrawal limits of $1,000:
Ally Bank
You can withdraw up to $1,000 per day from Ally's ATMs using your Ally debit card. Your daily withdrawal limit could be lowered to $500 within the first 90 days if you are a new Ally customer.
Capital One
If you have a Capital One 360 Checking account, your daily ATM withdrawal limit is $1,000. Account holders under 18 years old are limited to $500 per day. Some ATMs may not allow you to withdraw the full $1,000 at one time, so you might have to make multiple transactions to get the full amount.
Synchrony Bank
The maximum daily cash ATM withdrawal limit on Synchrony Bank accounts is $1,000. However, you can use the ATM multiple times to withdraw the money. Separate from the daily ATM cash withdrawal limit, the maximum ATM point-of-sale limit is $500.
Which ATM Lets You Withdraw the Most Money?
Large, nationwide banks typically allow higher ATM withdrawal amounts than smaller community and regional banks. There may also be differences in ATM withdrawal limits between physical and online banks. Here are some top banks where you can withdraw more than $1,000 per day at ATMs.
| Bank | Maximum Daily ATM Withdrawal Limit |
| --- | --- |
| Chase  | Up to $3,000 |
| Citi® | Up to $5,000 for a Citigold® account; Up to $2,000 for a Citi Priority account |
| Morgan Stanley | $1,500 to $5,000 |
| Truist | Up to $3,000 |
Can you withdraw $2,000 from the ATM?
Yes. If your bank allows withdrawals up to or including $2,000. That means banks listed such as Chase, Citi, Morgan Stanley and Truist offer this to customers.
How To Increase Your ATM Withdrawal Limit
Depending on your bank, you may be able to increase your ATM withdrawal limit when needed. Here are some ways to do it.
Try cash back. If you've reached your daily ATM cash withdrawal limit, try making a purchase with your debit card at a merchant that offers cash back for over the amount of the items purchased.
Call your bank. Contact a bank manager or representative by phone to request an increase to your ATM withdrawal limit. The request may be on a case-by-case basis and typically requires a valid reason to go over your limit.
Visit your bank. If your bank has a physical branch and your account isn't online-only, you can go into your bank's brick-and-mortar location to withdraw the cash you need that's over your ATM withdrawal limit.
Withdraw from another account. If you have two or more accounts linked, such as your checking and savings, you may be able to access cash from a second account when you've exceeded your ATM withdrawal limit on your primary account.
Cash a check. If you still carry checks, you can write a check out to "Cash" and sign the back of the check to exchange it for cash at your bank or another location that cashes checks from your bank.
Requesting Higher ATM Withdrawal Limits
Your bank or credit union may temporarily or permanently increase your ATM withdrawal limit if you simply ask. The decision may depend on factors such as:
Whether the increase is one-time, short-term, long-term or permanent
How long you've had your account
The amount of money in your account and your account history
The type of account you have.
Be Aware of ATM Withdrawal Fees
According to federal law, banks can charge you fees for services such as ATM withdrawals. Your bank is required to disclose any associated fees to you before opening your account. Additionally, ATM operators are required to notify customers of any fees charged before making ATM transactions. Be sure to review your bank's account agreement for current fee schedules specific to your account.
How To Find Your ATM Withdrawal Limit
It's a good idea to know and understand your daily ATM cash withdrawal limit for your particular debit card at your bank. To find your daily limit, log into your bank account online or through the mobile app to view your daily max to withdraw from ATMs.
At some banks, including Wells Fargo, account holders can change their daily ATM cash withdrawal limit. If you're eligible, here are some ways to do it:
Sign into your account online or using your mobile app and navigate to your debit card settings.
Talk to a branch manager at your bank.
Call the customer service number on the back of your debit card and follow the automated prompts.
Final Take
So, how much can you withdraw from ATMs? It depends on your bank, the type of account you have, your age and whether the ATM is in or out of your bank's network. At some banks, including Bank of America, Member FDIC, the maximum amount of money you can withdraw at an ATM depends on factors such as limits on your account or card type, the availability of funds and the type of ATM dispensing the cash. At any rate, ATMs are a convenient way to withdraw cash when you need it.
Editorial Note: This content is not provided by any entity covered in this article. Any opinions, analyses, reviews, ratings or recommendations expressed in this article are those of the author alone and have not been reviewed, approved or otherwise endorsed by any entity named in this article.
Our in-house research team and on-site financial experts work together to create content that's accurate, impartial, and up to date. We fact-check every single statistic, quote and fact using trusted primary resources to make sure the information we provide is correct. You can learn more about GOBankingRates' processes and standards in our editorial policy.