Best 6-Month CD Rates for November 2023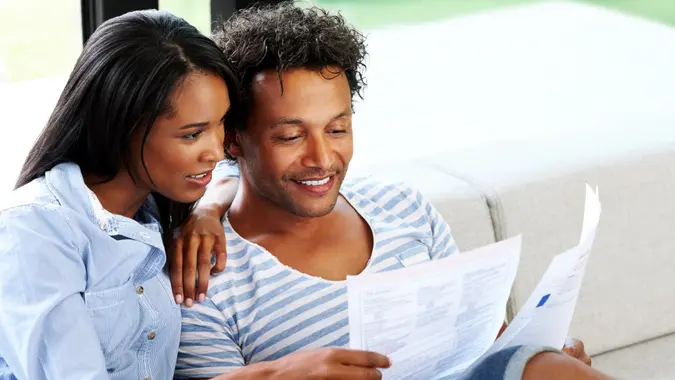 Dean Mitchell / Shutterstock.com
A 6-month certificate of deposit, or CD, can be an excellent vehicle for short-term savings. Unlike in the stock market, your money is safely protected in an FDIC or NCUA-insured account. You also won't be tempted to withdraw it early, unless you're willing to pay a penalty.
What Are the Best 6-Month CD Rates?
As of Nov. 2023, the national average rate for 6-month CDs is 1.39% APY, and the average is 0.46% APY for savings accounts. You can maximize your potential earnings by choosing a CD account that pays more. Here are the best 6-month CD rates available now:
Marcus by Goldman Sachs, Member FDIC: Annual Percentage Yield, as of Nov. 10, 2023
Synchrony Bank: APY
Vio Bank: APY
CIT Bank:

APY
Bask Bank: APY
First Internet Bank: APY
Popular Direct: APY
Live Oak Bank: APY
TAB Bank: APY
Merrick Bank: APY
Financial Institutions With the Highest 6-Month CD Rates
Take a closer look at the financial institutions offering the best annual percentage yields on 6-month CDs.
Marcus by Goldman Sachs
APY:
Minimum Deposit: $500
Marcus by Goldman Sachs, Member FDIC, offers one of the lower rates on this list, but it's still well above the national average–and it's a good option for beginner savers, since you can open an account for as little as $500.
Synchrony Bank
APY:
Minimum Deposit:

None
Synchrony allows you to add to the initial deposit within 10 days of opening the account — and you can withdraw earned interest without a penalty.
Vio Bank
APY:
Minimum Deposit: $500
Vio Bank compounds interest on its CDs daily, and you can open a CD account online.
CIT Bank
APY:
Minimum Deposit: $1,000
CIT Bank also offers daily compounding interest to boost the account's earning potential, and you can manage the account through the bank's mobile app.
Bask Bank
APY:
Minimum Deposit: $1,000
Bask Bank CDs renew automatically at the end of the term, unless you choose to roll the funds into a different account or change the term.
First Internet Bank
APY:
Minimum Deposit: $1,000
First Internet Bank's 6-month CD's early withdrawal penalty will take all of the interest it earned if you need the money before the term ends.
Popular Direct
APY:
Minimum Deposit: $10,000
Popular Direct pays an impressive APY on a 6-month CD, but the minimum opening deposit is much higher than average. It does offer extended customer support hours.
Live Oak Bank
APY:
Minimum Deposit: $2,500
Live Oak Bank's 6-month CD offers an APY that's more than double what you'd get with the bank's CD accounts with terms of 24 months and longer. It will automatically renew at the current interest rate if you don't withdraw the funds within 10 days of the maturation date.
TAB Bank
APY:
Minimum Deposit: $1,000
TAB Bank's 6-month CD has an impressive rate, almost the same as Synchrony Bank's 6-month CD. TAB's CD accounts have maturities of up to five years.
Merrick Bank
APY:
Minimum Deposit: $25,000
Merrick Bank requires an exceptionally high opening deposit, but instead of only crediting the interest to your account, you also have the option to have the interest sent to you via ACH transfer each month.
6-Month CDs vs High-Yield Savings Accounts
Putting your money in a CD means you won't be able to access it without paying a penalty. If you know you'll need the money before the end of the term, a high-yield savings account may be a better option, since both types of accounts tend to offer higher yields than you find on regular savings accounts.
A 6-month CD has an advantage if you're saving for a specific purpose, like a vacation or down payment, as long as you can get a higher rate than a high-yield savings account. Investing money in the stock market for such a short period of time may be too risky, and the CD's withdrawal penalty should make you think twice before you cash it in for an impulse purchase.
6-Month CDs vs Money Market Accounts
Money market accounts are usually a higher-yielding option than standard savings accounts, and rates at some banks and credit unions are competitive with rates on CDs and high-yield savings accounts. Vio Bank, for example, currently pays money-market account holders APY on their balance.
One benefit that's unique to money-market accounts is that you can write checks against your balance, and you'll likely have a debit card as well. While some banks restrict the number of checks you can write, a money market account can be a good alternative to separate checking and high-yield savings accounts for those who mostly access their money via ATM withdrawals, which are usually unrestricted. Unlike a CD, a money-market account won't tie up your money for months at a time.
What Is the Current Yield on a 6-Month CD?

Every bank and credit union sets its own CD yields. The average is 1.39%, but as this list shows, some financial institutions pay much more. You'll usually find the best rates at online banks and credit unions.
How Much Can You Earn on a 6-month CD?
The amount you can earn on a 6-month CD depends on how much you deposit, the APY your deposit earns and how often the interest compounds. For example, if you deposit $1,000 in a 6-month CD with a 5.00% APY that compounds daily, you'll earn $25.31 by the end of the term. If the interest compounds monthly, the CD will earn $25.26.
By comparison, depositing $1,000 in a 6-month CD with an APY of 3.75% will yield $18.57. This is still significantly higher than the national average, which would earn just $6.97 during the same term.
Final Take
If you won't need access to your money for six months, locking in a rate with a 6-month CD may be a smart choice — as long as you meet the financial institution's requirements to earn the top rate. To maximize your earnings, look for a CD account that pays a higher APY than you'll find in a high-yield savings account, and compare the rate with CDs with slightly shorter and longer terms.
Compare CD Rates
FAQ
Who has the highest 6-month CD rates?

Rates change frequently, but as of Nov. 10, Bask Bank and Popular Direct both offer some of the highest APYs on 6-month CDs. 

Can you get 6% on a CD?

A few credit unions offer promotional rates of 6% on CDs, but they often have restrictions, such as limits on how much you can deposit, and you have to be a member of the credit union to open one.
Cynthia Measom and Daria Uhlig contributed to the reporting for this article.
Rates are subject to change; unless otherwise noted, rates are updated periodically. All other information on accounts is accurate as of Nov. 10, 2023.
GOBankingRates is a personal finance and consumer interest rate website and an online marketing company serving top-tier banks, credit unions and other financial services organizations. Some companies mentioned in this article might be clients of GOBankingRates, which serves more than 100 national, local and online financial institutions. Rankings and roundups are completely objective, and no institution, client or otherwise, paid for inclusion or specific placement. Any opinions, analyses, reviews or recommendations expressed in this article are those of the author alone and have not been reviewed, approved or otherwise endorsed by the companies included in the article. All fees and rates are subject to change at the issuers' discretion. Some interest rates might be short-term or promotional offers only, and it is possible additional terms and conditions must be met to obtain the interest rates listed. Rates and availability might vary by region. Verify terms and conditions before opening an account.
GOBankingRates bases its assessment of "best" and "top" products on the above-stated parameters to create a baseline for comparison. This assessment is an approximation of "best" and "top" designed to help consumers find products that might be appropriate for them. There could be other options available as well. Consumers should consider various options appropriate for their circumstances.
Our in-house research team and on-site financial experts work together to create content that's accurate, impartial, and up to date. We fact-check every single statistic, quote and fact using trusted primary resources to make sure the information we provide is correct. You can learn more about GOBankingRates' processes and standards in our editorial policy.