Live Oak Bank CD Rates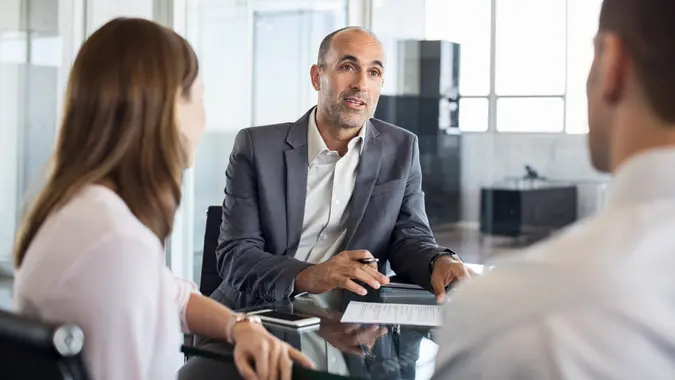 Ridofranz / iStock.com
A Certificate of Deposit, or CD, is a great way to maximize individual savings due to better rates of interest than your usual savings account. Live Oak Bank is one of the best options because they provide competitive interest rates in comparison to other banks.
About Live Oak Bank
Live Oak Bank was one of the last banks to get a charter before the Great Recession in 2008 started. The bank started its operations in the same year and has ever since kept a strong focus on customer satisfaction.
It focuses mainly on small businesses by assisting them with various forms of convenient financing options. Live Oak Bank was ranked #1 SBA 7(a) Lender and USDA B&I Lender by dollar volume for the financial year 2021 and its main focus is to simplify the loan process for all its customers.
Apart from helping small businesses, Live Oak Bank also has some lucrative savings schemes for individual customers as well. It is a customer-focused bank and offers attractive rates on savings and CDs that are higher than its competitors.
What Is a CD?
Before delving deeper into CD rates, it's important to first understand what a CD is. In banking terms, a CD is an acronym for Certificate of Deposit, and they have been around for many years as one of the most popular savings instruments.
A CD can be defined as a product that is offered by banks or other credit institutions where you get a premium at a specified interest rate on a single deposit amount for a fixed period.
How Does a CD Work?
To put it more simply, you have to deposit a certain sum of money and keep it untouched for the period specified in the CD terms. During that period, the interest on your deposited amount accrues, and you can cash it out once the period is over.
If you wish to withdraw the money before the maturity date, you usually have to pay a penalty, such as a year's worth of interest.
Why Is a CD Useful?
A CD can help you enhance your savings without getting exposed to market risk. CD rates are usually higher than those of regular savings accounts, and you will receive a guaranteed return on maturity. Understanding what is a CD and how it works is an essential part of your personal finance journey.
Different banks and credit unions offer different rates on their CDs, and you have to do your research to know more about the features offered by some of the best CD accounts. However, CDs suffer from a lack of flexibility, because you cannot withdraw the money before maturity without incurring a penalty.
Planning your finances can help you reap the best benefits from your CDs. Usually, if you keep your money fixed for a longer period, you get a higher annual percentage yield (APY).
Pros and Cons of Live Oak Bank CD
Pros
The APYs are higher than many of its competitors.
The withdrawal penalties are not extremely high.
The deposits are covered by FDIC insurance.
Cons
You need to put in a minimum deposit of $2,500.
There are no CD terms less than six months or greater than five years.
The mobile application does not have a great rating on the app stores.
Live Oak Bank CD Rates
Live Oak Bank CDs have some of the best rates in the market, so if you are planning to open an account, you should definitely check them out. It has CDs ranging from six months to five years, and you can open an account very easily.
What Is the Interest Rate of Live Oak Bank?
Live Oak Bank CD rates are competitive and provide a great alternative to traditional savings accounts for people who can keep their savings locked in for a specific period.
Here are the rates offered by Live Oak Bank CDs:
| Term | APY |
| --- | --- |
| 6 months | |
| 1 year | |
| 18 months | |
| 2 years | |
| 3 years | |
| 4 years | |
| 5 years | |
For each account, the minimum deposit amount is $2,500 while the maximum deposit amount is $250,000.
By far, the one-year rate is the most attractive to customers, because it is higher than many competing banks' rates for the same term. One year is also a convenient period for people to lock in their savings.
Features of a Live Oak Bank CD Account
Apart from having attractive rates, Live Oak Bank is very customer-focused in its policies. Here are a few features of a Live Oak Bank CD Account:
You don't have to pay any fees for opening a CD account or for maintaining it.
There are no charges for online banking or monthly installments disbursement.
If you wish to withdraw your CD that has a term of fewer than 24 months, you will incur a penalty of 90 days of simple interest. If you withdraw a CD that has a term greater than 24 months, the penalty amount is 180 days of simple interest.
After maturity, you have the option of withdrawing the entire amount. You get 10 calendar days from the maturity date to withdraw the money from your CD account.
You can also give instructions for automatic renewal at the time of maturity. In such a case, your CD will renew for the same term as the previous one. The interest rate on the new CD will be the current rate at the date of renewal.
How Can You Open a Live Oak Bank CD Account?
The process of opening a Live Oak Bank CD account is quite simple and can be done from the comfort of your home. You can open an account online, through the bank's website.
Opening a CD Account

Follow the three-step application process, during which you need to enter your personal details and external bank account information.
Once you have entered the relevant information, the bank will verify the same electronically.
You might also be asked to provide documentation as a part of additional verification.
After confirmation of all the details that you have entered, you can transfer funds from your regular account to the newly-opened CD account.
The best part of a Live Oak Bank CD account is that you can access it anytime and from anywhere. The mobile app allows you to use your account on the go.
Is Live Oak Bank Trustworthy?
Since it is an exclusively online bank, you may have concerns regarding the safety and trustworthiness of Live Oak Bank. It has an A+ rating from the Better Business Bureau. However, this rating is not enough to judge its overall service levels.
Here are a few factors that will give you a better insight into the trustworthiness of Live Oak Bank.
Security Measures
Live Oak Bank takes various measures to protect its customers. All types of accounts are equipped with security measures like SSL encryption, virus and malware protection, firewalls and multi-factor authentication.
FDIC Insurance
The funds that you deposit in your Live Oak Bank accounts are insured by the FDIC for up to $250,000, which is the maximum limit permissible by law.
When you deposit money in a bank, it does not sit idle — the funds are used by the respective banks for investment purposes. Live Oak Bank invests most of these deposits in small businesses, and FDIC insurance protects your funds on your behalf.
In the event of any unforeseen circumstances, FDIC insurance will ensure that your money remains safe. All of Live Oak Bank's financial products are insured. The coverage goes up to $250,000 per depositor for each account category.
When you decide to deposit funds into any bank account, it is very important to know what FDIC coverage entails and how it protects your money.
Final Take
When choosing a CD, you should consider the flexibility factor and how long you can keep your money locked in. Live Oak Bank is a good option for opening a CD account due to its high APYs and low penalties for early withdrawal, but many banks offer competitive options.
Rates change often, so you should keep checking for the best CD accounts frequently so that you always have the most up-to-date information and can make an informed decision.
FAQ
Here are the answers to some commonly asked questions about CD rates.
Who has the highest paying CD right now?

Currently, Lafayette Federal Credit Union provides among the highest APYs at

4.63%

for their 5-year CD. You'll need $500 to open an account.
You should conduct a bit of research to know more about the rates that various banks and credit unions are offering. Look for rates, terms and fees, along with anything else important to you, before you make a decision.

What is the highest one-year CD rate?

At the moment, Quontic Bank offers one of the highest APYs for a one-year CD at

4.25%

. The minimum deposit amount is $500.
Rates are subject to change; unless otherwise noted, rates are updated periodically. All other information on accounts is accurate as of July 22, 2022.
Editorial Note: This content is not provided by Live Oak Bank. Any opinions, analyses, reviews, ratings or recommendations expressed in this article are those of the author alone and have not been reviewed, approved or otherwise endorsed by Live Oak Bank.