Money-Making Strategies for Current CD Interest Rates
Check out current CD rates to get the most interest.
After years of extremely low interest rates, certificates of deposit are finally earning more money as market rates rise — which is a welcome change for investors. But navigating the CD marketplace in a rising interest rate environment can be tricky.
Fortunately, there are numerous CD strategies you can employ to ensure the best chance at getting the highest rates, all without increasing your risk profile. Here's a look at different types of CDs that might work out in a rising rate environment, along with a comparison of the best CD rates available today.
The Federal Funds Rate and CDs
The federal funds rate — the rate at which Federal Reserve banks borrow overnight funds from each other — is also the rate that most financial institutions use as a benchmark for setting all consumer interest rates, including mortgage rates, auto loan rates, savings account rates and rates for certificates of deposit.
As shown in the first graph, in the 10-year period from January 2007 to January 2017, the federal funds rate dropped drastically as the result of the housing bubble burst. After reaching a peak of over 5 percent in 2007, it fell almost 310 basis points the following year, to 1.94 percent, as the Federal Reserve tried to encourage consumers to continue borrowing.
Despite these efforts, the U.S. economy fell into the deepest recession since the Great Depression and has been slow to recover. In 2014, the average annual fed funds rate dipped to a 10-year low of 0.07 percent. Although some improvement was evident — by the beginning of 2015 the rate was up to 0.11 percent — progress remained anemic.
Related: What Is the Minimum Deposit for a CD?
The sluggish economic recovery restricted the Fed from making any drastic changes because a sudden increase in interest rates could derail any progress and send the U.S. back into recession. Until December, when the Fed raised its target rate to 0.25 percent to 0.50 percent, the Fed had continued to hold rates at historic lows — at a target of 0 percent to 0.25 percent — to spur economic growth.
The following graph shows the trend of the federal funds rate since 2007. The drastic drop indicates the Great Recession, which was spurred by the housing bubble burst.
The second graph shows the trend of historical CD rates at different terms over the past 10 years. The drastic drop mimics the trend of the federal funds rate at the time. The gradual rise at the far right of the chart shows the current trend toward higher rates.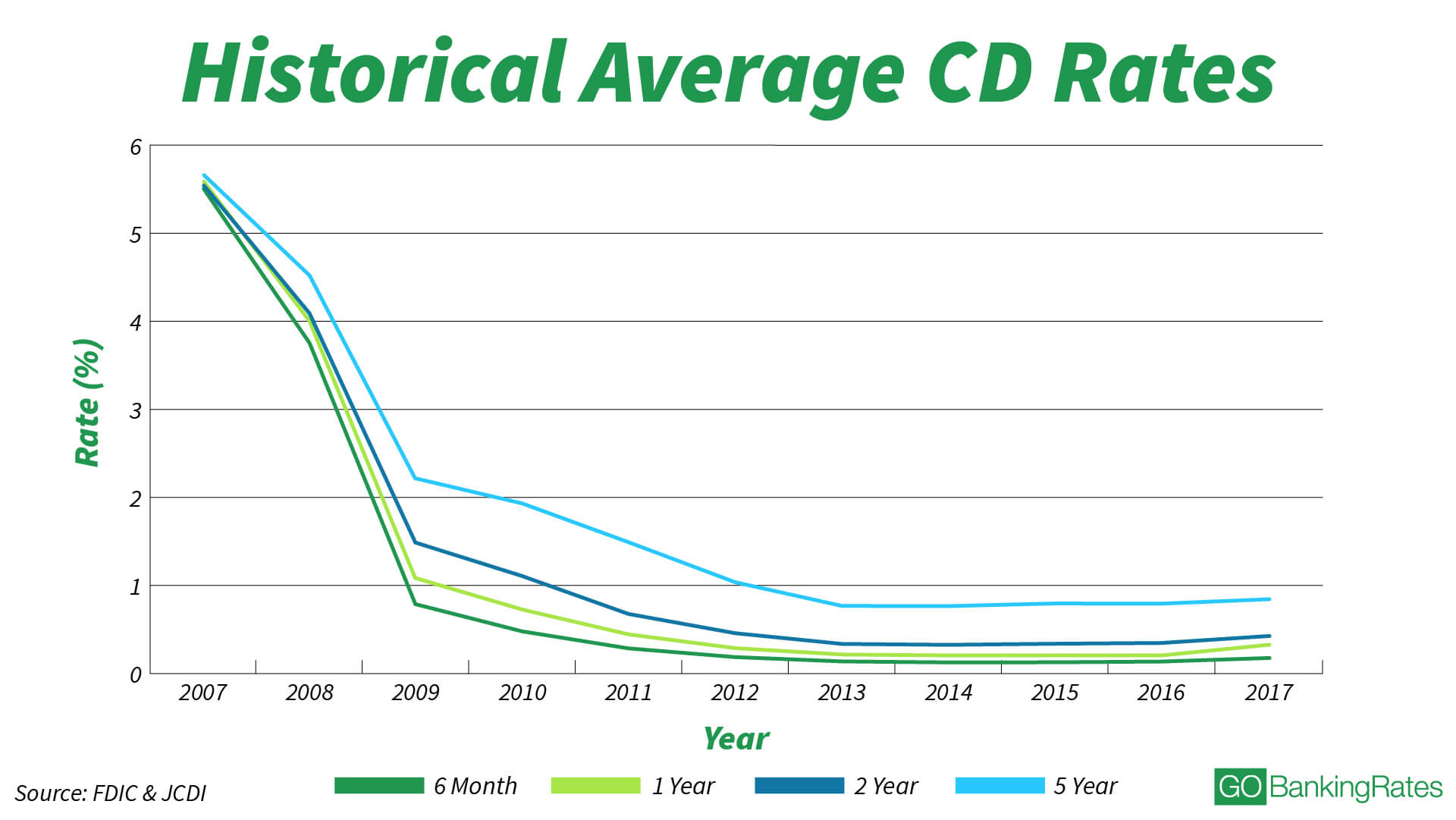 Find Out: Why You Should Open a CD
CD Interest Rates Today
In a low-rate environment, it's important for savers to seek out relatively high-yield options. Fortunately, though rates are down across the board over the past 10 years, some CD products offer above-average rates that depositors can leverage to help cash savings keep pace with inflation.
GOBankingRates conducted an extensive study on 120 national and online banks offering service throughout the U.S to find the best banks. Banks were judged according to several criteria, such as annual percentage yield, monthly maintenance fees, minimum balance requirements and BauerFinancial Star Ratings for overall financial strength.
The following are current CD rates from GoBankingRates' Best Banks 2018. The tables highlight the highest yields for each of the following CD terms: six-month, one-year, two-year and five-year. Note that some of these interest rates might be dependent on depositors meeting special terms and might not be available to all customers.
Best 6-Month CD Rates
Over the 10-year period to 2018, the national average interest rate for a six-month CD has fallen a total of 531 basis points, currently standing at about 0.19% APY. Rates in this category have risen two basis points from last year.
Best 6-Month CD Rates
Financial Institution
APY
Ally Bank

1.00%

AloStar Bank of Commerce

1.90%

Bank of Internet

0.75%

Bank5 Connect

1.45%

Discover Bank
0.65%
First Internet Bank

2.07%

EverBank
1.20%
HSBC Bank USA
0.75%
MySavingsDirect

2.25%

Synchrony Bank
1.00%
Vio Bank

2.00%

Bank rates accurate as of today.
Best 1-Year CD Rates
Over the 10-year period to 2018, one-year CD interest rates have declined by 526 basis points to a current average of 0.32% APY, the same rate as in 2017. However, average rates are still 120 basis points above the 2016 average APY of 0.20 percent.
Best 1-Year CD Rates
Financial Institution
APY
Alliant Credit Union

2.65%

AloStar Bank

2.05%

BankDirect

0.00%

CIT Bank
2.20%
Discover Bank
2.40%
First Internet Bank

2.53%

iGobanking.com

2.65%

Marcus by Goldman Sachs
2.55%
Sallie Mae Bank

2.50%

Synchrony Bank
2.45%
Vio Bank

2.55%

Bank rates accurate as of today.

Best 2-Year CD Rates
Over the 10-year period to 2018, two-year CD interest rates have declined by 506 basis points to a current average of 0.48% APY. Rates for this CD category have risen five basis points from this time last year.
Best 2-Year CD Rates
Financial Institution
APY
Alliant Credit Union

2.50%

AloStar Bank of Commerce

2.28%

Bank5 Connect

2.70%

Barclays Bank Delaware

2.50%

CIT Bank
1.40%
Discover Bank
2.50%
EverBank

2.15%

First Internet Bank

2.73%

Nationwide Bank
2.35%
Synchrony Bank
2.65%
Vio Bank

2.70%

Bank rates accurate of today.

Learn More: How to Close Your CD Early Without Paying a Fee
Best 5-Year CD Rates
Over the 10-year period to 2018, five-year CD interest rates have declined by 474 basis points to a current average of 0.92% APY. In 2017, rates for this CD category were eight basis points lower, at a 0.84% APY.
Best 5-Year CD Rates
Financial Institution
Rate
Ally Bank

3.00%

Alliant Credit Union

2.95%

Barclays Bank Delaware

3.00%

Capitol Federal Bank

2.50%

Discover Bank

2.85%

First Internet Bank

3.20%

Nationwide Bank
2.51%
Sallie Mae Bank

2.90%

State Farm Bank, F.S.B.

2.90%

Synchrony
3.00%
Vio Bank

3.10%

Bank rates accurate as of today.
In general, interest rates vary by region depending on the number of local banks available. Smaller, local banks and credit unions offer higher rates compared to large, multistate and national banks on average. Additionally, online banks have emerged as a source of high-yield certificates of deposit, thanks to lower overhead costs that allow savings to be returned to customers in the form of higher interest rates.
CD Rate Strategies for the New Interest Rates
The good news for investors is that after years of dismal yields, rates on CDs have been perking up. The right strategy can help you get the best possible rates while still allowing you to participate in future rate increases. Here's a look at some CD strategies you can employ to benefit from the new CD interest rates.
Shop Around
Don't feel tied to your current financial institution. The financial services market is competitive, so shop around for both local rate deals and online specials. A certificate of deposit is the ultimate commodity, as all CDs are backed by the same FDIC insurance of up to $250,000.
You really are comparing apples to apples when you compare the CD rates offered by different institutions, whether they are large, national banks, local banks and credit unions. Online banks often have higher rates because of lower overhead costs than brick-and-mortar banks.
Avoid Trying to Time Markets
Investors might do their best to anticipate changes in financial markets to maximize their investments, but this is tricky business, and hard to do with CD interest rates. Markets are not easily predictable, and the Fed has highlighted that their rate increases will be gradual and based on data, rather than periodical and based on time. Allow yourself some flexibility to take advantage of current interest rates as they change, without losing out by committing yourself to a particular maturity.
Ladder Your CDs
The strategy of CD laddering is a time-tested one that could be particularly useful now; it allows you to spread out your money and earn periodic cash and interest. To ladder your certificates of deposit, divide the amount you're investing into CDs with different maturity dates. As your shorter-term CDs mature, you can roll over that money into a longer-term CD, capturing a higher rate. This method is ideal for helping you take advantage of higher rates over time.
A sample CD ladder would have you investing equal amounts of money in CDs maturing in one year, two years, three year, four year and five years. When the one-year CD matures, you will roll it over into a new five-year CD. You can repeat this process every year. You'll have your money maturing on a regular, periodic basis, and you'll enjoy the benefit of a higher yield of the five-year CD as rates rise.
Another laddering-type strategy is to barbell your money. Under the barbell strategy, you keep some of your money in short-term savings, so it can be accessed in an emergency, and keep some in longer-term CDs. Your blended yield will be above what you could get in just savings, but you can also avoid the early withdrawal penalty you'll have to pay –which can reach six months of interest or more — if you're forced to take money out of a CD before it matures.
Read: Why It's Smart to Ladder Your CD Accounts
Opt for Short-Term CD Accounts
Although long-term CDs typically have the highest yields, this type of CD will tie up your money at a particular rate. As market rates go higher, your formerly "high-yield" CD will seem to have a low rate. With your money tied up in a long-term CD, you won't have available funds to take advantage of the higher rates. Choosing short-term CD accounts will allow you some flexibility to adapt to rate changes.
Check Out Variable-Rate CDs
Variable-rate certificates of deposit — sometimes called adjustable-rate CDs — feature an interest rate that varies. Different ways exist for determining the rate, including the prime rate, the Consumer Price Index, Treasury bills or a market index. The amount of interest you'll get paid at the end of the term is usually based on the difference between the beginning and final indices.
For example, if you put your money in a CD that's based on the prime rate and the prime rate increases from 3% to 5% APY over the duration of the CD, the difference will be applied to the interest rate on the variable CD, resulting in an APY increase of 2 percent.
Learn More: 9 Tips for Choosing a CD Account
Choose a Bump-Up CD
Bump-up CDs — also called step-up CDs or rising-rate CDs — allow you to take advantage of rising interest rates by giving you a one-time option to "bump up" the interest rate paid. Some bump-up CDs might allow you to move up to a higher rate more than once. Bump-up CDs generally yield lower rates than that of similar, regular CDs. Read the terms carefully because your options might vary: Some banks will automatically raise your rate at scheduled intervals, and some might allow you to choose when to step up your rate.
Alternative Saving Strategies
Depending on your personal preference or financial needs, you might decide that CDs are not the right investment strategy for you. In that case, here are a couple of alternative saving options to consider.
Consider Treasury Inflation Protected Securities
When you're worried about inflation or deflation, TIPS, purchased directly through the government, might be a good alternative for investing your money. This strategy provides you with protection from inflation since the principal of a TIPS rises and falls with inflation and deflation — measured by the CPI –respectively. The interest rate on TIPS remains fixed throughout the term, and interest is paid semiannually. When a TIPS matures, you are paid the inflation-adjusted principal or original principal, whichever is greater. Because you won't receive less than the original principal investment, your original principal amount is protected against deflation, too.
Compare Rates on Highly Liquid Accounts
Although certificates of deposit are one of safest ways to grow your money, you might want to consider keeping your money more liquid with checking accounts, savings accounts or money market accounts. By keeping your money in these types of accounts, you can easily move your money to the type of investments that will yield more interest if rates improve.
Learn More: Your Complete Certificate of Deposit (CD) Guide
Ruth Sarreal contributed to the reporting for this article.
All rates are the current interest rates today.

GOBankingRates is a personal finance and consumer interest rate website owned by ConsumerTrack, Inc., an online marketing company serving top-tier banks, credit unions, and other financial services organizations. Some companies mentioned in this article might be clients of ConsumerTrack, Inc., which serves more than 100 national, local and online financial institutions. Rankings and roundups are completely objective, and no institution, client or otherwise, paid for inclusion or specific placement. Any opinions, analyses, reviews or recommendations expressed in this article are those of the author alone and have not been reviewed, approved, or otherwise endorsed by the companies included in the article. All fees and rates are subject to change at the issuers' discretion. Some interest rates might be short-term or promotional offers only, and it is possible additional terms and conditions must be met in order to obtain the interest rates listed. Rates and availability might vary by region. Verify terms and conditions before opening an account.
GOBankingRates bases its assessment of "best" and "top" products on the above-stated parameters to create a baseline for comparison. This assessment is an approximation of "best" and "top" designed to help consumers find products that might be appropriate for them. There could be other options available as well. Consumers should consider various options appropriate for their personal circumstances. 
Nationwide, Nationwide Bank, the Nationwide N and Eagle and Nationwide is on your side are service marks of Nationwide Mutual Insurance Company. Member FDIC.