How To Open Bank Accounts for Kids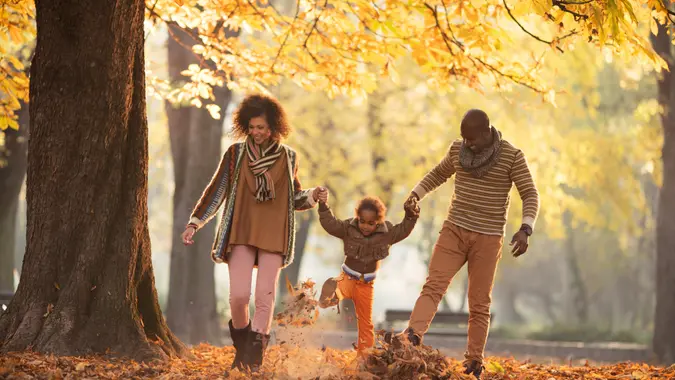 skynesher / Getty Images
Opening a bank account for your child can be a really great opportunity to teach them about financial literacy. It gives kids a look at what a bank's function is, and enables them to set monetary goals, then budget based on what they want to obtain. Though there are many reasons for a child to have a bank account, minors can't open an account without a parent or guardian listed as a joint owner. Here's a step-by-step guide on how you can open an account for your child. 
Your Money: Stay on Track With the Financial Stability Roadmap
Get Started: Make a Debt-Free Future Your Reality
Explain the Importance of the Account
Make sure your kid knows what the purpose of the account is, and what the rules of the account will be. Kids shouldn't think it's just a pot of money that never runs out, but rather something they have control over. Have them set financial goals, like saving to buy something they really want like toys and clothes. You can also ask them to set aside a certain amount to help with college, or something else in the future to give them a sense of short-term savings goals versus long-term savings goals.
Earn Perks With A New Checking Account
Choose An Account Type
There are three basic account types you'll be considering for your child: joint, custodial and prepaid. A joint account is pretty much exactly like one you have with a spouse or business partner. Both you and your child will have access to the account to deposit and withdraw. This can be a checking account so you can make frequent withdrawals, or a savings account that's more focused on storing money that your child can access when he or she is older. This is a good option if your child is a teenager and has a job where they can contribute their own money.
A custodial account puts you as the parent in charge as the custodian until the child is 18. That means you make all the deposits and your withdrawals must be to cover expenses relating to your child's well-being. Qualifying expenses include things like school supplies, braces and other costs that directly benefit your child. Custodial accounts are more to set up a nest egg for your child to use when they become an adult.
The prepaid option refers to giving your kids a prepaid debit card that you load with cash. Though a joint checking account will typically have a debit card, the prepaid debit card is better for young children who might not have a way of earning money yet. A prepaid debit card still teaches the concept of only spending what you have based on the amount of money you deposit. Cards like Greenlight are specifically set up for parents to work with their kids — Greenlight even has an app where kids can see the account — make spending goals and manage a savings account.
Earn Perks With A New Checking Account
Budgeting Guide: How To Create a Budget You Can Live With
Find the Best Option 
The easiest place to open an account for your child would be at the bank you use. Check to see what their policies and offerings are for kids' accounts and if those seem like they would be what you're looking for. If not, there are plenty of other options to research, like how much a bank offers in terms of savings account yield, how much oversight a child has over their account, and the tools that go along with the account. For example, CapitalOne offers a kids savings account that delivers .30 annual percentage yield, has no fees, and no minimum balance requirements.
For a more holistic option, Copper Banking is made for teens ages 13-17 and has an app where kids and parents can both oversee the account, plus it allows for withdrawing cash from 55,000 ATMs nationwide. Copper also sets aside a certain amount of income for savings. Current is an option for teens that does everything Copper does, but also offers rewards on certain purchases, teaching kids about the benefits of cash back. There are tons of options out there for you to choose from when it comes to banking for your kids, so make sure you look into everything that's available. 
Earn Perks With A New Checking Account
Apply for an Account
Once you've made a decision, you can submit an application. You'll usually need identifying documents for both you and your child, like your driver's license and your child's birth certificate. Most application processes are pretty quick and painless, and you should have the account the same day you apply. 
Be Aware: 31 Hidden Ways You're Bleeding Money Every Month
Activate the Debit Card 
If you applied for an account that comes with a debit card, make sure you activate it as soon as it arrives so your child can start using it. Better yet, have them go through the activation process so they learn how to do it for the future. 
Download Any Apps Necessary
Whether it's your bank's app or another app you'll need to track your child's spending, make sure you download it, register and learn its functionalities so you can make the most of everything your child's new account has to offer.
See Also: 50 Ways To Live the Big Life on a Small Budget
Fund It!
If you're the primary funder right now, go ahead and deposit some cash so your child can start managing the cash. If your child has a job, have them ask their employer how they can set up direct deposit so they can start to regularly using their account for everyday expenses. 
More From GOBankingRates
Earn Perks With A New Checking Account