Vanguard vs. Fidelity: Here's the Best Robo-Advisor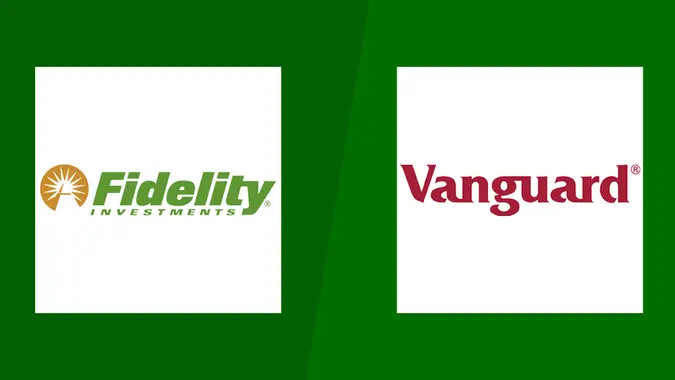 Paid non-client promotion. GoBankingRates receives compensation when a reader clicks on the Vanguard link below.
Vanguard and Fidelity are two of the world's leading brokerage firms. Both rose to prominence via their low-cost mutual fund lineups, and they remain industry leaders in that area. Not too long ago, Vanguard and Fidelity also unveiled their own robo-advisors and now go toe-to-toe in this arena as well.
Keep reading to learn how Vanguard vs. Fidelity stack up in terms of their respective robo-advisor platforms.
Overview of Vanguard and Fidelity
Vanguard got its start as a direct-to-consumer mutual fund company but has since evolved into a full-fledged brokerage firm, offering everything from stocks and bonds to options, mutual funds, exchange-traded funds and more. Vanguard also offers a robo-advisory platform known as Vanguard Digital Advisor.
Fidelity has always been a low-price leader when it comes to stock trading, and now its commissions for online stock, ETF and option trades have dropped to $0. Fidelity also has a well-regarded mutual fund family and a robo-advisory platform dubbed Fidelity Go.
Vanguard's mutual funds are award-winning because of their low-fee structure and solid performance over time. Whether you choose a full brokerage product or the low-cost Vanguard Digital Advisor, you'll likely make a good choice. On the other hand, Fidelity has broader investment options. You can even purchase Vanguard funds through Fidelity. Unlike Vanguard, you can get started with less than $3,000 although fees are higher than Vanguard's. Take a closer look at how Vanguard vs. Fidelity compare.
Vanguard vs. Fidelity Fees
Overall, Vanguard or Fidelity have inexpensive, well-run robo-advisor platforms. Both Vanguard and Fidelity have straightforward pricing on their robo-advisor products. This chart compares the fees for robo-advisor services, as well as fees if you choose to do some additional trading yourself.
Features
Vanguard
Fidelity
Brokerage account fee
$20 per year (can be waived)
$0
Domestic wire transfer fee
$10
$0
Annual management fees for robo-advisor service
0.15%
$0 under $10,000
$3/month, $10,000-$49,999
0.35%/year, $50,000 and up
Human advisors
N/A
Yes, for a 0.50% annual fee
Stocks, ETFs and mutual funds, CDs, U.S. Treasury securities
$0
$0
TF mutual funds
$20
$49.95 for most funds
Options
$0 commission/$1 contract fee
$0 commission/$0.65 contract fee
Secondary market bonds
$25
$20.95
Foreign securities transactions
$50
$50
Fidelity advisor fees vary depending on balance and range from $0 to 0.35% per year, while Vanguard fees are 0.15% annually. If you desire direct human interaction in the form of a personal financial advisor, Fidelity offers access through the robo-advisor platform, albeit at a higher cost.
The cost for Vanguard Personal Advisor Services is 0.30% per year on amounts of up to $5 million, with costs dropping as low as 0.05% annually on assets above $25 million. There's a $50,000 minimum for this service.
Fidelity Personalized Planning and Advice works in conjunction with the Fidelity Go robo-advisor for a 0.50% annual fee and a $25,000 account minimum.
Neither brokerage charges a commission for most commonly-traded investments. Vanguard's annual brokerage account fee of $20 is easy to waive if you're structured as a trust, hold at least $10,000 or opt for paperless communication.
Pro Tip

A robo-advisor automates investing, which could be useful whether you're new to investing or experienced but lacking the time to actively manage your portfolio. The two brokerages offer both kinds of investing — actively managed trades or passive investing designed for long-term growth.
Vanguard vs. Fidelity: Features
Compare the main requirements and account types available.
Here's a more in-depth look at how the Vanguard Digital Advisor and Fidelity Go platforms compare in terms of certain key features.
Opening an Account
Fidelity Go gets the nod over Vanguard Digital Advisor when it comes to the ease of opening an account.
For Fidelity Go, you can simply log on to the website, answer a few questions regarding your investment objectives, risk tolerance and the amount you can invest, and provide basic identifying information such as your age. At that point, you'll be presented with a sample portfolio based on your responses.
For Vanguard Digital Advisor, the same overall principle applies in terms of getting a portfolio. However, before you can begin the process, you'll have to sign up for a generic Vanguard account. The $3,000 required to open a Vanguard Digital Advisor account must first be invested in the Vanguard Federal Money Market Fund. 
Maintenance
Both robo-advisor platforms offer standard features such as automatic rebalancing and automated investing.
Good To Know

One important distinction between the Fidelity and Vanguard products is in the expense ratio of the funds used. Although Vanguard is one of the industry's low-cost leaders when it comes to ETF fees in general, Fidelity Go only invests in its Fidelity Flex funds, all of which have an expense ratio of zero.
Retirement Planning
Both Fidelity and Vanguard offer their robo-advisory services for traditional and Roth IRAs.
Portfolios
Vanguard's Digital Advisor platform offers access to four ETFs:
Vanguard ETFs
Investments are allocated among these four choices based on an investor's self-provided risk tolerance and financial goals.
Fidelity Flex Funds
Fidelity Go allocates user investments across its line of Fidelity Flex mutual funds. First, you'll provide information, such as your household income, reason for investing, amount you want to invest, when you'll need the money and your risk tolerance, and Fidelity will suggest an investment strategy. Next, Fidelity will choose which funds it thinks will help you meet your goals based on your personal investment strategy. Your account will hold a combination of Fidelity Flex Mutual Funds, which generally hold short-term investments, bonds, domestic stocks or foreign stocks.
Goal Setting
You're completely in charge of the investment goals you want to save for when you use the Fidelity and Vanguard robo-advisory platforms. For both, when you open an account, you're required to complete a questionnaire that asks for information such as your age, risk tolerance and investment objectives. Your portfolio is then customized according to the specific goals you have outlined.
Tax-Advantaged Investing
Fidelity Go offers access to tax-advantaged investing through its Fidelity Flex Municipal Income Fund and its Fidelity Flex Conservative Income Municipal Bond Fund. Regardless of whether you want any tax-advantaged investments or not, you can contact Fidelity and specify your investment parameters in terms of tax management.
Vanguard only offers four ETFs in its robo-advisor platform, none of which are dedicated to tax-free investing.
Vanguard vs. Fidelity Online and Mobile Experience
Although both brokerages have mobile apps and an online platform, Fidelity's is more robust. Keep in mind that you may not need all that functionality if you're simply checking in on how your automatic investments are doing.
Vanguard's design seems no-frills and doesn't play well with Android devices. It also lacks the research and functionality more advanced investors would like from their digital experience. As far as the app goes, here's how Vanguard vs. Fidelity compares:
Security
Fidelity's security offers the type of guarantee designed to make clients rest easy. With the Fidelity Customer Protection Guarantee, the firm promises to reimburse customers for any losses incurred as a result of unauthorized trading in accounts.
Specific security protocols used at Fidelity include two-factor authentication, security text alerts, voice identification, encryption, firewalls and constant system surveillance. 
Vanguard has a similar online fraud policy, offering to reimburse assets taken from your account if you're a victim of unauthorized transactions. However, the firm does caution that you must follow the steps outlined in the "Your responsibilities" section of the policy to be protected. 
Beyond this pledge, Vanguard uses many industry-standard fraud protection policies, ranging from encryption and password protection to SSL certification and security questions.
Customer Service
Fidelity Go offers 24/7 phone-based customer service. It also has an online chat option available Monday through Friday from 8 a.m. to 10 p.m. EST and Saturday and Sunday 9 a.m. to 4 p.m. EST.
Vanguard's customer service is a bit more limited, offering phone hours from 8 a.m. to 8 p.m. EST Monday through Friday only, with no live chat option available.
Vanguard vs. Fidelity: Which Is the Best Option?
Vanguard or Fidelity? If you're trying to pick a winner in the Vanguard or Fidelity debate, the bottom line is that both firms offer excellent robo-advisor platforms. Deciding which one is better depends on your specific needs. However, some notable differences might tip the scale more toward Fidelity for average investors.
Fidelity offers a wider range of investment options in its robo-advisor and has no minimum investment requirement. It's great for new investors or for individuals who want to take advantage of robo-advising services and do some trading as well to grow their investments.
Vanguard has a slight edge when it comes to costs, though Fidelity's maximum management fee of 0.35% per year is far from expensive. Vanguard's mutual funds are among the best in the industry and relatively low-cost, making it the ideal choice for long-term investing.
Cynthia Bowman and Cynthia Measom contributed to the reporting for this article.
Information is accurate as of May 21, 2022.
Paid non-client promotion. GoBankingRates receives compensation when a reader clicks on the Vanguard link.