Fidelity Go vs. Vanguard Digital Advisor: Which Is the Best Robo-Advisor?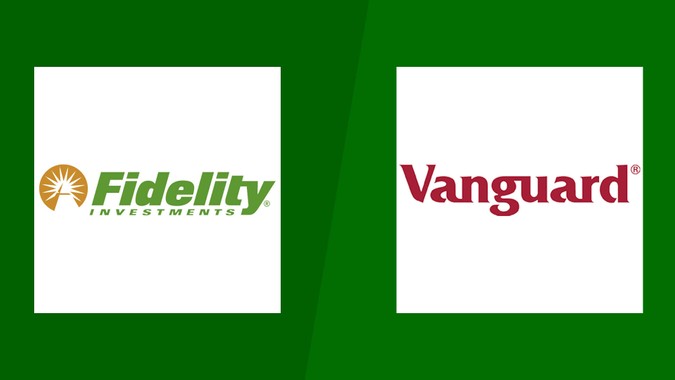 Vanguard and Fidelity are two of the world's leading brokerage firms. Both rose to prominence via their low-cost mutual fund lineups, and they remain industry leaders in that area. Not too long ago, Vanguard and Fidelity also unveiled their own robo-advisors and now go toe-to-toe in this arena as well.
Keep reading to learn how Vanguard and Fidelity stack up in terms of their respective robo-advisor platforms. Here's a look at what this guide covers
What Is Vanguard?
Vanguard got its start as a direct-to-consumer mutual fund company but has since evolved into a full-fledged brokerage firm, offering everything from stocks and bonds to options, mutual funds, exchange-traded funds and more. Vanguard also offers a robo-advisory platform known as Vanguard Digital Advisor.
Who Is Vanguard Best For?
Vanguard offers a low-cost, comprehensive robo-advisor, but it might not be the perfect match for everyone. Here's an overview of the pros and cons of Vanguard Digital Advisor:
Best For:
Fans of Vanguard ETFs


Investors seeking the lowest possible robo-advisory management fees
Why You Might Pass:
Sponsors of
If you have less than $3,000 to invest

If you want more than four investment options
What Is Fidelity?
Fidelity has always been a low-price leader when it comes to stock trading, and now its commissions for online stock, ETF and option trades have dropped to $0. Fidelity also has a well-regarded mutual fund family and a robo-advisory platform dubbed Fidelity Go.
Who Is Fidelity Best For?
Just like Vanguard, Fidelity's robo-advisor platform has both strengths and drawbacks. Here's a summary of the main pros and cons of Fidelity Go:
Best For:
Investors starting out with less than $3,000

Fans of the Fidelity ETF lineup

Those looking for broader diversification in their robo-advisor
Why You Might Pass:
Higher annual management fees
How Do Vanguard and Fidelity Compare?
Overall, Vanguard and Fidelity have inexpensive, well-run robo-advisor platforms. A side-by-side comparison of various features can help you pick the right one.
Vanguard vs. Fidelity: At-a-Glance Comparison
Features
Vanguard
Fidelity
Annual management fees
0.15%
0.35%
Minimum initial deposit
$3,000
$0 to open, $10 investment minimum
Human advisors
No
Yes, for a 0.50% annual fee
Tax-loss harvesting
No
No
Fractional shares
No
No
Single stock diversification
No
No
Taxable accounts
Yes
Yes
401(k) plans
No
No
Individual retirement accounts
Yes
Yes
Roth IRAs
Yes
Yes
Simplified employee pension IRAs
No
No
Trust accounts
No
No
529 plans
No
No
Here's a more in-depth look at how the Vanguard Digital Advisor and Fidelity Go platforms compare in terms of certain key features.
Features and Accessibility
Fidelity Go gets the nod over Vanguard Digital Advisor when it comes to ease of opening an account.
For Fidelity Go, you can simply log on to the website, answer a few questions regarding your investment objectives, risk tolerance and the amount you can invest, and provide basic identifying information such as your age. At that point, you'll be presented with a sample portfolio based on your responses.
For Vanguard Digital Advisor, the same overall principle applies in terms of getting a portfolio. However, before you can begin the process, you'll have to sign up for a generic Vanguard account. The $3,000 required to open a Vanguard Digital Advisor account must first be invested in the Vanguard Federal Money Market Fund.
Both robo-advisor platforms offer standard features such as automatic rebalancing and automated investing.
Sponsors of
Management Fees
Both Vanguard and Fidelity have straightforward pricing on their robo-advisor products. Fidelity fees are a flat 0.35% annually across all balances, while Vanguard fees are 0.15% annually.
If you desire direct human interaction in the form of a personal financial advisor, Fidelity and Vanguard each offer access through their robo-advisor platforms, albeit at a higher cost.
The cost for Vanguard Personal Advisor Services is 0.30% per year on amounts of up to $5 million, with costs dropping as low as 0.05% annually on assets above $25 million. There's a $50,000 minimum for this service.
Fidelity Personalized Planning and Advice works in conjunction with the Fidelity Go robo-advisor for a 0.50% annual fee and a $25,000 account minimum.
One important distinction between the Fidelity and Vanguard products is in the expense ratio of the funds used. Although Vanguard is one of the industry's low-cost leaders when it comes to ETF fees in general, Fidelity Go only invests in its Fidelity Flex funds, all of which have an expense ratio of zero.
Retirement Planning
Both Fidelity and Vanguard offer their robo-advisory services for traditional and Roth IRAs.
Portfolios
Vanguard's Digital Advisor platform offers access to four ETFs:
Vanguard Total Stock Market ETF

Vanguard Total International Stock ETF

Vanguard Total Bond ETF

Vanguard Total International Bond ETF
Investments are allocated among these four choices based on an investor's self-provided risk tolerance and financial goals.
Fidelity Go allocates user investments across its line of seven Fidelity Flex funds. Depending on how you fill out your investment questionnaire, you may or may not be invested into all of these funds:
Fidelity Flex 500 Index Fund

Fidelity Flex Small Cap Index Fund

Fidelity Flex Mid Cap Index Fund

Fidelity Flex International Index Fund

Fidelity Flex Municipal Income Fund

Fidelity Flex Conservative Income Municipal Bond Fund

Fidelity Flex Government Money Market Fund
All of these funds have a 0% expense ratio.
Goal Setting
You're completely in charge of the investment goals you want to save for when you use the Fidelity and Vanguard robo-advisory platforms. For both, when you open an account, you're required to complete a questionnaire that asks for information such as your age, risk tolerance and investment objectives. Your portfolio is then customized according to the specific goals you have outlined.
Tax-Advantaged Investing
Fidelity Go offers access to tax-advantaged investing through its Fidelity Flex Municipal Income Fund and its Fidelity Flex Conservative Income Municipal Bond Fund. Regardless of whether you want any tax-advantaged investments or not, you can contact Fidelity and specify your investment parameters in terms of tax management.
Vanguard only offers four ETFs in its robo-advisor platform, none of which are dedicated to tax-free investing.
Security
Fidelity's security offers the type of guarantee designed to make clients rest easy. With the Fidelity Customer Protection Guarantee, the firm promises to reimburse customers for any losses incurred as a result of unauthorized trading in accounts.
Specific security protocols used at Fidelity include two-factor authentication, security text alerts, voice identification, encryption, firewalls and constant system surveillance.
Vanguard has a similar online fraud policy, offering to reimburse assets taken from your account if you're a victim of unauthorized transactions. However, the firm does caution that you must follow the steps outlined in the "Your responsibilities" section of the policy to be protected.
Beyond this pledge, Vanguard uses many industry-standard fraud protection policies, ranging from encryption and password protection to SSL certification and security questions.
Customer Service
Fidelity Go offers 24/7 phone-based customer service. It also has an online chat option available Monday through Friday from 8 a.m. to 6 p.m. Eastern time.
Vanguard's customer service is a bit more limited, offering phone hours from 8 a.m. to 8 p.m. ET Monday through Friday only, with no live chat option available.
Vanguard vs. Fidelity: Which Is the Best Option?
If you're trying to pick a winner in the Vanguard or Fidelity debate, the bottom line is that both firms offer excellent robo-advisor platforms. Deciding which one is better depends on your specific needs. However, there are some notable differences that might tip the scale more toward Fidelity for average investors.
Fidelity offers a wider range of investment options in its robo-advisor and has no minimum investment requirement. Vanguard has a slight edge when it comes to costs, though Fidelity's management fee of 0.35% per year is far from expensive. Overall, Fidelity noses just ahead of Vanguard in a head-to-head comparison, particularly for beginning investors.
Information is accurate as of June 11, 2020.