Vanguard CD Rates for November 2023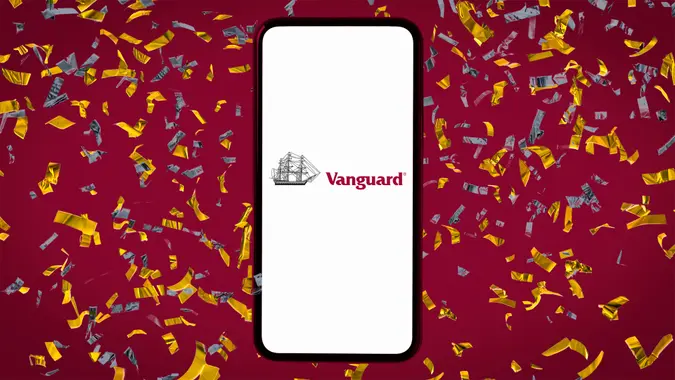 Certificates of deposit are a good, safe place to park your money. And with interest rates on the rise, they're becoming a better option for putting your money to work for you. Vanguard is a brokerage firm that offers CDs. Here is what you need to know about Vanguard CD rates.
What Are Vanguard's Current CD Rates?
Vanguard offers CDs from various banks, and they may have different rates. With all brokered CDs at Vanguard, you will need a $1,000 minimum deposit. Here is a look at Vanguard CD rates for November 2023.
| Term | APY |
| --- | --- |
| 1-3 months | |
| 4-6 months | |
| 7-9 months | |
| 10-12 months | |
| 2 years | |
| 3 years | |
| 4 years | |
| 5 years | |
| 10 years | |
About Vanguard CDs
Vanguard is a brokerage firm, not a bank, but it offers brokered CDs from various banks. There are a couple of advantages to this.
You Get the Best Rate
If you're looking for the best CD rate — and they change all the time — you may have to check the websites of various banks to compare. But Vanguard CD rates come from many banks, so you can compare the rates all in one place.
Maximize Your FDIC Coverage
CDs at banks are held in individual accounts. When you buy a CD, you open a new account, or you can hold multiple CDs in a single account. Bank accounts are FDIC-insured, for up to $250,000 per depositor, per account ownership category. So, if you have an account in your name only, it will be insured for $250,000 at most. If you have a joint account with another person, that account will be insured for up to $250,000 per account owner, so up to $500,000.
If you purchase brokered CDs, you can hold CDs from multiple banks in one brokerage account. So, you could have a $250,000 CD from ABC Bank, a $250,000 CD from XYZ Bank and a $250,000 CD from LMNOP Bank — all in the same Vanguard brokerage account. And if they are all FDIC-insured, your money would be insured for $750,000.
How To Purchase a CD from Vanguard
In order to buy a CD from Vanguard, you need to have a brokerage account with Vanguard. You can open an individual account or a joint account with someone else, such as a spouse or partner.
You can also open an IRA to save for your retirement. CDs can be a good option for retirement savings, particularly if you are nearing retirement and don't want to take any unnecessary risks. The rules on how much you can deposit into an IRA each year and have tax advantages are regulated by the IRS. So make sure you understand the rules before you open an account.
To open your account, you'll need to select the type of account you want. Then, you'll need to provide your personal information, like your name, address, Social Security number and phone number. You'll answer some questions about your employment and the source of the money you are going to deposit in the account. You'll also be asked if you have other investments, and what type of investments they are.
Then, you'll need to transfer money into the account. This can be done electronically, and you'll need the information for the account where the money is coming from. If it's coming from another investment company, you may need a statement.
Lastly, you can sign your application, either online or by printing and mailing it. Once your account is open, you can manage it online.
Why Invest In a CD?
CDs have three features that make them a good investment for certain situations: They have a fixed rate, a fixed time period and are guaranteed. Here is a closer look at the benefits.
Fixed Rate
When you purchase a CD, you will know exactly how much interest you will earn on your money. The rate does not change during the term of the CD.
Fixed Term
The other thing you know for sure when you buy a CD is how long your money will be tied up. You can select a term from one month to 10 years. Usually, the longer the term, the higher the rate, but double-check to make sure. During times when interest rates are more volatile, it makes it difficult for banks to predict future rates. In this case, they may offer a lower rate for a 10-year CD than for a one-year CD, for example.
FDIC Insurance
CDs are issued by banks, so they are FDIC-insured if the issuing bank is FDIC-insured. That means that even if the bank goes out of business, you won't lose your money. Credit unions also issue CDs and those are insured by the National Credit Union Administration, or NCUA. They will have the same terms as FDIC insurance.
Final Take
If you're looking for a safe investment that pays a guaranteed rate of interest, a CD is a solid choice. Whether you're stashing some cash that you'll need in a few months or saving for retirement, it is important to know where your money will grow the most. And if you want to be able to choose from lots of different banks to ensure you are getting the best rate, Vanguard brokered CDs are well worth a look.
FAQ
Here are the answers to some of the most frequently asked questions regarding CDs.
Who has the highest 12-month CD rate?
Does Vanguard charge a fee for CDs?

Yes, there are some fees associated with Vanguard CD accounts. Vanguard offers two ways to buy its brokered CDs — new or as a secondary trade from people selling their CD account. With new issues, there is no fee. With secondary trades, you will pay a $1 transaction fee per $1,000 CD, for a maximum of $250. If you would like to open your account over the phone, you will pay an additional $25 for secondary trades.
Rates are subject to change; unless otherwise noted, rates are updated periodically. All other information on accounts is accurate as of Nov. 3, 2023.
Editorial Note: This content is not provided by any entity covered in this article. Any opinions, analyses, reviews, ratings or recommendations expressed in this article are those of the author alone and have not been reviewed, approved or otherwise endorsed by any entity named in this article.