Should You Get a Beneficiary for Your Bank Account?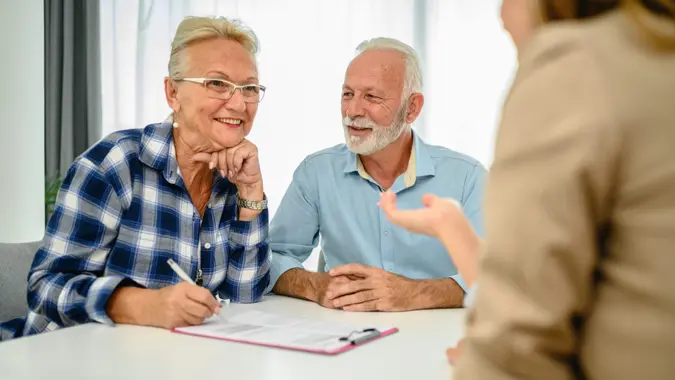 bluecinema / Getty Images
If you've ever opened an IRA, CD or brokerage account — or bought an annuity, life insurance policy or shares of a mutual fund — you've been asked to name a beneficiary, or a person who will inherit the account when you die.
The same may be true for your checking and savings accounts: Although it's not required — and some banks don't even allow it — both can have beneficiaries.
Although banks typically don't require checking and savings account holders to name beneficiaries, it is possible to do so. If your bank allows it, naming a beneficiary is simple — all you have to do is fill out a few forms.
What Is a Beneficiary?
A beneficiary is a person who will inherit your bank account when you die. While most accounts do not require you to name a beneficiary, it is one path to make sure your money is distributed properly to your loved ones.
Can You Put a Beneficiary on a Bank Account?
While there are some banks that don't allow you to name a beneficiary for your accounts, most will.
Naming a beneficiary can benefit the person who will own the funds because they won't have to go through the probate process when you pass away. Probate can be a long process in which a court distributes your estate assets. If you are married, only half of your balances go to your spouse when you die, and the rest go into probate.
If you don't name a beneficiary, your checking and savings account balances will become part of your estate, which means they will have to go through probate before anything goes to your heirs. It's also important to remember that once your accounts go into probate, the court can use them to pay off your debts.
Upgrade Your Checking Account
If you have designated one or more beneficiaries, all they have to do is take a certified copy of the death certificate to the bank and fill out some forms to gain immediate access to the funds.
How To Put a Beneficiary on a Bank Account
If you want to name a beneficiary to a bank account, you must make that account a sort of trust, which protects your assets from going into probate after you die. Often, banks refer to accounts with beneficiaries as one of the following: Payment on Death (POD), In Trust For, Transfer on Death, Totten Trust or Transfer on Death account.
When it comes to naming your beneficiary, keep in mind that you can name more than one and that they can be living people, nonprofits or charitable organizations. If you name more than one beneficiary, your assets will be divided equally among them. You can change beneficiary designations as you see fit.
If your bank does not allow you to name beneficiaries to your accounts, consider making them joint accounts. That way, the joint holder will legally have access to the money after your death. A joint holder can be your spouse or your child, and all you have to do to make them a joint holder is visit your bank with them and sign the paperwork.
Before you decide to do this, however, know that the person who holds your account jointly has complete access to your account. So, make sure that person is financially responsible if you want to avoid trouble down the line.
Can a Beneficiary Withdraw Money From a Bank Account?
What happens if you are the beneficiary of a bank account? When the account owner dies, you must notify the bank of the death. Because the bank will already have the information that you are a beneficiary, all you need to present is your ID and a death certificate.
Upgrade Your Checking Account
Once you do, you'll be able to withdraw any funds from the account. Once the bank releases the funds, it usually closes the deceased person's account.
Who holds beneficiary bank accounts? Legally, the person whose name you add to the account will become the outright owner of the funds after your death. Unless there's something in writing, there's no way to know or enforce the terms of any understanding the two of you reached about how the money would be used.
The new owner is free to spend the money without any restrictions. If other relatives think you had something else in mind, they may be resentful or angry if the surviving owner uses the money for personal purposes instead of paying expenses or sharing the money with other family members.
Alternative To Naming a Beneficiary on a Bank Account
If you already have a living trust set up to enable your heirs to skip the probate process, you can simply put your bank accounts in the trust. When you die and the trustee takes over your account, they can transfer the funds to the beneficiary without any probate proceedings.
To do this, you'll need to fill out a Certificate of Trust at your bank, after which your records will show your accounts are held in trust.
Best Reasons To Add a Beneficiary to Your Bank Accounts
You know that adding a beneficiary to your bank accounts enables you to leave those funds to the person you want and makes it easier on them allowing them to skip the probate process. But there are a few more reasons you might choose to do so.
It's not permanent: It's simple to change your beneficiary on your bank accounts whenever you choose.

Say you go through a divorce and had previously listed your spouse as your beneficiary. You can just change that beneficiary without your spouse's consent.

It supersedes a will: That means that the executor who is distributing your assets must first rely on a named beneficiary before they follow a will's instructions.
It can be easier on your loved ones: Naming a beneficiary can help your family avoid arguments about who inherits what.

If you want to name several people as beneficiaries, you can even assign a percentage of your assets to each, making it easy for the executor to act according to your wishes.
Upgrade Your Checking Account
Final Take
If you don't want your bank accounts to go into probate after you die and have the court decide who gets what, you can typically name a beneficiary. You'll need to convert the accounts into a POD, which is a kind of informal trust, before you name the person, people or organization to whom you want your money to go.
It takes a few steps to name beneficiaries to bank accounts, but doing so can enable you to rest assured that after you die, the hard-earned assets you've accumulated get distributed exactly how you intend them to be.
Our in-house research team and on-site financial experts work together to create content that's accurate, impartial, and up to date. We fact-check every single statistic, quote and fact using trusted primary resources to make sure the information we provide is correct. You can learn more about GOBankingRates' processes and standards in our editorial policy.