What Is Required When Opening a Checking Account?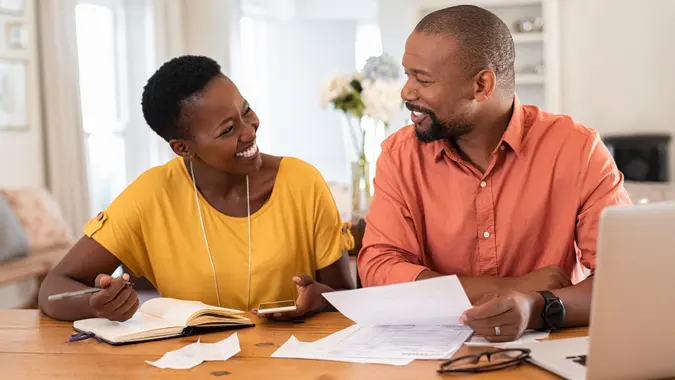 Ridofranz / iStock.com
A checking account is a valuable tool for organizing your finances and managing your money. Your funds in a bank are insured, and you don't have to worry about carrying large amounts of cash.
The process of opening a checking account is simple. You'll need to decide on the right bank for your lifestyle and financial needs and gather a few required documents.
What Is Required When Opening a Checking Account?
Banks in the United States are required by law to collect specific information about each person who wants to open an account. Gathering this documentation helps protect both the bank and the consumer. This is why the bank will ask you for the following when you apply to open a checking account:
Driver's license or other photo ID
Social Security card
Proof of address showing name and address of current residence
An initial deposit, if needed
Most banks require you to be at least 18 to open a bank account on your own, so children and teenagers need a parent or guardian to apply with them. All co-applicants must provide proof of identity and residence. 
Keep In Mind

What else is required when opening a checking account? In addition to the mentioned documents, you may need a minimum deposit to open the account. You can meet this requirement by depositing cash in a local branch, transferring money from another account or depositing a check. 

If you are unable to supply some of the necessary documents or you have a special situation, schedule a meeting with a bank associate to discuss your options.
Upgrade Your Checking Account
Here are more details about the documents that are required when opening a checking account.
Photo ID or Driver's License
Banks require proof of identity for security purposes. Most people provide a state-issued photo ID or driver's license, but acceptable alternatives include a military ID, a U.S. passport or federal government ID. If you are a non-U.S. citizen, you can also use a foreign passport, a consular card from select countries or a U.S. non-immigrant visa and Border Crossing Card.
Physical Address
By law, banks must have a record of their customers' physical addresses. This generally means you must provide the street address where you live or work and cannot use a post office box even if you receive your mail there.
Proof of Residential Address
In some cases, the bank may also ask for proof of residency. This can include a lease agreement, deed or vehicle registration, but current utility bills — such as those for cable, phone, gas or water can also be used. The bank may also accept an employer pay stub or a letter with your name and address on the envelope to prove that you receive mail there.
Upgrade Your Checking Account
SSN or ITIN
Since some accounts earn interest that will be considered income, the bank will likely ask for your Social Security number or Individual Taxpayer Identification Number. Non-residents who do not have a Social Security number often use the ITIN to meet this requirement. In some cases, a passport number, alien identification card number or government-issued ID will work.
How To Open a Checking Account

Once you have learned what is required to open a checking account at your bank of choice, you can then visit a local branch or use the bank's mobile app to submit an application. Here's an overview of the steps you'll need to take:

1. Gather your personal information

Find your personal documents, including your driver's license or state-issued ID. You'll also need money to make the opening deposit if your bank requires one. If you don't plan to pay this with cash or a check, you'll need your routing and account numbers associated with another account.

2. Apply for the account and get approved

To open an account online, visit your bank's website and look for the online application. Then follow the instructions to open an account.

If you choose to open a checking account in person, visit a local branch, then speak to an associate to submit an application.

3. Fund the account

Once your application is approved, deposit the money needed to fund the account. The minimum opening deposit varies by bank, so that's essential information to find out about before you open a checking account. Or consider a free checking account with no minimum deposit.
What To Consider Before Opening a Checking Account
Before opening a checking account, you'll need to decide which bank or credit union you want to work with. Then you'll need to choose which checking account to open, as most banks offer several options and run promotions. Consider these questions to help you narrow down your options.
What is the easiest bank to open a checking account with? The easiest bank could be one that's down the street from your home or workplace. It could also be an online bank if you don't plan to use the services of a branch.
How much is the opening deposit? Some banks and credit unions don't require an opening deposit, while others have a minimum. Consider how much you'll need to deposit when you open the account. Most banks set opening deposits from $25 to $100.
What fees does the bank charge? Look at whether the bank charges monthly maintenance fees for the account. Monthly maintenance fees can run from $0 to $35. Also consider how much it charges for overdraft fees. You can expect to pay around $35 for an overdraft fee.
What other services does the bank offer? Consider what other products or services you might need from your bank or credit union, whether it's a savings account or a mortgage.
Upgrade Your Checking Account
What To Know if You're Closing an Old Checking Account
If you're opening a checking account with plans to close your current one, here's a rundown of things you should be aware of.
Make a list of direct deposits and automatic payments. Compile a list of any direct deposits or automatic payments that are synced with your account. Once your old checking account is closed, you'll need to update your banking information with your employer and creditors.
Wait until you're ready to close the account before withdrawing all of the funds. Some checking accounts have a minimum balance requirement to avoid the monthly maintenance fee. If you withdraw all of your funds, it will trigger the monthly maintenance fee, and you will have to pay it.
Contact your bank to find out how to close your account. Depending on your bank's policies, you may have to fill out an account closure form or write a letter stating you want to close the account. Ask your bank to confirm that the account is closed in writing.
Destroy any checks or debit cards connected to the closed account. Once the account is closed, you'll no longer need the checks or debit card connected to it. Destroy those by shredding the checks and cutting up the debit card so no one will be able to attempt to use them.
Checking Account Alternatives
If a checking account isn't right for you, consider the following alternatives that are available.
Cash Management Account
Cash management accounts are offered by nonbank financial institutions like investment firms. You may choose this option if you have a relationship with a broker or investment firm that offers this option. Typically, these accounts have higher interest rates than you get in a bank, but they also tend to have maintenance fees.
Prepaid Debit Card
Prepaid debit cards allow you to add money using cash or direct deposit, or by transferring funds from a bank account. These cards are best for those who may not be approved for a checking account.
Upgrade Your Checking Account
Final Take
Checking accounts offer you solid security for your money. Knowing what is required when you are ready to open a checking account will make the process smooth and less stressful for you. A photo ID and a physical address are some of the most commonly required pieces of information but you should check with the bank to find out what else you should bring before making a trip.
More on Checking Account
FAQ
Here are the answers to some of the most frequently asked questions about requirements when opening a checking account.
What are four things you should consider before opening a checking account?

Four points to consider before opening a new bank account are:

What is the easiest bank to open a checking account with?
How much do you need for the opening deposit?
What fees does the bank charge?
What other services does the bank offer?

What are two things the bank needs from a customer to open a checking account?

All banks will ask you for proof of identity and a physical address when you open an account, but some banks also have additional requirements. As you research potential banks, note their requirements for new customers.
Upgrade Your Checking Account
Cynthia Measom and Allison Hache contributed to the reporting for this article.
Our in-house research team and on-site financial experts work together to create content that's accurate, impartial, and up to date. We fact-check every single statistic, quote and fact using trusted primary resources to make sure the information we provide is correct. You can learn more about GOBankingRates' processes and standards in our editorial policy.
Upgrade Your Checking Account