Are Credit Unions FDIC Insured? The Safety of Credit Union Share Accounts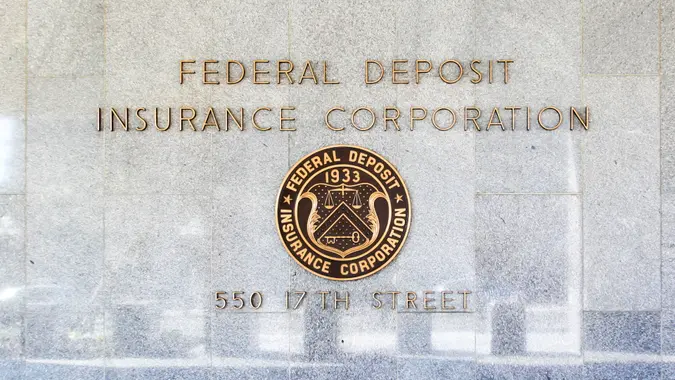 The Federal Deposit Insurance Corporation federally insures most traditional banks in case of failure. But credit unions are not considered traditional banks. Is a credit union FDIC insured?
Although credit unions offer the same financial products and services as traditional banks, one big difference between credit unions and banks is who insures their money. Even though credit unions are not FDIC insured, they are still federally insured.
For those who are current members of a credit union or considering joining a credit union, here are some things to know about how money deposited in a credit union is protected.
Are Credit Unions FDIC Insured?
While federal credit unions are not FDIC insured, they are federally insured by the National Credit Union Share Insurance Fund. The NCUSIF is supervised by the National Credit Union Agency, an independent federal agency created in 1970. The NCUSIF has the full backing of the U.S. government in case an insured credit union fails. 
According to the NCUA, no credit union member has lost money in federally insured accounts at a credit union. This is evidence that money deposited into an NCUA insured credit union account is just as safe as in an FDIC insured bank account.
Which Credit Unions Are Insured by the NCUA?
Those interested in joining a credit union should know that not all credit unions are NCUA insured. Some state-chartered credit unions carry private deposit insurance rather than NCUA insurance.
While the private deposit insurance these state-chartered institutions carry can protect account holders' money, having accounts backed by the NCUSIF might make some credit union members feel more confident about the safety of their money.
So how can one determine if a credit union is NCUA insured? All credit unions protected by the NCUSIF must display the official NCUA logo in any place an account can be opened, such as at physical branches and their websites. 
Is the NCUA as Safe as the FDIC?
The NCUA and FDIC offer the same amount of coverage for deposit accounts. Both provide standard deposit insurance of $250,000 per individual depositor, per insured institution.
An account holder's money in a deposit account is no more or less safe at a credit union than at a bank. 
What Types of Accounts Are NCUA Insured, and for How Much?
The NCUA insures share accounts — called deposit accounts at banks — such as checking, savings, certificates and money market accounts. Accounts such as IRAs and trusts, are also NCUA insured as these are also considered share accounts.
The NCUSIF does not cover brokerage accounts, insurance products or safe deposit box contents, because these are not share accounts.
The NCUA provides standard deposit insurance of $250,000 per individual depositor, per insured credit union. Suppose an individual has $250,000 deposited at one credit union and $100,000 at another. All of their money would be protected by the NCUSIF. If that same individual has $350,000 in share accounts at one credit union, their $350,000 would only be insured up to $250,000.
Credit union members with share accounts in multiple ownership groups will receive up to $250,000 in coverage for each ownership group. The NCUSIF insures the following ownership groups up to $250,000 each:
Individual owner accounts
Joint accounts
Traditional IRAs, Roth IRAs and Keogh accounts
Revocable trust accounts
Irrevocable trust accounts
Suppose someone has an individual account of $50,000, a joint account of $200,000 and a Roth IRA of $250,000. All of these accounts would be covered up to $250,000 each if deposited at the same credit union.
If that same person increases the individual account to $300,000, it would only be insured up to $250,000. This is why it is essential to understand what is covered by the NCUSIF and how much.
Some credit unions insured by the NCUA also carry private insurance to provide customers with higher coverage limits than the standard $250,000, which can benefit those who'd like to keep more money in one credit union.
The NCUA has a share estimator tool that credit union members can use to determine if their current share accounts are sufficiently covered.
What Types of Accounts Are Not NCUA Insured?
The NCUA does not insure most non-share accounts. For example, brokerage accounts would not be insured.
To protect their money, an account holder at any credit union or bank should know which accounts are and are not insured. They should also understand how multiple deposit accounts at one institution are insured.
Takeaway
Are credit unions FDIC insured? No, they aren't, but they do receive the same protection from the NCUA as banks do from the FDIC. Customers of credit unions and banks should know which accounts are insured and for how much to best protect their money.
Credit union members concerned about their NCUA coverage should use the NCUA estimator tool to determine whether their deposits are fully insured. Account-holders whose deposits exceed the limits of NCUA coverage should move some money to another federally insured financial institution to guarantee complete coverage.
FAQ
Here are answers to some common questions about the safety of credit unions.
Is your money safe in a credit union?

The NCUA federally insures all federal credit unions. The NCUA also insures some state-chartered credit unions while others might be covered by private deposit insurance. No credit union member has ever lost money in a federally insured account at a credit union, according to the NCUA.

What are the disadvantages of credit unions?

The most significant disadvantage to credit unions is membership requirements. Each credit union must have a defined membership per the Federal Credit Union Act of 1934. Therefore, not everyone is eligible to join every credit union.
Also, since many credit unions are small, some might not offer the variety of product options available at traditional banks.

How much of your money is insured in a credit union?

The NCUA provides standard deposit insurance of $250,000 per individual depositor, per insured credit union for each account ownership group.
So an account holder would be insured for more than $250,000 per insured institution when they have deposit accounts across multiple ownership groups, such as in individual deposit accounts and an IRA.
Our in-house research team and on-site financial experts work together to create content that's accurate, impartial, and up to date. We fact-check every single statistic, quote and fact using trusted primary resources to make sure the information we provide is correct. You can learn more about GOBankingRates' processes and standards in our editorial policy.