Credit Union vs. Banks: What's the Difference?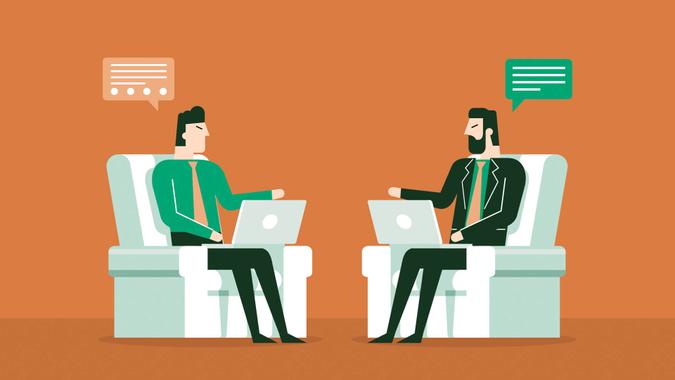 The main difference between a credit union and a bank is that banks are for-profit institutions, while credit unions are nonprofit institutions. Nonprofit status provides advantages for credit union members, usually in the form of more attractive rates for savings and loan products. Even so, there are still instances in which banks can be a better choice. Find out more differences between credit unions and banks to help you decide which institution might be right for you.
Here's a quick look at what you'll find in this guide to credit unions versus banks:
What Is a Credit Union?
While credit unions are very similar to banks, they differ fundamentally in ownership structure. Credit unions are not designed to generate profits from banking activities. Instead, account holders — called members — vote on a volunteer board of directors that makes the major managerial decisions for the union.
Credit Union vs. Bank: Which Is Better?
The major advantage of credit unions is that they are designed to serve account holders rather than shareholders. Although it might seem obvious that credit unions are a superior option for consumers, the reality is more complicated. Nonetheless, there are quantifiable benefits for credit union members. Here are two for you to consider.
Higher Interest Rates on Deposits
In general, credit unions offer slightly higher interest rates on deposit accounts. The national average annual percentage rate on 12-month certificates of deposit from credit unions is 1.32%, which is a 35-basis point improvement over the national bank average.
Credit unions' 0.35% annual percentage yield for money market funds is an improvement over the 0.23% delivered by banks, though a regular savings account averages 0.17% at credit unions and 0.18% at banks.
Lower Interest Rates on Credit Cards and Loans
Credit unions also deliver value in the form of lower interest rates for members who want to borrow money. The average annual percentage rates on credit cards from credit unions is 11.56%, a full two percentage points below the average rates from banks.
Additionally, 30-year mortgages are five percentage points lower, home equity lines of credit are 42 basis points lower and 60-month car loans at 3.53% are substantially cheaper than the 5.16% offered by banks.
What Are the Disadvantages of Credit Unions?
While the advantages of a credit union are clear, there are reasons that banks are still able to exist alongside them. The disadvantages of credit unions are in what they lack; they often fail to deliver some of the valuable services that banks can boast.
Rates May Not Be as Competitive as What Online Banks Offer
Online banks such as Ally, Synchrony and Citizens Access can deliver interest rates substantially higher than the national credit union average. Online banks are efficient institutions with substantial scale and wide product portfolios, allowing them to provide compelling rates and generate profits.
Product and Service Offerings May Be Limited
Large national banks offer a variety of services and products that credit unions generally cannot match. Among the largest consumer banking institutions in the U.S. are Chase, Wells Fargo, Bank of America and Citi, which all have a broad array of products and services to benefit account holders. These include mobile banking and payment solutions, investment products and services and extensive branch and ATM footprints. Customers hoping to start a business with startup capital may also derive value from a bank's offerings.
Customer Base May Be Limited
A lot of credit unions are regional, or their customer base is limited due to membership requirements. Scale is a meaningful contributor to efficiency and innovation, and credit unions are steps behind in that regard.
Are Credit Unions as Safe as Banks?
Safety is perhaps the most important reason for using a deposit account, as banks are meant to be reliable places to store capital for later use. The Federal Deposit Insurance Corporation insures bank account holders against bank failure up to $250,000.
Credit unions are not eligible for FDIC coverage. However, they do have a program called the National Credit Union Share Insurance Fund, which has federal backing and is meant to serve the same purpose. Not all credit unions are members of the NCUSIF, so account holders should be aware of that status before committing any capital to an account.
Regular deposit accounts are generally safe in both banks and credit unions, though there are some exceptions. For the most part, it is among the least risky of places to hold assets. Consumers should be aware of the nature of specific products offered by institutions because there can be different types of risk among financial vehicles — even within an otherwise safe organization. Investment products, for example, carry the risk of principal loss that might not be shared by a checking account. Certain types of CDs or retirement accounts could carry withdrawal penalties that impact their functional liquidity.
Can Anyone Join a Credit Union?
Credit unions have membership criteria based on factors such as common employers, geographic location, organization affiliation and family. However, they are numerous enough that very few people are completely excluded from membership opportunities. Often, to join, someone must simply apply and pay a fee for a member share, usually between $5 and $25.
How To Choose a Credit Union
Choosing a credit union is based on two primary factors: eligibility and relevance. Prospective members should determine which union will accept their application. The National Credit Union Administration has developed a helpful tool for finding credit union branches and ATM locations geographically. Once nearby organizations have been identified, the NCUA also offers a research tool that provides basic information on the credit union and its membership field. Prospective members should consider which products and aspects of customer services are most relevant to their banking needs and be sure that their choice fits with that criteria.
Banks vs. Credit Unions
Feature
Bank 
Credit Union
Organization
For-profit corporation
Nonprofit corporation
Owned by
Private investors and stockholders
All members
Who benefits
Stockholders
Members and owners
Taxes
Taxed
Non-taxed
Board of directors
Paid
Volunteers
Insured by
FDIC
NCUA
Click through to find out more about the best credit unions you can join in 2020.
More From GOBankingRates
This article has been updated with additional reporting since its original publication.