What's the Difference Between Banks and Credit Unions?
Credit union vs. bank: Explore which is the best fit for you.
When you compare a credit union versus a bank, the two institutions seem similar on the surface. They both offer a variety of financial services, like accepting deposits and providing loans. Credit unions are plentiful like banks, too: Currently, there are 8,341 commercial banks and 5,696 credit unions operating in the U.S.
Although credit unions and banks are alike, they differ in many ways. If you aren't sure whether you'd like to join a credit union or stick with a traditional bank, check out the differences between the two before making your final decision. If you're worried about credit unions' membership aspects, don't be — there are a number of credit unions anyone can join.
Credit Unions vs. Banks at a Glance
To better understand the general differences between these two types of financial institutions, here's a quick look at how banks and credit unions stack up against each other: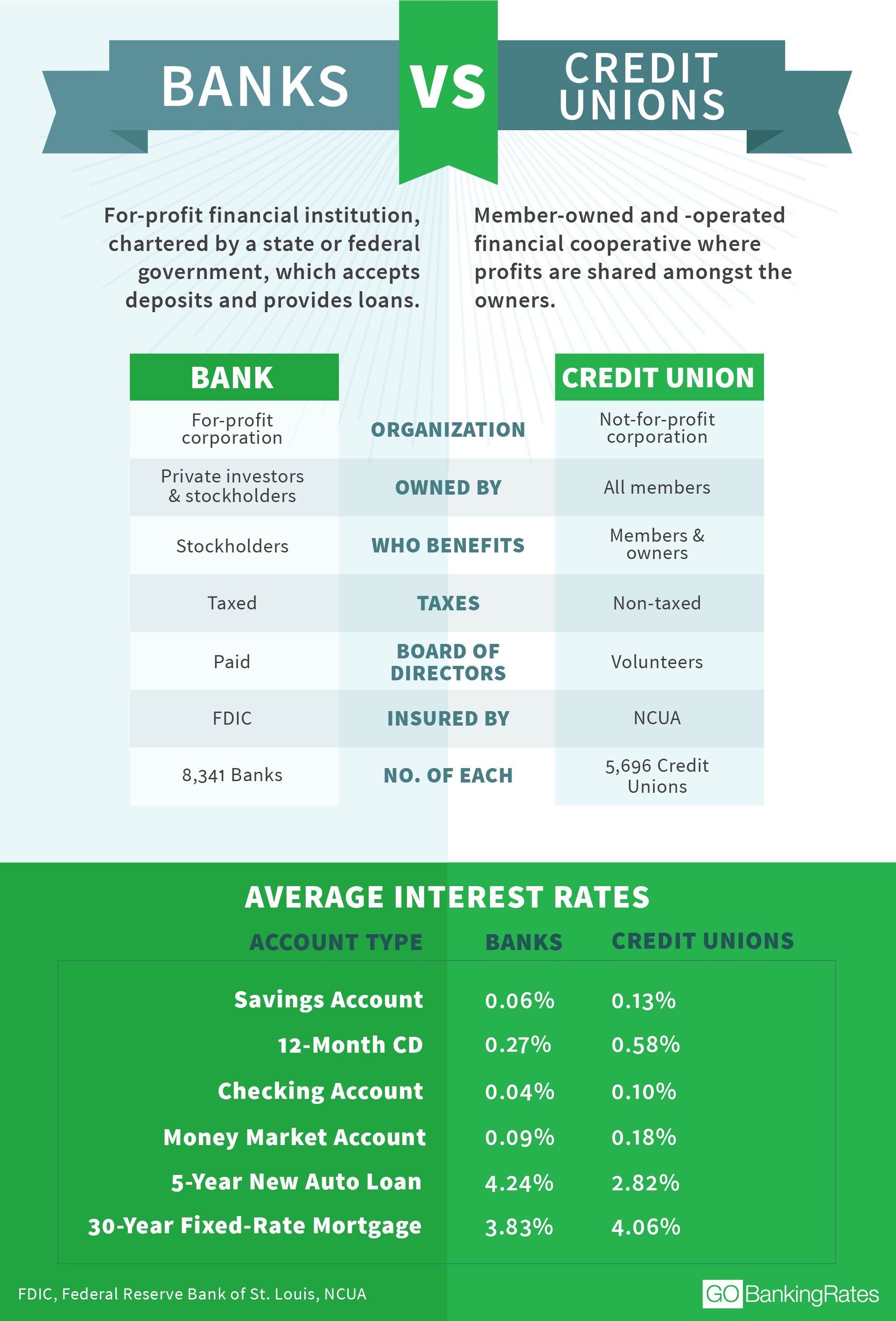 Credit Unions vs. Banks: 6 Key Points
You can better decide whether banks or credit unions are more suitable for your financial needs and goals by understanding more details about each. Here are six key details to consider:
1. Eligibility
Banks: Anyone is eligible to open an account at a bank if he has valid forms of identification and any required minimum opening deposit. You can apply online or in person and set up your account in no time.
Sponsors of
Credit unions: Credit unions require membership. Typically, a credit union's membership will be based on having the same employer, belonging to a certain group, living in the same location or being related to a member.
Check Out: Pentagon Federal Credit Union Review
2. Business Structure
Banks: Because banks are for-profit financial institutions and are owned by shareholders and investors, they tend to put their focus on commercial loans and services that will earn them the most money. Banks lend customers' money to other people and businesses and get interest payments in return. Banks also pay interest to customers for depositing their money.
Credit unions: Credit unions are focused on supporting their members, so they tend to provide services that their customers need — like savings and consumer loans. Credit unions make money like banks, but they share those profits with members by giving members better rates and low fees.
Learn More: How Do Credit Unions Make Money? 

3. Products and Services
Banks: Most banks offer savings accounts, checking accounts, CDs, auto loans, mortgage loans, credit cards and more. Some banks even offer business banking products, investment vehicles like retirement accounts and college savings plans. Banks and credit unions usually offer digital banking services.
Credit unions: Credit unions typically offer the same basic financial products and services — checking accounts, savings accounts, credit cards, loans and more — as banks. Smaller credit unions, however, might have only a few financial products.
4. Taxes
Banks: Banks make their money by charging higher fees to customers. Most banks are taxed on the entity level, which means account holders pay lower taxes than at a credit union.
Credit unions: Because credit unions are nonprofit organizations, they don't pay taxes at the entity level. That means they have to share their profits with members by giving them interest, which credit unions report on their taxes.
5. Deposit Insurance
Banks: The FDIC insures bank deposit accounts up to $250,000 per owner. Insured accounts include single bank accounts, joint accounts, certain retirement accounts and more.
Credit unions: Federal credit unions are insured by the NCUA through its National Credit Union Share Insurance Fund. Like the FDIC, the NCUA insures individual deposit accounts up to $250,000.
6. Rates and Fees
Banks: Because brick-and-mortar banks have to make a profit for their shareholders, they tend to have higher bank rates. This includes higher interest rates on loans and credit cards, lower deposit rates and more fees. You'll likely find lower rates and fees at an online-only bank, however, because online banks don't pay for overhead like traditional banks — and they pass those savings on to customers.
Credit unions: Credit union rates tend to be higher on deposit accounts. And, credit unions tend to have lower interest rates on loans and credit cards, as well as fewer fees.
Bank or Credit Union: Which Should I Join?
If you've already identified a credit union near you and a bank that is also close, deciding between the two depends on what benefits are most important to you because both offer everything from checking and savings accounts to home mortgages to personal loans.
Now that you know the key differences between credit unions and banks, it's time to pick one. Review the winners in seven categories:
Sponsors of
Available Products and Services
Winner: Banks
Although banks and credit unions tend to offer the same products and services, you'll likely find that bigger institutions might offer more products and services, such as investment and brokerage products.
ATMs and Branches
Winner: Banks
A bank, especially a national bank, will have dozens of branches throughout the country, making it easier for you to conduct your financial transactions no matter where you are. When it comes to ATMs, banking with a national bank will likely provide you with more access as well. Because banks tend to have more ATMs nationwide, there's a lower chance of you incurring ATM out-of-network fees.
Customer Service
Winner: Credit unions
Without a doubt, you'll experience better customer service at a credit union than a bank. Because credit unions tend to be smaller than banks, employees can get to know customers more easily and provide them with personalized service.
Checking and Savings Account Fees
Winner: Credit unions
In general, credit unions tend to offer fewer and lower fees all around, including savings and checking account fees. Still, a good number of banks offer free checking accounts and savings accounts.
Don't Miss: Banks and Credit Unions That Offer Free Checking Accounts
Checking and Savings Account Interest Rates
Winner: Credit unions
Credit union checking and savings account rates are typically higher than bank rates. Keep in mind that credit unions share profits with members in the form of better interest rates.
Auto Loan Rates and Mortgage Loan Rates
Winner: Credit unions
When it comes to car loan rates and home interest rates, it's almost always cheaper to get credit union loans rather than bank loans. As of June 2017, the average national rate for a credit union's four-year new car loan is 2.71 percent and a bank's is 4.60 percent.
The average credit union rate for a 15-year fixed mortgage is 3.38 percent and a bank's is 3.43 percent, according to S&P Global Market Intelligence, a company that tracks interest rates and terms at credit unions and banks across the country
Credit Card Rates
Winner: Credit unions
If you're a big spender who loves to swipe credit cards for purchases, make sure your credit card has the lowest interest rate possible. The average credit card interest rate at credit unions is 11.58 percent and 12.83 percent at banks, according to according to S&P Global Market Intelligence. In that case, it makes sense to choose credit union credit cards over bank credit cards.
Sponsors of
Now that you know the difference between banks and credit unions, you might think credit unions are the obvious choice when it comes to picking somewhere to park your money. Although credit unions seem to make the most sense financially, don't count out all banks.
Smaller banks and online banks also offer competitive rates and fewer fees, so research a few before making your choice. Also remember that accessibility is important; you want to be able to access your money whenever you want and wherever you are. If that's your biggest concern, a national bank might be your best option.
Keep Reading: What's the Difference Between a Credit Union and a Federal Credit Union?
Alicia Bodine contributed to the reporting for this article.