Can You Write Checks From a Savings Account?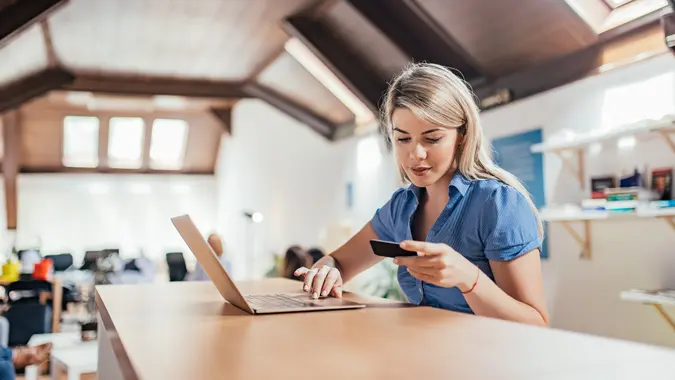 nortonrsx / Getty Images/iStockphoto
Checking accounts provide account holders with tools, such as debit cards and online bill payment functionality, to easily pay bills and day-to-day expenses. Savings accounts are a type of deposit account that typically do not come with these features, and for a good reason. Savings accounts are intended to hold money long term, so payment tools are unnecessary.
However, there may be times when account holders need to dip into their savings to cover a bill, or perhaps they've reached a savings goal and need access to the money. If most savings accounts don't have tools for paying bills and other expenses, how can an account holder make a payment using their savings? Is it possible to get checks for a savings account?
Can You Write Checks From a Savings Account?
Few banks provide checks for savings accounts since people typically don't pay their regular expenses directly from their savings. The lack of payment tools, such as checks, debit cards and bill pay, may make it easier to build savings and harder to access money for spending.
The following options aren't as quick as writing a check, swiping a debit card or scheduling an online payment. Still, they make it possible to use a savings account to make a payment when necessary.
Ways To Make a Payment From a Savings Account
Savings account holders have a few payment options, including purchasing a cashier's check, transferring the funds to another account, or using money from their savings account to cover a credit card charge. Before pulling any money out of savings, account holders should check with their bank to determine if there are any transfer restrictions on the account and if the transfer may trigger any fees.
Transferring Funds to a Checking Account
An account holder can usually set up a transfer from savings to checking either at the same bank or between different banks. Then, the account holder can write a check from their checking account. 
Transfer times can vary, with some transfers posting within the same business day while others may take two business days or longer. Before writing a check, the account holder should make sure that the transfer went through to avoid overdraft fees.
Cashier's Check
Those who need to use funds from their savings to make a one-time payment can purchase a cashier's check from the bank that holds the savings account. With the account holder's authorization, the bank withdraws the necessary amount from the savings account and deposits the money into its own account before issuing the cashier's check.
Some banks have cashier's check amount limits, and most banks charge a fee for cashier's checks.
Credit Card
Those with a savings account from the same bank as their credit card may be able to make a credit card payment using funds from their savings account. The account holder could make the necessary purchase with their credit card and then select their savings account as the source of payment for the resulting card balance.
Interest-Bearing Accounts That Permit Check Writing
Those who want bank accounts that earn interest and allow for bill payments should consider a money market account or a high-yield checking account. However, like a savings account, these account types often have rules and restrictions that account holders should understand before account opening to ensure these accounts can meet any bill payment needs.
Money Market Accounts
Money market accounts have elements of both a savings and a checking account. They typically earn interest at higher APYs than those offered by traditional savings accounts. Money market accounts also often come with check-writing privileges. They usually have higher minimum account balance requirements as compared to savings accounts, and they may have a monthly transaction limit.
High-Yield Checking Accounts
High-yield checking is typically the best option for a banking customer who wants to earn interest on checking account funds. A high-yield checking account provides a relatively high interest rate, debit card access and check-writing abilities needed for completing day-to-day transactions. It may also have stricter account requirements, such as minimum balance and direct deposit requirements, than traditional savings accounts.
Takeaway
A savings account is a banking product designed for holding money long term, so most banks do not offer the same payment tools for savings accounts as they provide for checking accounts. Savings account holders who need to use their savings to make a payment generally cannot write checks from a savings account. However, they can transfer funds from a savings account into a checking account or purchase a cashier's check to make a payment.
Some savings accounts have fees for excessive withdrawals or for account balances that fall below the minimum, which account holders should be aware of before using their savings to make a payment.
Our in-house research team and on-site financial experts work together to create content that's accurate, impartial, and up to date. We fact-check every single statistic, quote and fact using trusted primary resources to make sure the information we provide is correct. You can learn more about GOBankingRates' processes and standards in our editorial policy.