Stores That Give the Highest Cash Back on Debit Card Purchases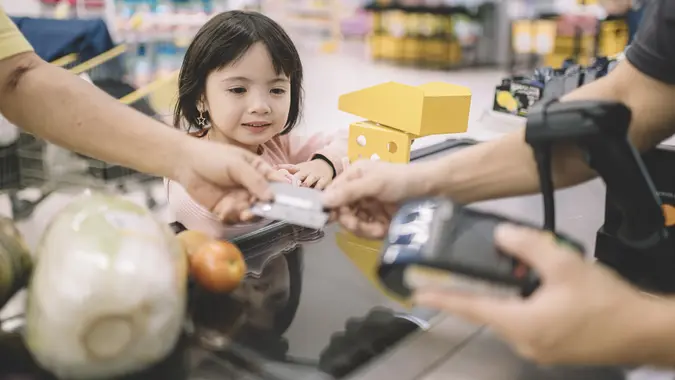 Edwin Tan / iStock.com
You might remember going to the grocery store as a child and watching your parents pay at the checkout counter by check. Your mom handed the check, written for more than the amount of the purchase, to the associate and said, "$20 back please. I need lunch money for the kids for tomorrow."
It's probably been a while since you've witnessed someone in line write a check. Instead, it seems most shoppers whip out their debit card and run it through the card reader to pay for their milk, bread and more. And today's generation of shoppers has the chance to get that $20 extra — or more — back via their debit cards.
It's very convenient to get cash back where you shop, and a variety of retail locations make it easy for you to do just that and save a trip to the ATM. Depending on the store, you could be charged a small fee for that convenience, which might be worth it to you if you're pressed for time or your bank is crosstown.
You might be surprised just where you can get cash back with your debit card transaction. Read on to find out the basics, such as which stores allow you to get back the highest amounts of cash and what gas station gives cash back.
Cash Back on Your Debit Card: A Primer
When you use your debit card to make a purchase at a grocery store, drug store, warehouse club, convenience store, specialty store — even the post office — you might have the option to tack on cash back.
Once you swipe your card or enter your chip card at the reader at the register, you'll be asked, at participating retailers, whether you'd like cash back. The reader generally will display the option of the maximum amount you can withdraw and alert you whether a convenience fee is charged.
Make Your Money Work for You
That money will come straight out of your linked account and will be indicated on your receipt. If you spend $125.12 on groceries and opt for $40 cash back with a fee of 50 cents, the total amount that will come out of your account is $165.62. Don't forget to record that entire amount in your budget app or checkbook, and also remember to take your cash when it's dispensed at the register. You'd hate to leave the store without it.
Cash Back vs. Non-Bank ATM Use
Since most of the stores that allow cash back on a debit card do so with no fee, or a relatively small one, getting that $40 you need for dinner out with friends when you stop to buy bread can be a real time-saver.
If a branch of your bank isn't in the neighborhood, you might be tempted to use the ATM at a competing bank to grab your cash. But think twice. Most stores don't charge more than a 50-cent convenience fee to get extra cash, but your bank — and likely the other bank whose ATM you used — will assess a fee.
Bank of America, for example, charges account holders $2.50 for using another bank's ATM to withdraw cash. The same fee applies at Wells Fargo, and it's $3 if you bank with Chase. Remember that is on top of any fees the bank that operates the ATM assesses.
Where You Can Get Cash Back
Fortunately, there are a variety of stores that will give you cash back when you make your purchases. That even includes retailers such as home improvement centers and the U.S. Post Office.
Make Your Money Work for You
If you're asking yourself, "Who does $100 cash back?," check the list below. It isn't a full list, rather just a sampling of some of the country's major retailers to give you an idea of places that offer the cash back feature when you pay with your debit card.
CVS
Cash Back: $40 limit
Fee: None
Dollar Tree
Cash Back: $50 limit
Fee: $1
Fred Meyer
Cash Back: $200 limit
Fee: 50 cents for cash back up to $100; $3.50 for amounts above $100 to limit
Hannaford
Cash Back: $200 limit
Fee: None
Home Depot
Cash Back: $50 limit
Fee: None
Lowe's
Cash Back: $40 limit
Fee: None
Ralphs
Cash Back: $100 limit at self-checkout, $200 at checkstand
Fee: 50 cents
Rite Aid
Cash Back: $40 limit
Fee: None
Sam's Club
Cash Back: $100 limit
Fee: None
7-Eleven
Cash Back: $10 limit
Fee: None
Notable: Minimum $1.50 purchase
Staples
Cash Back: $40 limit
Fee: None
Target
U.S. Post Offices
Cash Back: $50 limit
Fee: None
Notable: Must be in $10 increments
Walgreens
Cash Back: $20 limit
Fee: None
Walmart
Cash Back: $100 limit
Fee: None
What Gas Station Gives Cash Back?
That's a question without an easy answer — which simply is "some of them." The station you stop at one day might allow you to get $40. And a few days later, when you try to add cash back to your purchase at a station of the same brand a few miles away, the attendant might tell you that service isn't available.
Make Your Money Work for You
That's because the majority of gas stations are owned and operated by franchisees, not the national company itself, and those owners set their own store rules. The National Association of Convenience Stores says there are more than 148,000 convenience stores nationwide — about 116,600 of them sell gas —  and the refiners own very few of them.
Instead, 60.4% of them are owned by an individual who owns just one franchise, with franchisees with multiple outlets owning most of the rest. Therefore, there can be thousands of different policies.
Your best bet for getting cash back at a gas station is to find one run by corporate policies that ensure cash back is available at all locations or to use your debit card at a station in the parking lot of your grocery store. The in-store policies often transfer to the gas pump.
Of course, many convenience stores have ATMs in their lobbies. Remember you're likely to pay a fee to your bank and the ATM owner for using the machine. If you withdraw a $20 bill and the fees are $5, that's a 25% surcharge.
Do Credit Cards Offer Cash Back with Purchases?
If you're a holder of a Discover card, you can ask for cash back at the register when making a purchase. Just as when you pay for something with your debit card, the merchant's terminal will prompt you to answer whether you want cash back.
Discover makes the service very appealing. It doesn't add a transaction fee, bank fee or ATM fee. What it does add on is interest at the posted APR on your account. Essentially, you're getting cash back on credit and you don't pay off the bill right away, you'll be paying to borrow that money.
Make Your Money Work for You
Final Take
Getting cash back at a store with your debit card is convenient, despite the small fee sometimes assessed. If you have any doubt as to whether the location where you're headed offers the service, call ahead — especially if a gas station or convenience store is your destination. You're getting cash back at a non-bank ATM for the ease and the one-stop nature of the transaction. It would be a shame to waste precious time if your destination doesn't offer the service.
Our in-house research team and on-site financial experts work together to create content that's accurate, impartial, and up to date. We fact-check every single statistic, quote and fact using trusted primary resources to make sure the information we provide is correct. You can learn more about GOBankingRates' processes and standards in our editorial policy.