How to Find ATMs Near Me
Find your bank's nearest ATM to get quick cash, make a deposit or check your account balance.
Automated teller machines seem to be on almost every corner, in gas stations, grocery stores and other convenient locations, but many charge fees ranging from $2 to $4. ATM transactions in the U.S. totaled $10 billion in one year, according to National Cash Systems, and 40 percent of people who use ATMs do so between eight and 10 times each month.
Once you open a bank account, it's important to know where your bank's ATMs are so you can use them for free instead of possibly incurring a charge for using machines outside of your network. Follow these steps to locate your financial institution's ATMs and use them to withdraw money, check your balance, or deposit cash or checks.
Ask Google to Find ATMs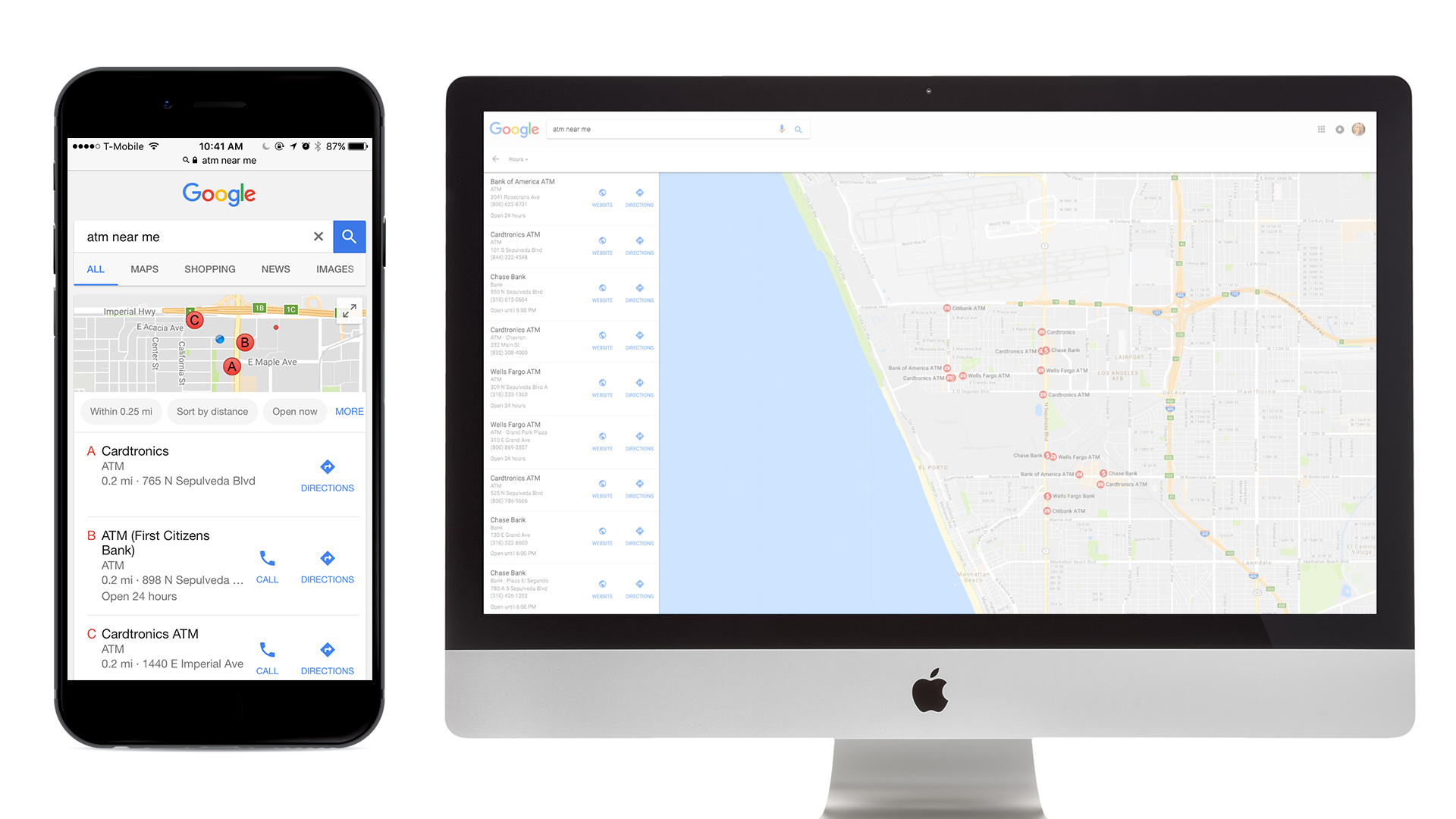 Google is one of the most popular search engines — and it can be an excellent tool when you need an ATM finder. Here's how to use Google to find local ATMs:
Sponsors of
Bring up the Google search engine on your computer, phone or tablet.
Enter "ATM near me" in the search box and hit enter.
You'll see the closest three ATMs listed under the map with the option to click on "more places."
Find Out: ATM Withdrawal Limits at Chase, Wells Fargo and 48 Other Banks
Use Your Bank's Website to Find ATMs
If possible, use your bank's ATM to avoid fees. You can find your closest one by searching on your bank's website. Here's how:
Using your desktop or laptop, go to your bank's home page.
Find "Locations" near the top of the page and click on it.
Enter your ZIP code or city and state in the text box and hit the enter key.
Find listings that show ATMs — some banks will have a box you can check that says "Search ATMs."
Use Your Bank's Mobile App to Find ATMs
When you're away from your computer, you can still locate an ATM by using your bank's mobile app. Follow these steps:
Sponsors of
Visit either the iTunes Store or Google Play and download your bank's app.
Search for the word "Locations," which should appear on the home page.
Allow the locations service on your device to identify your position.
Tap the "ATMs" box and the results will pop up on your screen.
Related: Choose the Right Bank Account for You
Use an ATM Locator
You can also use an ATM locator to find a machine in your area. Try using one of these:
You also can use your bank's ATM locator, such as the ATM locators provided by these large U.S. banks on the websites and mobile apps:
Sponsors of
More on Finding Banking Locations
Editorial Note: This content is not provided or commissioned by the bank advertiser. Opinions expressed here are author's alone, not those of the bank advertiser, and have not been reviewed, approved or otherwise endorsed by the bank advertiser. This site may be compensated through the bank advertiser Affiliate Program.