ATM Near Me: Find ATM Locations Nearby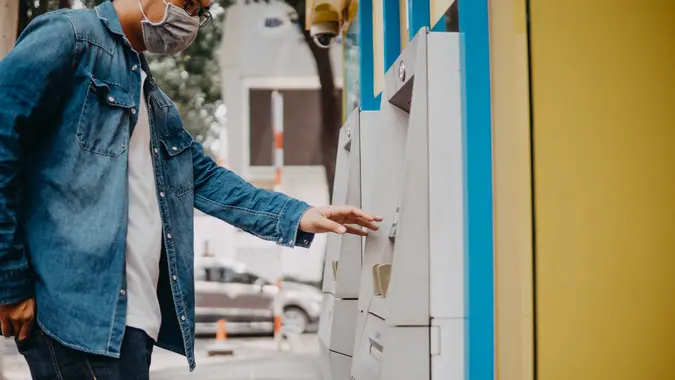 NgKhanhVuKhoa / Getty Images/iStockphoto
ATMs are extremely convenient if you need to make quick financial transactions, such as making a withdrawal for a cash-only event or checking your balance before a night out. While ATMs are popular in many locations, you may need help finding an ATM near you if you're unfamiliar with the area. If you are looking for an ATM close to you, these maps and resources can help.
What Is An ATM?
ATM is an automated teller machine, which is used to complete simple banking transactions. Using your bank card and PIN, you can withdraw cash and check your balance. Some ATMs provide additional options, such as depositing cash into your account or making transfers between your accounts.
However, ATMs are generally limited in their uses and how much money can be processed at one time or in one day. For example, some banks may limit their accountholders to withdrawing no more than $500 from an ATM in one day.
ATM Near Me
With almost 50 ATMs per 100,000 people around the world, finding one close by is very easy. The simplest ways are using Google Maps or checking your bank's website. Simply searching for "ATMs near me" on Google will result in a list of the closest ATMs.
Some of the most common locations for ATMs include:
Banks
Grocery stores
Gas stations
Hotels
Events
Remember that not all ATMs will have the same features. Some may only permit withdrawals, others may permit only cash deposits and others may even allow check deposits.
Use an ATM Locator
You can also use an ATM locator to find a machine in your area. Try using one of these:
Visa ATM locator: The Visa ATM locator lets you search by location. You can also filter your results based on ATM features or accessibility, such as braille and audio, wheelchair accessibility and proximity to an airport.
Mastercard ATM locator: You can easily search for a Mastercard, Maestro or Cirrus ATM by entering your address.
Discover ATM locator: Discover has over 415,000 ATMs, so chances are good you'll find one near you. Just type your ZIP code in the box and check if you'd like to see surcharge-free ATMs only, including Allpoint and MoneyPass.
Allpoint ATM locator: There are 55,000 surcharge-free Allpoint ATMs throughout the world. They are commonly found at retail stores, including Target, CVS, Walgreens, Speedway and more.
MoneyPass ATM locator: MoneyPass also provides surcharge-free ATMs. You can search for MoneyPass ATMs by entering your ZIP code and then filtering based on ATM features and accessibility, such as wheelchair accessibility, 24/7 availability and ability to deposit funds.
Good To Know

While most ATMs are available to a multitude of card types, others may only accept cards from certain banks. You should consult your bank information to see what type of ATM to look for.
Can I Withdraw Cash from Any ATM?
You can usually withdraw cash from any ATM, though you may be charged an additional fee by both your bank and the ATM operator if you're using an out-of-network ATM. Most banks will have an ATM available for their account holders, which makes it easier to find an ATM that won't charge you a fee.
Many debit cards will work with multiple types of ATMs, including the ones found at other banks. However, you may not be able to perform certain tasks, such as depositing funds, at an ATM operated by a bank where you are not an account holder.
How Much Are ATM Fees?
Most banks will provide cardholders with a way to use ATMs without paying fees. However, if you exceed your withdrawal limits or use an out-of-network ATM, you may need to pay fees. Some typical ATM fees include:
Bank fees: The bank may charge a small ATM fee.
ATM fees: The ATM company may charge a fee for using the ATM.
International ATM fees: You may be charged a fee for using an ATM outside your home country.
Each of these fees will vary based on the institution, but typically vary between $0 and $5 each. Many banks will reimburse ATM fees for a certain number of transactions to attract customers.
Where Can I Use an ATM Without a Fee?
The easiest way to avoid ATM fees completely is to use an ATM that is operated by your bank or, if your bank doesn't operate its own ATMs, an ATM that is part of a network your bank participates in.
You can also find fee-free ATMs — like Allpoint and MoneyPass, among others — but you may still have to pay a fee to your bank, unless your account comes with waived ATM fees.
Find an ATM Near Me
Whether you need to make a quick withdrawal or transfer funds from your savings to a checking account, it's likely that you're close to an ATM that will allow you to easily complete these transactions. Use Google or an online ATM locator to search for an ATM near you, or visit a popular store in the area.
Banks, ATMs and Other Services Nearby

Bank Branches

ATMs

Other Services
Brandy Woodfolk contributed to the reporting for this article.
Our in-house research team and on-site financial experts work together to create content that's accurate, impartial, and up to date. We fact-check every single statistic, quote and fact using trusted primary resources to make sure the information we provide is correct. You can learn more about GOBankingRates' processes and standards in our editorial policy.