Does Target Give Cash Back? Here's What You Need To Know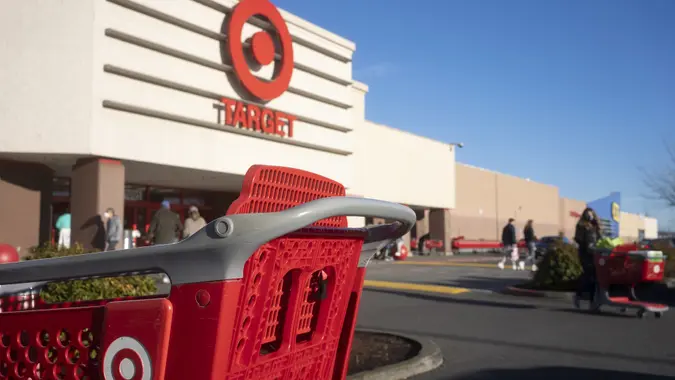 hapabapa / iStock.com
The term "cash back" has a few meanings in retail. It may refer to getting money back when making a purchase to avoid the ATM. If a retailer offers a store credit card, cash back may refer to rewards earned for card purchases. Finally, you might get cash back for a returned purchase rather than a store credit or credit back to a card. 
Read: How To Get Free Gift Cards From Your Everyday Purchases
Knowing how to get cash back at Target may help you save money if you're a frequent Target shopper. So when and how does Target do cash back?
Does Target Do Cash Back?
Yes, you can get cash back on in-store Target purchases at checkout using any debit card, typically up to $40. You can also get cash back when using the Wallet feature of the Target app during checkout and selecting the Target Debit Card as the payment method.
Can I Get Cash Back at Target Self-Checkout? 
Cash back is available at Target self-checkout, although it might vary by store and checkout kiosk. The same cash-back rules apply when checking out with a cashier.
Make Your Money Work for You
Can I Earn Cash-Back Rewards With a Target Credit Card?
If you have a Target Mastercard, you can earn 2% cash-back rewards on dining and gas purchases and 1% on non-Target purchases. Use the card for a Target purchase, and you'll receive a 5% discount rather than cash-back rewards. You also receive a 5% discount when using any other Target RedCard, including the store card, debit card and reloadable Visa card.
Does Target Give Cash Back on Debit Card Returns?
When returning merchandise at Target, the return amount will typically go back to the original payment method, so a debit card return would go back to the card.
Does Target Have a Cash-Back Option for Credit Cards?
Like most retailers, you cannot get cash back when paying with a credit card during checkout. Some retailers do give cash back on Discover card purchases. However, Target is not one of the retailers currently offering this service.
Does Target Do Cash Back With Apple Pay Purchases?
You can't get cash back at the register or self-checkout when using Apple Pay for a Target purchase. However, if you use your Apple Card as the payment method through Apple Pay, you earn Daily Cash in your Apple cash account on Target purchases.
Make Your Money Work for You
Takeaway
At most Target locations, you can get up to $40 cash back using a debit card at a register or self-checkout. If returning merchandise, you'll typically only receive cash back if you made the purchase with cash. Any credit card cash-back rewards earned on Target purchases will depend on the type of credit card used.
Getting cash back when making a purchase is convenient, but frequent small withdrawals can add up. Make sure you're tracking and accounting for any cash back you receive so you don't trigger a checking account overdraft or throw your budget out of whack.
Information is accurate as of Jan. 11, 2023. 
Editorial Note: This content is not provided by any entity covered in this article. Any opinions, analyses, reviews, ratings or recommendations expressed in this article are those of the author alone and have not been reviewed, approved or otherwise endorsed by any entity named in this article.
Make Your Money Work for You