Cash App Borrow: How To Borrow Money on Cash App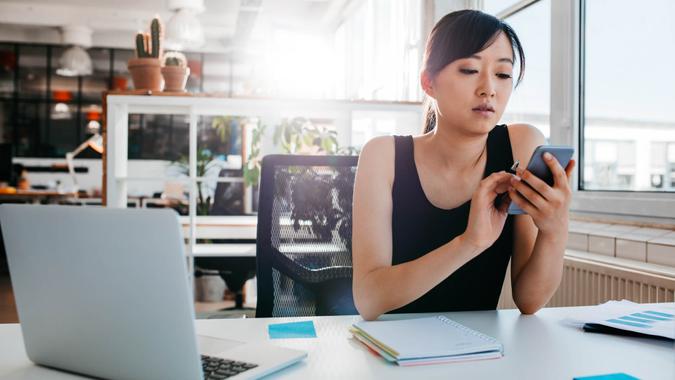 Jacob Ammentorp Lund / Getty Images/iStockphoto
If there are times when you need an advance before you get your paycheck, Cash App loan money could be a lifesaver. After all, sending and receiving money from the peer-to-peer payment service is so simple. The good news is, there's a Cash App Borrow feature now. Here's everything known about it so far.
Does Cash App Let You Borrow Money?
Yes, Cash App lets you borrow money. However, it's still in a testing phase, not available to everyone and limited to loans of $20 to $200.
According to TechCrunch, loans fund quickly and require you to pay them back in four weeks or less. But carrying a balance so long can add up — Cash App charges a 5% flat fee to borrow, plus another 1.25% per week after the grace period.
As long as you go into it knowing that a Cash App Borrow loan is best for quick repayment, the new tool could be helpful when you're short on cash.
How To Borrow Money From Cash App Borrow
As mentioned, Cash App Borrow isn't available to everyone yet. The only way to know if you can is to check. Follow these 10 simple steps for how to borrow money from Cash App:
Open Cash App.
Tap on your Cash App balance located at the lower left corner.
Go to the "Banking" header.
Check for the word "Borrow."
If you see "Borrow" you can take out a Cash App loan.
Tap on "Borrow."
Tap "Unlock."
Cash App will tell you how much you'll be able to borrow.
Read the user agreement.
Accept a Cash App Borrow loan.
Is Cash App Safe?
It's too soon to analyze how safe a Cash App loan application is, but the Cash App platform itself is secure. Cash App ensures your money and personal information are safeguarded in a few ways:
The app integrates with your smartphone's screen lock, where PIN entry, Touch ID, passcode or facial recognition add an extra layer of protection if your phone is lost or stolen.
You can disable your Cash App card if you've misplaced it or for extra security.
You can set up email, text or push notifications to help you monitor your activity and warn you of unusual account usage.
What Other Ways Can You Borrow Money Online?
Having access to fast cash can make all the difference when you need money. Most people turn to the funds in an emergency savings account, borrow from loved ones or charge the expense to their credit card.
Fast-cash loans have their drawbacks, such as getting you into personal or credit card debt or charging high fees. While Square tests the functionality of Cash App loans, consider the following alternative lending options to get the money you need quickly.
Oportun
Oportun provides an "affordable alternative to payday loans" and may be best suited for borrowers with no credit history or bad credit. You can borrow between $300 and $10,000 for up to 48 months. Oportun recently began capping loans to a maximum of 36% interest to back up its assertion of affordable loans.
LendingClub
You can borrow between $1,000 and $40,000 through LendingClub. Once you establish a track record with LendingClub, you may be able to borrow two loans at a time, which could be a useful way to fund your shortfalls with different payback periods and repayment amounts.
LendingClub charges a 3%-6% origination fee for each loan. You'll have up to five years to repay the loan in full, but don't take too long — you'll pay an annual percentage rate of 7.04% to 35.89%.
OppLoans
OppLoans is another loan company specializing in bad credit loans, offering no credit check and amounts of $500 to $4,000. OppLoans has terms of up to two years for repayment — ideal if you need more time to pay down the debt.
Although having the option to pay back the loan over a longer period of time takes some of the pressure off, caution should be exercised. OppLoans can charge an APR of up to 199% on the amount you borrow.
Keep In Mind

As with all bad-credit or no-credit-score loans, it's important to watch the APR. Otherwise, you could end up paying far more in interest than the original amount you borrowed.
Final Take
A Cash App Borrow loan seems like a good option for a short-term loan for a few bucks. When considering other online lending options, evaluate the cost of borrowing money as well as the lender's terms for repayment.
Most online lenders claim they'll provide cheaper loans than a payday loan, but the loans are still pretty expensive if you don't pay the balance off quickly. Be sure to fully understand what you're signing up for and whether you can really afford to borrow.
Rates and fees are subject to change.
This article has been updated with additional reporting since its original publication.