International Money Transfers: 5 Best Ways To Move Money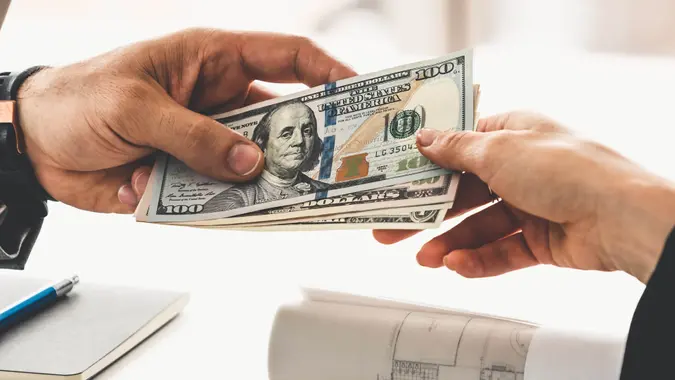 NanoStockk / Getty Images/iStockphoto
Every year, over $500 billion is transferred between countries across the globe through secure international wire transfers.
Before wiring money abroad, it's a good idea to understand how international money transfers work. Here's a closer look at the process along with five of the best ways to electronically move money to foreign countries. 
What Is an International Money Transfer?
An international money transfer is a way of wiring money electronically from one country to another. This is typically done through a shared network of banks and other financial organizations.
What Is the Best Way To Transfer Money Internationally?
The best way to transfer money internationally is the way that's most convenient, efficient and affordable for you. Those looking to wire money abroad have several options to consider, with each one having its advantages and disadvantages.
Here are five of the best ways to send money to another country to help you decide which one would be right for you.
1. Bank Wire Transfers
Most major banks offer international money transfers to their members, allowing anyone with a checking or savings account to carry out these transactions.
Because they have well-established networks with other foreign banks, such as through the Fedwire or SWIFT systems, bank wire transfers can be considered reliable, secure and easily accessible. Here are some top banks that offer international money transfers.
Bank
Cost
Processing Time and Coverage
Capital One
$25 to $30 (depending on account type)
– Same day
– 100+ countries
Wells Fargo
$30 for wire transfers; $8 or less for ExpressSend®
– Same day for ExpressSend® transfers for several countries; one to five business days for wire transfers (depending on location)
– 13 countries and over 49,000 locations
Bank of America, Member FDIC
$0 (for transfers sent in foreign currency) or $45 (for wire transfers sent in U.S. dollars)
– One to two business days
– 200 countries and over 140 currencies
TD Bank
$50
– One to five business days
– 150+ countries and territories
2. Money Wire Transfer Services
In addition to banks, senders can also wire money abroad through a variety of money transfer services. These companies have platforms that make sending money around the world faster and cheaper. Here are some of the top money transfer services.
Company
Cost
Processing Time and Coverage
Western Union
Varies by country and region
– One to five business days, depending on the country
– 200+ countries
Wise
Varies by currency
– One to two business days maximum, depending on the country
– 50+ countries
Xoom
Varies depending on transaction, currency and country
– Varies from minutes to days depending on country, transaction type and payment method
– 150+ countries and territories
WorldRemit
Varies depending country
– Instantly or one to two business days, depending on the country
– 130+ countries
3. ACH Transfers
Also known as "Automated Clearing House" transfers, the ACH is an electronic network of banks and credit unions that send money to one another, which allows for electronic payments as well as sending money abroad. While slower than wire transfers, an ACH transfer tends to be cheaper and can be refunded quickly in the event of fraud or error.
4. Prepaid Debit Cards
Various in-app and online services will allow you to send money internationally with a prepaid debit card, such as Western Union, Xoom and Wise. However, some apps and services might not accept certain prepaid debit cards, so you'll need to confirm that the prepaid debit card you have is eligible for the service or app you want to use to send money.
You'll also have to register for an account with the provider before you can enter you prepaid debit card details and send the money. Prepaid debit cards are considered a safe and fast way to transfer funds to someone in another country.
5. Peer-to-Peer Transfers
The top mobile payment apps typically offer P2P money transfers where an individual with another person's email address or phone number can easily send money to their account. This is a fast and easy way to transfer money between individuals with little to no fees, but may not be as secure as wire transfers.
However, Zelle and Venmo cannot be used to transfer money internationally.
Advice

Wire transfers made through banks and money transfer services may cost a bit more but are typically more reliable than other methods. Turning to a trusted bank or wire service ensures that the full amount will be delivered, typically backed by a guarantee.
How Long Does an International Money Transfer Take?
The amount of time it takes to wire money abroad depends on where it's being sent. Where a domestic money transfer usually takes a few minutes, an international money transfer — also known as a "remittance" — may take a few days or sometimes longer.
Remittances require more time to process because the transaction switches from one country's banking system to another. More time could be added due to several factors, like:
Banking holidays in differing countries
Money passing through intermediary banks with poor infrastructure
Transfers sent to countries with slower but highly-secure transactions
Are There Any Costs Involved in an International Money Transfer? 
There are processing fees involved in wiring money abroad. To ensure the amount sent isn't depleted by these fees, senders should ask the bank what these costs are ahead of sending a remittance. Most banks typically charge: 
A processing fee. This may be charged as a flat fee, but it's usually a percentage of the total amount being sent.
An exchange rate fee. This charge is often added on as a markup to currency exchange rates.
What Is the Cheapest Way to Transfer Money Internationally? 
While wiring money through banks can be advantageous in some cases, the most inexpensive way is through a digital money transfer provider like Xe, Remitly or Wise. These platforms primarily operate online, meaning they have lower overhead costs to deal with, translating into lower prices for their customers. They are also cheaper because they compete with each other by offering lower fees and better exchange rates.
Of course, every transfer differs in cost, as both banks and transfer services charge varying fees depending on where the money's being sent, how the transfer is paid for and how the money will be deposited or collected.
How Does a Sender Wire Money Abroad?
Wiring money to an overseas account is fairly easy and can be done online or in person at a bank or a money transfer service office. Here's how wiring money abroad is typically done.
Steps

Provide basic information. Whether the transfer's done online, at a bank branch or at a money transfer service office, the sender will need to provide the recipient's bank account number, the recipient's bank SWIFT code or BIC number, the total amount of money being transferred and — for certain countries — an International Payments System Routing Code.
Provide additional information. When using a money transfer service like Western Union, the sender is also required to provide their name, phone number, address and other financial information.
Takeaway
There are various ways to transfer money abroad, and each one has its advantages and disadvantages. Anyone looking to wire money to another country should research the fee structures of every option they're considering to ensure all costs are covered ahead of wiring the intended amount.
Cynthia Measom contributed to the reporting for this article.
Rates and fees are accurate as of March 22, 2023, and are subject to change.
Editorial Note: This content is not provided by any entity covered in this article. Any opinions, analyses, reviews, ratings or recommendations expressed in this article are those of the author alone and have not been reviewed, approved or otherwise endorsed by any entity named in this article.
Our in-house research team and on-site financial experts work together to create content that's accurate, impartial, and up to date. We fact-check every single statistic, quote and fact using trusted primary resources to make sure the information we provide is correct. You can learn more about GOBankingRates' processes and standards in our editorial policy.