How To Use Credit Card Hacks To Save Big on Travel During Wedding Season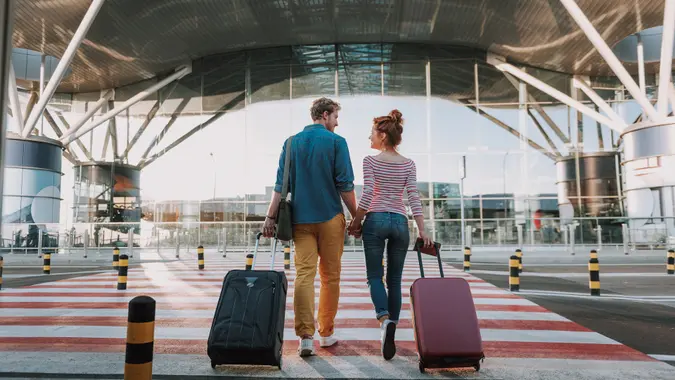 YakobchukOlena / Getty Images/iStockphoto
Update: Some offers mentioned below may have changed or are no longer available. View current credit card offerings from our partners at CardCritics here or on the issuer's website.
Wedding season is upon us and with many 2020 weddings postponed, this season could be even busier than usual. And if you have several out-of-state weddings in the books, those travel costs could really add up. Fortunately, there are a few credit card hacks you can employ to cut down on these travel expenses.
See: 10 Credit Cards To Consider for Travel Rewards
Find Out: Why It's Still Better To Use Your Credit Card Over Your Debit Card

Take Advantage of All of Your Credit Card Perks
You may be eligible for travel perks that you don't even know about.
"Get familiar with all the benefits your card offers and don't leave anything on the table," said Anthony Cirri, EVP and head of global consumer lending and cobrand at American Express. "For example, Delta SkyMiles Platinum and Reserve American Express Card members can receive a companion certificate each year when they renew. You also get your first checked bag free when you book a flight with any Delta SkyMiles American Express Card. Hilton Honors American Express Surpass and Aspire Card members can unlock status with their cards, giving them access to even more benefits during their stay. If you have the Marriott Bonvoy Brilliant American Express Card, you earn a free night every year after your card account anniversary."
Wedding at Any Budget: $10K, $25K, $50K and Sky's the Limit
Some credit cards also give you the benefit of travel insurance.
"The Marriott American Express Card features travel insurance, so you can save yourself hundreds of dollars and moments of stress as this card includes a $100 payout for each day of delayed luggage, $3,000 for lost luggage and a $500 compensation for trip delays over 12 hours (which unfortunately are common during COVID)," said Philip Westfall, travel expert and director of marketing at RVezy, an RV rental marketplace. "Travel insurance is available with other providers as well, so get checking to save yourself hundreds of dollars on insuring your Jimmy Choos on a transatlantic flight."
Read: 13 Credit Cards That Every 30-Something Should Consider
In addition, you may earn cash back on trips when you book with certain cards.
"The Chase Freedom Flex and Chase Freedom Unlimited are not considered travel credit cards but both earn 5% cash back on travel booked through Chase," said Phil Dengler, co-owner of The Vacationer, a resource for all things travel. "Both cards also offer trip cancellation/interruption insurance and auto rental collision damage waiver (on a secondary basis — this means you file with your insurance company before Chase in the event of theft or damage), which are valuable travel perks."
Other credit card perks can include airport lounge access and reimbursement for Global Entry, TSA Precheck or Clear, free breakfast at certain hotel chains and other upgrades.
Good Options: Surprising Uses for Your Credit Card Rewards
Cash In on Unused Travel Rewards
"If you have a credit card, there's a good chance the issuer offers reward points for travel and hotel accommodations," said Jeremy Scott Foster, founder of the adventure travel site TravelFreak. "Many people have accrued an excess of rewards over the past year by staying home and letting their travel points go unused."
Now's the time to redeem these points for flights or hotel stays.
"Some credit card companies will also let you convert your reward points into gift cards or cash back, which you can apply toward wedding expenses," Foster said.
Good To Know: The Top Purchases You Should Always Make With a Credit Card
Look For Bonus Offers
"Reward cards often offer bonus cash back or extra miles when you pay with your card at a certain retailer or merchant," said money-saving expert Andrea Woroch. "The only catch is that you have to opt into the card offer through your credit card account to actually qualify for the bonus. However, this is a great way to get more back for the extra spending you will be doing during wedding season, from travel to gifts to even a new attire for the wedding celebration."
Check Out: Awesome Credit Card Concierge Services You May Not Be Taking Advantage Of
Use a Payment Plan If Available
Some credit cards allow you to break up large charges into several payments, so you're not slammed with a huge bill in a single pay period.
"[American Express] cardmembers can use Plan It to pay in equal monthly installments with a fixed fee, making it easier than ever to manage trip costs for weddings and more," Cirri said.
Wedding Season: All the Expenses You Face as a Guest and How To Spend Less
Open a New Card To Receive Sign-On Bonuses
"If you're in the market for a new card, look for a great welcome offer," Cirri said.
These can include airline miles or free hotel stays — but of course, you should only open a new credit card if you are in good financial standing.
"Travelers with good credit scores (750+) and the ability to pay credit card bills every month should consider opening new credit cards when large expenses are anticipated," said Charles McCool, founder of the travel site McCool Travel. "Some of the best credit card perks are incentives for new credit cardholders. For instance, the IHG Premier card is currently offering 150,000 points. Those points can be redeemed for eight free nights (at 25,000 per night) when utilizing another card benefit of fourth night free when booking award travel."
If you're looking to save on flights rather than hotels, "the Chase Sapphire Preferred, Amex Platinum, Capital One Venture and United Quest cards are all offering 100,000 point signup bonuses, each of which should be enough for at least four domestic trips or two international trips," said Chris Hutchins, host of the financial podcast "All the Hacks."
Tips: The Top Things To Consider Before Applying for a New Credit Card
Rack Up Rewards To Use for Future Trips
The rewards you earn from wedding travel booked now can help you save for wedding travel in the future.
"Attending weddings can involve a lot of travel, so wedding season is a great time to rack up credit card rewards," Cirri said. "To make the most of it, look for a card that offers benefits and perks that match how you travel."
There are a variety of credit cards available to match your individual travel needs.
"If you're planning to fly regularly this summer, consider a credit card that earns miles or travel rewards," said Mason Miranda, a credit industry specialist at Credit Card Insider. "If you stick with one airline, it may be worth getting that specific airline's credit card. If you'll be staying at a hotel, there are plenty of travel cards with hotel perks, along with co-branded hotel credit cards. Use a gas credit card if you're a road tripper. This would get you the most bang-for-your-buck because of the high rewards you'll earn at gas stations. Ask yourself what else you'll be spending money on while traveling. If it's dining out, you may want to find a travel card that will give you extra rewards on dining on top of travel or gas."
You should also pay attention to which cards reward you extra when you book travel as opposed to other spending categories.
"Some credit card rewards — such as Chase Ultimate Rewards — offer between 1.25 and 1.50 cents per point for points redeemed towards travel, unlike other rewards programs that offer about 1 cent per point," said Alex Miller, founder and CEO of the travel site UpgradedPoints.com. "Use more valuable currencies to negate the cost of travel."
More From GOBankingRates
Last updated: July 20, 2021