Wedding Season: All the Expenses You Face as a Guest and How To Spend Less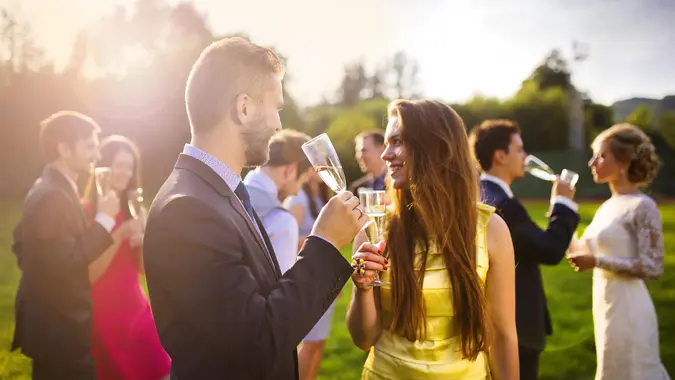 ©Shutterstock.com
After a notably quiet 2020, wedding season is officially back in full swing. If you're on the guest list for at least one wedding, while you're honored and excited to be included, you're probably not trying to spend a fortune on someone else's nuptials.
Follow Along: 31 Days of Living Richer
Introducing Modern Money Etiquette: Answering Thorny Questions About Tipping, Gifts and More
That can be easier said than done, as the average cost of being a wedding guest in 2019 was $430, according to The Knot. However, this number largely varied according to factors like location and proximity, type of wedding and relationship to the couple.
If you're on the guest list for several weddings this season, you might consider declining at least one invite to cut costs.
"You don't need to say 'yes' to every invitation, and you don't need to explain [when you can't make it]," said Bobbi Rebell, a certified financial planner and personal finance expert at debt payoff app Tally. "That said, don't miss a celebration you will regret."
Make Your Money Work for You
Here's a look at three common categories wedding guests spend money in, along with tips to cut costs in each.
Find Out: The Cost of a Summer Wedding in 2021
What To Give: The Most Wanted Wedding Gifts at Every Price Point
Travel and Lodging
The location of the wedding largely dictates the amount you'll spend to attend. The average guest spent a total of $185 for a wedding in their hometown — i.e., no travel or lodging required — $600 for a wedding that required them to drive out of town and $1,440 to fly to a wedding, according to The Knot.
If you'll need to travel and pay for lodging, Rebell suggested finding other guests to share hotel rooms or Airbnbs with.
"Odds are, if you put out the word that you are up for sharing costs, others in the same situation will step up fast," she said.
Cut Costs: 35 Things Your Hotel Will Give You for Free
More Savings: The Best and Worst Airlines for Cheap Flights
If private lodging is more your style, Anna Coats, founder and editor of the online wedding publication Marry Me Tampa Bay, suggested opting out of staying at the official wedding hotel —  the couple likely put a block of rooms on hold at a special rate, which is usually included with the invitation.
Make Your Money Work for You
"Typically, the wedding is taking place at a full-service higher-quality hotel, but if you stay at a nearby less fancy location, you can usually save on the nightly rate," she said. "Just take travel expenses into account, as those $20 Uber rides can add up."
If a distant family member or friend is getting married out of town and you don't want to spend the money to attend, Coats suggested asking if they're streaming the wedding online.
"That way to can still be there for the most important part, but not have to incur all of the costs," she said. "Of course, you still need to send a gift."
Gifts
In 2019, the average wedding guest spent $120 on a gift — included in the overall cost of attendance noted above — according to The Knot. This number varied according to guests' relationships with the newlyweds.
Learn: Is It Ever OK To Ask For Cash as a Gift?
Read: Do You Still Have To Buy a Gift for a Destination Wedding?
For example, guests close to the couple spent around $130 on a wedding gift, while wedding party members spent about $115 and casual friends spent approximately $80.
Make Your Money Work for You
However, if you don't have the money to spend that much, Coats recommended giving a sentimental gift.
"If they're foodies, consider having the newlyweds over for a home-cooked Italian meal complete with DIY gift basket filled with wine, cheeses and dried meats or maybe sign them up for a beer of the month club for a short time," she said. "They'll appreciate the thoughtful gift, even if it didn't cost as much as the china set they registered for."
Alternately, Rebell suggested joining forces with other guests to purchase a group gift.
"Group gifts can deliver a big payoff, because you can get the couple something they probably can't afford on their own," she said. "The key is to make sure you are the one in charge and that you make sure to collect money from everyone contributing before you make the purchase."
Planning: Wedding at Any Budget: $10K, $25K, $50K and Sky's the Limit
Discuss: How To Talk Costs With Your Bridal Party
If even that is too much money right now, she said to consider having a talk with the couple.
"Let them know you are financially stretched, but will find a way to be there where your gift may have to be your presence," she said. "Nobody wants someone that they care about to miss their wedding because of costs."
Formal Attire
A wedding is an occasion to dress to impress, so guests that purchase a new outfit for the occasion spend an average of $155, according to The Knot. This varies according to the relationship to the couple, as close friends spend approximately $165, while casual friends spend around $95.
If you don't want to incur this expense, just wear something you already have in your closet, Rebell said. She also suggested swapping dresses with friends, buying something pre-worn or renting an outfit for the occasion as budget-friendly ways to wear something new to you.
Check Out: How To Make Money During Wedding Season
Learn: Are Cash Bars at Weddings a Big No-No?
Attending someone else's nuptials should never put you in debt, so set a budget for this wedding season and let it guide your spending. This will allow you to enjoy the festivities even more because you won't be stressed about going into debt.
More From GOBankingRates
Last updated: July 6, 2021
Make Your Money Work for You