How To Do A Balance Transfer With Discover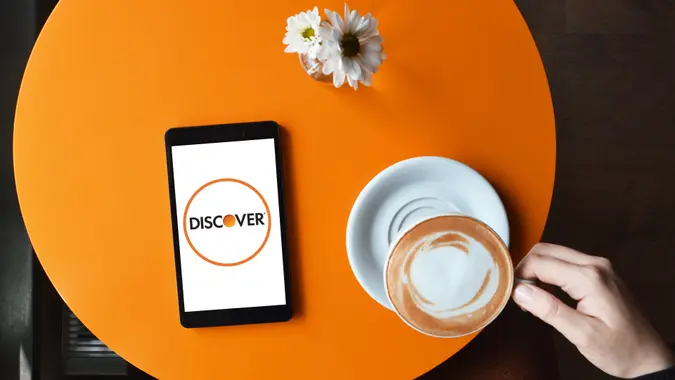 worldofstock / Getty Images/iStockphoto
Founded in 1985, Discover has climbed through the ranks to become one of the most popular credit card brands in the United States. The company offers various credit cards under the Discover it® brand and one NHL credit card.
All of the company's credit card options come with compelling rewards. Cardholders can enjoy high cash-back rates or impressive travel perks, depending on the offer they apply for. Except for the Discover it® Secured credit card, all cards in the lineup also offer balance transfer features with promotional 0% interest rates.
With the potential to pay zero interest, it's not surprising that so many people are transferring their balances to Discover, but those who haven't done a transfer like this in the past may need a little help getting through the process.
What Is a Discover Balance Transfer?
A balance transfer is a process of using one credit card to pay off another, effectively transferring the amount owed from one account to the next. Borrowers typically perform balance transfers to take advantage of promotional interest rates that save them significant amounts in interest charges.
A Discover balance transfer is merely a balance transfer in which the cardholder uses a Discover credit card to pay off a balance with another lender. For example, a cardholder may decide to take advantage of the Discover it® Cash Back card's 0% promotional interest rate for 15 months by using it to pay off a balance with Bank of America, Member FDIC. This gives the cardholder a good amount of time to pay off the balance before the APR rate of kicks in.
How To Do a Discover Balance Transfer
Cardholders have two options if they'd like to transfer a balance to a Discover credit card. They can either open a new Discover account or transfer balances to their existing Discover card.
How To Transfer a Balance to a New Discover Card
The first option borrowers have with a Discover balance transfer is to apply for a new credit card and request a balance transfer while they complete the application. Here are the steps to doing so:
Borrowers should start by comparing Discover credit card offers to find the best option that fits their unique situation.
Next, they should click the "Apply Now" button to the right of the offer they're interested in applying for.
In the "Your Information" section of the application, applicants wishing to process a balance transfer should click "Get a great balance transfer offer and transfer up to 3 balances."
Finally, the applicant should fill in the information for all balances they want to transfer before completing the application.
When applicants complete and submit their applications, Discover will process them and may provide immediate approval. If Discover needs to review the application further, the applicant may have to wait a few days for a decision. Once the applicant is approved for the account, the balance transfer request will start to process after 14 days of the account being open.  
How To Transfer a Balance to an Existing Discover Credit Card
Those with a Discover credit card are one step ahead in the process. Existing account holders should simply file a balance transfer request with Discover. There are two options:
Over the phone. Existing cardholders can call 1-800-DISCOVER to speak with a customer service representative and request a balance transfer. 
Online. Discover members can also log into their online accounts and request a balance transfer in the Discover Account Center. 
What Happens When a Balance Transfer Is Requested?
When a cardholder requests a balance transfer and that transfer is approved, Discover moves forward with completing the transaction. This means Discover sends the money to the cardholder's old credit card account and applies the balance to their Discover card. 
The process typically begins within four days for existing account holders and will start after new accounts have been open for a minimum of 14 days for new account holders. 
Things To Know Before You Transfer Balances
Balance transfers can be great. Who doesn't want to pay zero interest on their credit card debt? Nevertheless, there are a few things borrowers should know before they move forward with a Discover balance transfer:
Discover offers multiple credit cards with promotional 0% balance transfer interest rates, but those rates don't last forever. Discover's current balance transfer promotion is 0% for 15 months. After that, cardholders have to pay the standard interest rate on all remaining balances.
Discover charges a balance transfer fee. For those who process their balance transfers during the promotional period, that fee is 3%. Otherwise it's 5%.
Potential applicants should carefully consider all features and fees associated with any credit card before they apply for it.    
Final Take
Discover's balance transfer offers to make it possible to avoid interest charges for 15 months before the variable APR rates begin. Those with balances should strongly consider taking advantage of one of these offers for significant savings. 
More on Discover Bank
Discover Balance Transfer FAQs
It's normal to have questions, especially as they relate to financial services. Some of the most common questions associated with a Discover balance transfer include:
Do balance transfers hurt your credit?

Several factors make up credit scores. Cardholders may see an improvement in their credit scores if they open a single new card for balance transfers, but if they consistently open up multiple accounts, they could experience declines in their scores.

How much does Discover charge for balance transfers?

Discover typically charges a 5% balance transfer fee, but cardholders can pay just 3% if they transfer their balances during the promotional period.

Can I transfer a balance from Discover?
Why won't Discover let me make a balance transfer?

Cardholders with enough of an available credit line should have no problem transferring balances. However, the account must be open and active for a minimum of 14 days before the transfer begins to process.
Rates are subject to change; unless otherwise noted, rates are updated periodically. All other information on accounts is accurate as of Sept. 29, 2022.
Editorial Note: This content is not provided by any entity covered in this article. Any opinions, analyses, reviews, ratings or recommendations expressed in this article are those of the author alone and have not been reviewed, approved or otherwise endorsed by any entity named in this article.
Our in-house research team and on-site financial experts work together to create content that's accurate, impartial, and up to date. We fact-check every single statistic, quote and fact using trusted primary resources to make sure the information we provide is correct. You can learn more about GOBankingRates' processes and standards in our editorial policy.