How To Do a Balance Transfer With Wells Fargo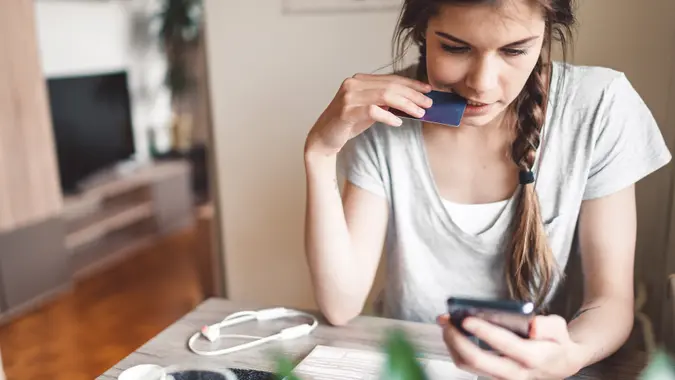 Ziga Plahutar / Getty Images
Cardholders use balance transfers to consolidate and reduce interest on their credit card debt. Many credit cards offer 0% introductory interest rates for up to 21 months, giving borrowers a reasonable period to pay off their debts with no interest charges. Wells Fargo has several options to help cardholders efficiently manage their credit.
Wells Fargo offers three credit cards with 0% balance transfer promotions, offering interest-free periods for anywhere from 12 to 18 months. However, cardholders who haven't done balance transfers in the past might need a few tips to streamline the process. Here's everything you need to know about transferring balances to Wells Fargo credit cards. 
What Is a Wells Fargo Balance Transfer?
A Wells Fargo balance transfer is a transfer of an external credit card balance to a Wells Fargo credit card account. Wells Fargo credit cards with balance transfer promotions include:
 . The Wells Fargo Active Cash credit card offers 0% introductory interest on balance transfers for 15 months, followed by a . 
 . The Wells Fargo Autograph credit card offers 0% interest on balance transfers for the first 12 months, followed by a . 
 . The Wells Fargo Reflect credit card offers the most extended 0% balance transfer promotion from the lender at 21 months, followed by a APR. 
How To Do a Wells Fargo Balance Transfer
As with most balance transfer credit cards, borrowers have two options when transferring balances to Wells Fargo. They can either transfer balances to a new credit card using the card's application or transfer balances to their existing Wells Fargo credit card. Wells Fargo's user-friendly online banking makes it easy to manage all your money in one place.
How To Do a Balance Transfer to a New Wells Fargo Card
Borrowers who aren't already members of Wells Fargo credit cards can transfer a balance to Wells Fargo using the lender's application. Here's how it works:
Choose the Best Credit Card Offer. Wells Fargo's three credit cards with balance transfer features have different promotional periods, features and terms. Applicants should compare all offers to decide which fits best.
Start the Application. Next, cardholders should start the credit card application. Fill out all fields as accurately as possible. If you need help, check out the FAQ section online or schedule an appointment with a banker.
Add Balance Transfer Details. At some point in the application, Wells Fargo will ask for details about the balances the applicant wants to transfer. Applicants must fill in all fields for each balance they'd like to transfer to their new credit card. 
Wait for the Transfer. When Wells Fargo approves the application for the credit card, the bank will process the balance transfer, which takes two weeks at most. 
How To Do a Balance Transfer to an Existing Wells Fargo Credit Card
Cardholders with an existing Wells Fargo credit card can transfer balances directly to that account. Here's how:
Log In to Wells Fargo Online. Cardholders should start by logging in to their online account management platform.
Request a Transfer. Click the option to request a balance transfer and fill out all required information. 
Approval. Wells Fargo will either approve the balance transfer request instantly or send it for review, and it may take a few days to complete the review. 
Wait for the Transfer. It takes two weeks at most for the balance transfer. Cardholders should continue making payments to their current credit cards until the process is complete. 
Those who want live support processing their balance transfers can call +1 (800) 642-4720.
What Happens After a Cardholder Requests a Balance Transfer?
After Wells Fargo approves a balance transfer, cardholders can access funds from their credit line to pay off other credit card accounts. The process will be complete within a few days or two weeks.
Current members should note that Wells Fargo has no control over accounts with other institutions. If cardholders want to close their other credit cards once the balance transfer is complete, they're responsible for making resolutions.  
Things To Know Before You Transfer Balances
The following includes a few things prospective and current Wells Fargo cardholders should consider before transferring balances to Wells Fargo. 
Promotional interest rates only last for a set period. For Wells Fargo credit cards, that ranges from 12 to 18 months. Wells Fargo will charge Cardholders higher interest rates on unpaid balances from balance transfers once the promotional period expire.
Wells Fargo charges a transfer fee of $5 or 3%, whichever is greater, of the transfer amount. 
Each Wells Fargo offer for balance transfer has unique perks, rewards and terms, so applicants should compare their options carefully.  
Do Balance Transfers Hurt Your Credit?
Balance transfers don't directly affect a person's credit score, so the answer to this question depends on the borrower. Balance transfers could improve or hurt credit scores depending on how they fit within the borrower's overall credit profile. 
Applying for a new credit card typically results in a hard inquiry, which can hurt a credit score by a few points. New cards also lower the average age of accounts, which can also affect credit scores.
On the other hand, a new line of credit increases a user's total buying power. If someone opens a new card but simply transfers an existing balance to that card rather than adding new debt, that borrower is now using less of their credit. A lower credit utilization rate can have positive effects on credit. A balance transfer can be a strategic step in a plan to reduce overall debt, as long as the borrower takes action to pay down the balance on the new card. 
How Long Does It Take Wells Fargo To Process a Balance Transfer?
Wells Fargo may take up to two weeks to process a balance transfer. Borrowers should expect to wait that amount of time before the balance transfer is reflected in their accounts.
Does Wells Fargo Charge for Balance Transfers?
Wells Fargo does charge a balance transfer fee. That fee is typically 3% of the total transfer amount or $5, whichever is greater. 
Final Take
Just about every major lender offers balance transfer credit cards, each with its own perks, promotions and payment terms, and Wells Fargo is no exception. Whether borrowers are looking to transfer balances between existing Wells Fargo cards or to apply for a new card, they should compare credit card options to make sure they pick the one that fits them best. 
Rates are subject to change; unless otherwise noted, rates are updated periodically. All other information on accounts is accurate as of Oct. 5, 2022.
Editorial Note: This content is not provided by any entity covered in this article. Any opinions, analyses, reviews, ratings or recommendations expressed in this article are those of the author alone and have not been reviewed, approved or otherwise endorsed by any entity named in this article.
Our in-house research team and on-site financial experts work together to create content that's accurate, impartial, and up to date. We fact-check every single statistic, quote and fact using trusted primary resources to make sure the information we provide is correct. You can learn more about GOBankingRates' processes and standards in our editorial policy.