TD Ameritrade Review: No Minimums and No Hidden Fees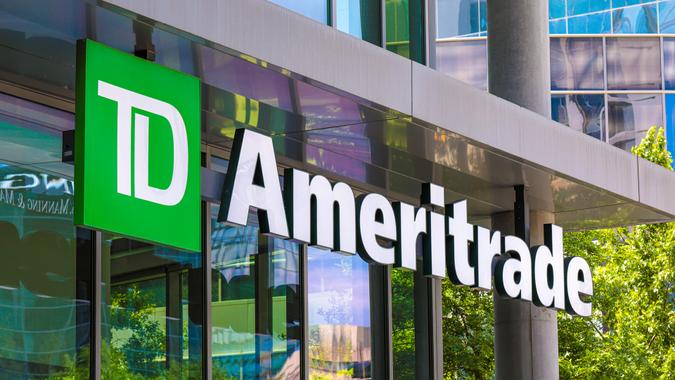 Bandersnatch / Shutterstock.com
TD Ameritrade is the product of numerous mergers in the online brokerage industry over the years. As a result, it combines the best features of many former competitors. In many ways, TD Ameritrade is more of a hybrid firm: You can opt for self-directed trades using the firm's website and mobile apps, or you can call or visit financial advisors at actual brick-and-mortar locations for assistance with your investment needs. Here's an in-depth look at all that TD Ameritrade provides — including comparisons with other firms — so you can see if TD Ameritrade is a match with your investment needs.
Quick Take
TD Ameritrade offers impressive trading platforms and an excellent fee-free assortment of exchange-traded funds, but its regular trade commissions are still high for an online brokerage.
Equity Trades
$0
Account Minimum
$0
Promotion
Up to $600 in cash with larger deposits
Here's a quick look at what you'll find in this TD Ameritrade review:
About TD Ameritrade
TD Ameritrade is one of the pioneers of the discount brokerage industry. Originally known as First Omaha Securities, the future TD Ameritrade was one of the first firms to offer reduced commissions when the Securities and Exchange Commission eliminated fixed brokerage commissions May 1, 1975. Since then, the firm has continued to innovate and currently holds over $1 trillion in customer assets. The TD Ameritrade website and mobile apps offer features designed to appeal both to beginning investors and those with more experience, helping make TD Ameritrade one of GOBankingRates' Best Brokers of 2019-2020.
Pros and Cons
TD Ameritrade is not without its drawbacks, but overall, the broker's advantages far outweigh its drawbacks.
Pros
No platform fees or other hidden fees
No trade or account minimums
$0 commissions
Good sign-up promotion
Extensive educational services for customers
Cons
Higher commissions than one might expect from a pioneer of discount brokerage
TD Ameritrade at a Glance
Here's a quick look at the features and details of TD Ameritrade brokerage services:
TD Ameritrade at a Glance
Account Minimum
$0
Stock Commission
$0
Option Commission
$0 + $0.65 per contract
Commission-Free ETFs
2,300+
Zero Transaction-Fee Mutual Funds
Yes, hundreds
Investment Selection
Annuities, bonds and fixed income, cryptocurrency, ETFs, forex, futures, IPOs, managed portfolios, mutual funds, options, and stocks
Customer Service
24/7 phone lines, live chat, email and fax; 275+ branches nationwide
Mobile App
Yes, with complete account control capabilities
News and Research
Both proprietary and third-party research available, including from Morningstar
Miscellaneous Fees
Automated phone trades $34.99, broker-assisted trades $44.99, some mutual fund trades $49.99; outbound wire transfers $25, full account transfer out $75
Current Promotion
Up to $600 in cash with larger deposits
Individual Services Reviews
Although the basic framework of all online brokers is more or less the same, the devil is in the details. The depth and breadth of individual services can vary wildly from broker to broker, so it pays to take a look under the hood to see how an online broker actually operates.
Trading Experience
TD Ameritrade has two different trading platforms that investors can use to manage their accounts. One of the nice features of TD Ameritrade is that any investor can use either platform for free. There's no upsell for advanced traders to use a more expensive platform, for example.
The firm's most basic platform is its web platform, which offers basic account information and allows investors to place trades and manage their accounts. The firm's proprietary thinkorswim platform is the next level up, offering more professional trading technology and tools for more active investors.
A Beginner's Guide: How To Invest in Stocks
Mobile traders are free to use either variant as well, although the apps are not quite as advanced as the web-based platforms. Still, TD Ameritrade Mobile users can buy and sell stocks, options and ETFs, among other features, whereas the TD Ameritrade Mobile Trader platform offers the ability to execute complex trades and provides advanced charting with over 300 technical indicators.
Account and Investment Minimums
TD Ameritrade features no account minimums or platform fees. Other advantages are no trade minimums or hidden fees.
Commissions and Fund Expenses
Each online equity trade costs $0, and the options contract tacks on $0.65 per contract. TD Ameritrade was one of the first to break ranks and drop commissions when they became unregulated back in 1975, and the firm is now on par with competitors who don't charge anything at all for online equity trades.
Costs jump dramatically if you want to trade over the phone or via a broker. A voice-assisted equity or ETF trade costs $34.99, whereas a broker-assisted trade costs a whopping $44.99. Options trades cost $0 plus $0.65 fee per contract.
TD Ameritrade also offers hundreds of no-transaction-fee mutual funds, although no-load funds come with an inexplicable $49.99 surcharge. Investors looking to buy exchange-traded funds will enjoy the 2,300 commission-free ETFs offered at the firm.
Customers looking to minimize their commissions at TD Ameritrade might consider building a long-term portfolio soon after they establish an account. The firm's generous free commission trading allows investors to purchase all the securities they want without paying a commission.
Learn: How to Decide Between Mutual Funds and Stocks
Trading Technology
TD Ameritrade's routing technology is among the best in the business. Through a process known as price improvement, an astonishing 98.7% of TD Ameritrade customer orders are executed at a better price than the national best bid/offer, or NBBO, at the time of the trade. The average price improvement is $1.74 per 100 shares traded, which can add up to significant savings and helps to offset the relatively high commission cost at TD Ameritrade.
Usability
Because the TD Ameritrade interface is customizable, it's pretty user-friendly overall. You can choose how you want your account display to look, and you can use either the basic TD Ameritrade web platform or the more advanced thinkorswim option. The firm provides a comparison of both trading platforms to help you choose the best option for you. Both versions also carry over to the firm's mobile apps.
Mobile and Emerging Tech
TD Ameritrade offers a powerful mobile app for both iOS and Android that allows you to do almost everything available on the web platform. The mobile app allows you to initiate trades, monitor your account, set price alerts, read news and research and access e-documents. Plus, Apple Watch owners can sync the app with their phone to track the market and view customized watch lists.
Range of Offerings and Investment Selection
No matter what type of investment you're searching for, you're likely to find it at TD Ameritrade. The firm has an impressive roster of investment options, including all of the following:
Stocks
Options
ETFs
Mutual funds
Futures
Forex
Margin trading
Cryptocurrency trading
Managed portfolios
Cash management
Bonds and fixed income
Annuities
IPOs
Dividend reinvestment
Customers have access to over 13,000 mutual funds at TD Ameritrade, and over 2,300 commission-free ETFs. The firm also offers a wide range of exotic securities, from foreign currencies and futures to cryptocurrency.
News and Research
One of TD Ameritrade's strengths is in the diversity of its research. Using both proprietary and third-party information, TD Ameritrade customers can get insights into just about any aspect of the markets and their portfolios. Tools include:
Market Edge for quantitative and technical market information
ETF Market Center for portfolio research and diversification using various market screens
Social Signals for trading insights from Twitter
Stocks Overview for potential trade ideas based on your positions
Customizable stocks charts
Customizable screeners, which offer unique screens such as lifecycle or highest alpha
Premier List, an exclusive quarterly service from investment research firm Morningstar that picks top mutual funds
Market Java for pre-market insights
Customers also enjoy CD screeners, a bond wizard and other tools to help them select and manage investments.
Customer Service
Customer service is top-notch at TD Ameritrade. Although the firm is known as an online brokerage, it has more than 275 branches nationwide where you can speak with a representative or financial advisor in person. If you'd rather stay home, the firm offers live phone assistance 24/7. You can also contact the firm for help via email or fax.
Security
TD Ameritrade offers its customers free security downloads to help keep private information secure. TrendMicro HouseCall is free of charge and it scans your computer for viruses, spyware and malware. Symantec Security Check is also free and monitors your computer once per week.
In terms of TD Ameritrade's in-house security, the firm uses advanced firewalls and 128-bit encryption to keep data transmissions safe.
Costs
Trading costs for stocks and options used to run a bit high at TD Ameritrade, but in October, the firm removed commission fees for online equity trades, ETF trades and option trades. High fees still apply for purchasing some mutual funds and for placing a trade via telephone or a broker. These costs can be minimized or avoided for some customers, however, such as those who select from the firm's extensive no-commission ETF list.
What First-Time Investors Need To Know: Investing for Beginners
Best For
TD Ameritrade is best for the following features:
News and research
Trading experience
Range of offerings/investment selection
Customer service
Account and investment minimums
Falls Short
Here are the disadvantages of working with this broker:
Current Promotions
TD Ameritrade offers cash bonuses paid out in three tiers: $100 for deposits of at least $25,000, $300 for deposits of at least $100,000, and $600 for deposits of $250,000 or more.
Comparison With Other Brokers
Looking strictly at the black-and-white stock commission figure, TD Ameritrade doesn't seem as competitive as some other brokers. But the firm does offer a large number of ETFs and mutual funds that you can buy for free, so the relatively high cost of trading commissions may not affect all investors equally.
Broker Comparison
Broker
Stock Commission
Account Minimum
Promotion
TD Ameritrade
$0
$0
60 days of commission-free trading, plus up to $600 in cash with new account deposit
Merrill Edge
$2.95
$0
Up to $600 in cash with new account deposit
Charles Schwab
$0
$0
500 commission-free online equity and options trades for two years with $100,000 deposit
Fidelity
$0
$0
500 commission-free trades with a $100,000 deposit
Firstrade
$0
$0
Up to $200 in transfer fee rebates
Robinhood
$0
$0
1 share of free stock when your brokerage application is approved
E-Trade
$0
$500
Up to 500 commission-free trades plus up to $2,500 in cash with qualifying deposit
Should You Invest With TD Ameritrade?
TD Ameritrade has some definite drawbacks, but for many investors it remains an excellent choice.
The main drawback to investing with TD Ameritrade is that you'll have to be selective to minimize fees. ETF fans will find plenty of exchange-traded funds to fill out a portfolio without paying any commission at all. Investors who are fans of no-load funds or the other funds that don't fall under the TD Ameritrade no-transaction-fee banner, however, will face relatively expensive trade commissions.
That being said, it's not as if TD Ameritrade charges hundreds of dollars per trade like a full-service broker might. You'll have to analyze your own trading pattern, however, to see how much this would really affect you.
The bottom line is that TD Ameritrade provides an attractive package of basic and advanced trading tools, coupled with a broad product line, a generous sign-up promotion and overall low costs. By picking and choosing your investments to avoid the firm's more expensive offerings, you can find a lot of value here.
You can find information on other top online brokerages, the best retirement accounts and other information on investing in these articles:
John Csiszar served for 18 years in the financial services industry, earning his Registered Investment Adviser and Certified Financial Planner designations along the way. He now writes for a variety of financial publications about investing and the markets.
Information is accurate as of Sept. 17, 2019; commission rates are accurate as of Oct. 9, 2019. This content is not provided by TD Ameritrade. Any opinions, analyses, reviews or recommendations expressed in this article are those of the author's alone and have not been reviewed, approved, or otherwise endorsed by TD Ameritrade. This site may be compensated through the bank advertiser Affiliate Program.