Which Is Best for Retail Investing: Robinhood vs. E*TRADE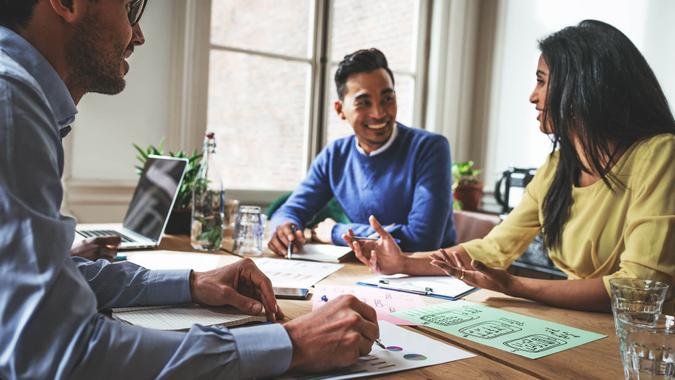 Drazen_ / Getty Images
Retail investing is becoming more than just a hobby for some. With the massive gains made by amateur investors in 2021's GME route, more and more folks are looking to get in on the action. Trading stocks, ETFs and cryptocurrency is a legitimate way to grow wealth as well as an engaging pastime thanks to the accessible nature of digital trading platforms.
Digital investment options have exploded over recent years, subverting the need to hire a broker. Investors have many options when it comes to picking a digital trading platform. But which retail investing platform brings the most ease of use for the lowest fees: Robinhood or E*TRADE?
Robinhood vs. E*TRADE: The Basics
Robinhood is a browser and app-based brokerage platform which does not charge commissions on trades and provides "digestible financial news" for amateur investors looking to learn more about the ins and outs of the market. Robinhood's mission is a democratization of market trades, not unlike their legendary namesake who evened the financial playing field for the poor. Robinhood's user-centric mission brings new investors into the game without the expense or the pressure of advanced brokerage options.
A similar platform, E*TRADE, is known for doing online trading first. In fact, E*TRADE hosted the first internet stock trade in the 1980s. Since then it has continued offering innovative and simple ways to trade online and was recently merged with financial powerhouse Morgan Stanley. When it comes to digital trading platforms, investors look to E*TRADE for its legitimacy and longevity.
Best Features of Robinhood and E*TRADE
Getting to know the features of both Robinhood and E*TRADE can help investors pick the right app for them.
Freebies
The Robinhood feature that entices customers is the free stock offered with signup. Robinhood is well-known for its commission-free trades. With low additional risk on stock buys combined with the offer of free stocks — some of which are valued at several hundred dollars — new investors like to take advantage of Robinhood's $0 features.
Robinhood also makes it possible for those new to investing to learn about stock trading as they make their first moves. It does so with its "Snacks" financial content and podcast, which both deliver valuable information in a brief format to help users get familiar with the market.
Array of Accounts
E*TRADE features beloved by customers include the wide array of accounts available on the platform. Clustering your financial accounts is easy with E*TRADE. Among the investment account options are brokerage accounts, IRAs and automated portfolios.
The E*TRADE app also offers some typical banking functions as well, such as the ability to deposit a check or use a debit card. For those looking to simplify their financial situation, this may meet their needs.
Cryptocurrency
Both Robinhood and E*TRADE offer crypto investing, an increasingly important feature in any fintech platform.
Fee Overview
The overview of fees on Robinhood is pretty simple: there isn't one. Robinhood's claim to fame is its commission-free stock trading. However, some optional features such as paper statements or overnight check deliveries for transfers may come with low associated fees.
E*TRADE wants its users to "Focus on your future, not on fees." It spells out its fees very clearly, noting that it offers $0 commission trades, $0.65 options contracts and $1.50 futures contracts.
E*TRADE investors who get into some deeper trading options may encounter some fees associated with those options. This includes things such as large block transactions, over-the-counter transactions and forex transactions.
Mobile Apps: On-the-Go Trades
With the hobby-like atmosphere of stock trading these days, many like to scroll through their portfolio and make moves over their lunch break. They need apps that are simple and responsive enough to get the job done on the go. Both Robinhood and E*TRADE offer app versions of their platforms so that users can make trades easily, wherever they are.
The Robinhood App Experience
The Robinhood app has trading tools built in so that users can access the full array of financial tools from their mobile device. These trading tools include news articles, live market information and ratings from analysts. They can also use smart notification settings to stay on top of their buy/sell thresholds and other events in the app.
Included alongside the trading options in Robinhood are typical cash management abilities like direct deposit and digital checking.
Users rate the Robinhood app 3.8 out of 5 stars on the Google Play store and 4.1 out of 5 stars on the App Store.
The E*TRADE App's Capabilities
E*TRADE offers two apps, their basic E*TRADE investment and savings platform and Power E*TRADE, their advanced trading app. The E*TRADE app includes functions for buying and selling, banking, and educational content. Power E*TRADE is designed for "sophisticated" investors with access to futures and options trades.
Users rate the E*TRADE app 4.5 out of 5 stars on the Google Play store and 4.6 out of 5 stars on the App Store.
Good To Know

Everyone gets a free stock when they sign up for Robinhood. Some of the stocks have come from companies such as Staples, Southwest and Home Depot. Most stocks are valued below $10, but there is a 1% chance of getting a stock valued up to $500.
Robinhood vs E*TRADE: Which App Is Best for Consumers?
For the average beginner trader, Robinhood offers a streamlined process at no extra cost. Its educational features allow users to dive in with enthusiasm while still gaining wisdom along the way. But its simplicity and low buy-in options make it attractive to those checking out trading as a pastime.
Given the diverse tools and accounts available on E*TRADE, investing with them makes the most sense for those who have gotten serious about saving, planning for retirement and making stock trades. E*TRADE has all the tools necessary for a more mature investment strategy, compared to the hobby-like tone of Robinhood.