Robinhood vs. Acorns: Which Is Best for Your Investment Style?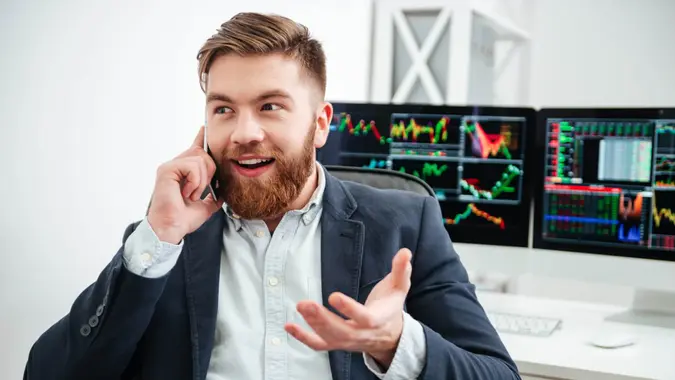 Robinhood and Acorns are two of the more popular financial services platforms. They both offer online banking options, and they both offer access to investment markets. They appeal to people looking for a simpler approach to personal money management.
There are differences in the target markets, however. Robinhood appeals to the independent stock-picker, while Acorns offers a hands-off approach for new investors and for those who prefer to watch their savings grow and let the pros handle the trading.
Parallel features of Robinhood and Acorns also differ in several ways, and there are features present on one platform but unavailable on the other. This can make selecting a single service to suit your financial needs a bit of a challenge.
Trading and Investments
Robinhood was a pioneer in no-fee stock trading. The company has an easy-to-use app that allows users to buy as many or as few shares as they like, or buy fractional shares for a small minimum investment. Users can also buy and sell cryptocurrencies. Stock quotes and data are available, and a news feed — from Barrons, The Wall Street Journal and other major financial media — keeps users abreast of the markets.
Acorns offers managed portfolios for those new to the markets or those who want to stay hands-off and take advantage of professional management. The company's professionals build portfolios to suit different investment styles and risk tolerance. Users of this service pick an investment style, not individual investments. Cryptocurrency trading is not available, but Acorns does offer an exchange-traded fund with exposure to bitcoin.
Acorns also emphasizes ESG investing. ESG stands for environmental, social and corporate governance. The platform welcomes investors and savers seeking to incorporate worthy causes and responsible business practices into their financial life.
Banking Services
Robinhood is in the process of replacing its Cash Management program with a Cash Card that will serve as a spending account that earns stock and cryptocurrency rewards. The account includes free in-network ATM access and check-sending privileges. While not available yet, you can join the waiting list. Robinhood users also have access to e-pay services such as Apple Pay and Google Pay.
Acorns Checking also offers a linked debit card, direct deposit when payday comes around and the ability to send checks. A cash sweep feature rounds up charges and sends any spare change to the investment account. For Acorns accounts, the Smart Deposit feature automatically invests an amount the user sets, following the commandment of money advisors everywhere to "Pay yourself first."
Retirement and Family Accounts
Robinhood is all about the individual investor seeking a straightforward way to make personal trading decisions. The company does not offer individual retirement accounts but does give some useful information on IRAs and other financial FAQs via its website's Learn tab.
Acorns is geared to long-term savers for whom an IRA is essential. It's also a family-friendly financial platform. It has both IRA and family accounts available.
Acorns Early is a simple investing and saving platform for youngsters. Parents manage these accounts for the benefit of their kids. Small, recurring investments can be made into these or any other investment account. There are financial wellness programs, and Disney+, ABC Mouse and other companies offer some bonus savings features.
The Fine Print: Minimums and Fees
Is it good to have Acorns and Robinhood? Often, the decision comes down to fees and features.
Robinhood charges zero to open an account, there's no minimum balance requirement and you can start trading with just $1. It charges $5 a month for Gold accounts for investors ready to trade on margin and dive into higher-level stock data. The company earns interest on the cash it holds and by collecting various fees from market makers.
Acorns collects $3 a month for its suite of personal accounts — which includes investment, checking and retirement accounts. It charges $5 a month for all that plus Family accounts. There's no minimum deposit required to open an account, but you'll need at least a $5 balance to begin investing.
Good To Know

Both Robinhood and Acorns checking services are insured for up to $250,000 by the Federal Deposit Insurance Corporation.
Robinhood Features
Here are some of Robinhood's main features.
| Feature | Best For |
| --- | --- |
| Investing: Self-directed stock, option, ETF, cryptocurrency trading | Do-it-yourself and independent investors |
| Banking: Spending account | Online bankers |
| Cryptocurrencies: Available | Cryptocurrency traders |
| IRAs and Family Accounts: Not available | Individual, independent investors |
| Fees: $0 standard account; $5/month Gold level | Fee-charging accounts available for more sophisticated investors |
Acorns Features
Here's more detailed information about Acorns' products and services.
| Feature | Best For |
| --- | --- |
| Investing: Professionally managed portfolios geared to your long-term financial goals | Hands-off and new investors |
| Banking: Acorns Checking | Managing cash and investments through the same account |
| Cryptocurrencies: Not available | Exposure to cryptocurrency via ETF investments instead of owning coins |
| IRAs and Family Accounts: Available | Families and dedicated savers |
| Fees: $3/month Personal; $5/month Family | Budget-conscious individuals and families |
Which Is Better: Robinhood or Acorns?
Which platform is the right choice for you depends on how you invest and what your long-term goals are. Robinhood is a better choice for anyone who follows the stock market closely and likes to select their own stocks. And if cryptocurrency is part of your strategy, you'll also want to go with Robinhood to avoid having to purchase coins from a separate platform.
Acorns appeals more to set-it-and-forget-it investors who want to see their money work for them but prefer to leave stock selections to the pros. Acorns is also the better choice for investors who want to save for retirement and families who want to help their children develop sound financial habits. Just be mindful of the fees — unless you're investing enough that your returns exceed your $3 or $5 monthly fee, you could wind up spending more than you earn.
Editorial Note: This content is not provided by Acorns or Robinhood. Any opinions, analyses, reviews, ratings or recommendations expressed in this article are those of the author alone and have not been reviewed, approved or otherwise endorsed by Acorns or Robinhood.
Our in-house research team and on-site financial experts work together to create content that's accurate, impartial, and up to date. We fact-check every single statistic, quote and fact using trusted primary resources to make sure the information we provide is correct. You can learn more about GOBankingRates' processes and standards in our editorial policy.